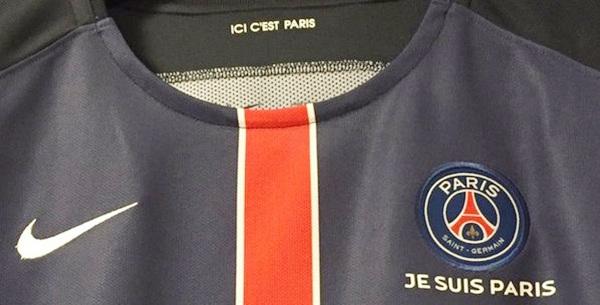 IMAGE: Paris Saint-Germain will wear jerseys with the words 'Je suis Paris' printed below the club crest in honor of the victims of Friday's attacks in Paris. Photograph: Twitter
Ligue 1 champions, Paris Saint-Germain, will wear special shirts in their French league match against Lorient, on Saturday, to honour victims of the Paris attacks.
- Paris attacks aftermath: Heightened security for 'El Clasico'; French league on alert
- Paris massacre an attack on all humanity: World leaders express shock
The jerseys will be embroidered with a special message 'Je suis Paris' below the club's logo on the chest of the shirt.
The message evokes memories of the 'Je suis Charlie' tribute that spread in the wake of the Charlie Hebdo terror attacks, which also occurred in the French capital in January this year.
PSG have not said how long they will continue to wear the message on their shirts.
All French league games will go ahead as scheduled this weekend, but away supporters will not be allowed to attend matches for security reasons.