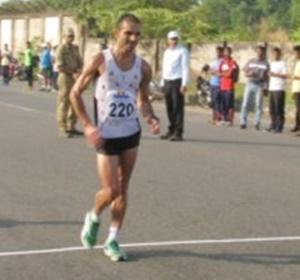 Uttarakhand's Gurmeet Singh turned out to be the winner as a record number of seven Indian 20km race walkers bettered the Rio Olympics qualifying standards on a fast Jaipur course in the National Championships, in Jaipur, on Saturday.
While the Rio Olympics qualifying time was set at 1 hour and 24 minutes, Gurmeet clocked 1:21:24.57 to clinch the gold on the first day of the National Championships.
Tamil Nadu's K Ganapathi and Haryana's Sandeep Kumar finished second and third in 1:21:51.43 and 1:21:56.81 respectively.
National record holder K T Irfan (1:22:14.02) of Kerala, Manish Singh (1:22:18.89) of Uttarakhand, Devender Singh (1:22:40.60) of Haryana and Neeraj (1:23:34.02), also of Haryana, were the other four outside of a podium finish but who still went past the Rio Games qualifying time.
Ganapathi, Irfan, Devender and Neeraj were the four race walkers who crossed the Rio Games qualifying standard while Gurmeet, Sandeep and Manish have done so last year.
Now, there is a problem of plenty as only three athletes from a country will be allowed to take part in the Olympics in a particular event and nine Indians have crossed the Olympics qualifying time in men's 20km race walk, though two of them -- Manish and Sandeep -- have done so in both 20km and 50km events.
Manish and Sandeep may opt for 50km race walk as it's their main event. But still, the Athletics Federation of India will have to decide later on the three race walkers out of these nine -- or seven if Manish and Sandeep opt for 50km event -- for the Rio Games.
Out of the other two already qualified race walkers, Baljinder Singh of Punjab finished at eighth place with a time of 1:26:34.07.
Chandan Singh, who have also qualified for Rio Games last year, dropped out of the 20km race walk event as he wants to compete in the 50km event to be held on Sunday.
Khushbir not happy with race walk course; experts praise it
The Jaipur race walk course might have got praise from international experts but national record holder Khushbir Kaur was not happy with it as she limped out of the finishing line after winning the gold in the women's 20km event.
Irishman Pierce O'Callaghan, who is in the international panel of race walking judges of the IAAF, praised the course as one of the best he had seen and capable of hosting top level international events, but Khushbir was not impressed.
After winning the women's 20km race walk event in a moderate time of 1:34:52.70, Khushbir, who has already qualified for the Rio Olympics, blamed the slope of the course for her limping as she said that she felt pain on her right thigh from the 11km mark onwards.
She continued and completed the race to win the gold but later made her displeasure known to the officials about the slope in the course.
Khushbir's national record (which she created in 2014) stands at 1:31.40 and given that her men counterparts had come with fast timings, many thought her 1:34:52.70 effort was a bit slow.
"Before the race started, I told the organisers about the slope and requested them to use only one half of the road so that the slope was minimised. But they did not do it and I was feeling pain on my right thigh from the 11km mark onwards but
I continued as I wanted to complete it," said the 22-year-old Amritsar girl Khushbir, who was helped to reach the changing room by a lady team official as she limped out of the finishing line. slope), you have the extra impact on the right leg and so the pain developed. It is a minor pain and it will go after a few days. I will be fully fit for the Asian 20km Race Walking Championships in Nomi, Japan on March 20," she added.
Her coach Alexander Artsybashev said Khushbir had the same pain two years back in a race walk competition in Kochi, where the course also had a slope.
But O'Callaghan and the other IAAF technical official Fung Wang Tak of Hong were all praise of the course, terming it as world class.