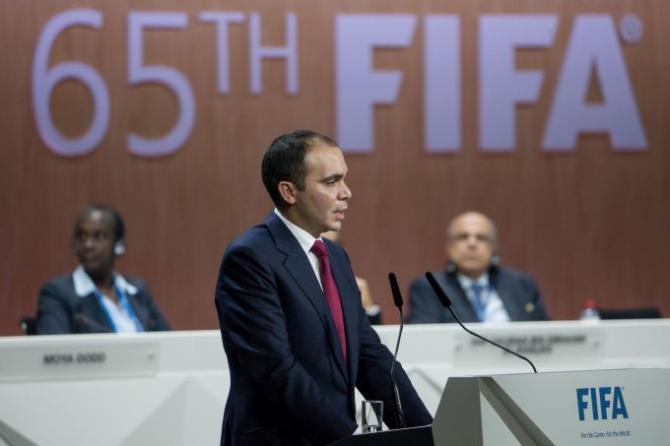 Jordanian Prince Ali bin al Hussein gives a speech during the 65th FIFA Congress. Photograph: Philipp Schmidli/Getty Images
FIFA presidential candidate Prince Ali Bin Al Hussein of Jordan's request for Friday's election to be postponed because of an issue with the voting booths has been rejected by sport's highest tribunal.
The Court of Arbitration for Sport (CAS) said in a statement that it had rejected Ali's request for provisional measures and that "the full order with grounds will be communicated in a few days."
Ali, whose request for transparent booths was rejected last week by FIFA, is unhappy with the arrangements for a vote expected to set a new tone of transparency for an organisation mired in the past in secret dealings.
He wanted the transparent booths to ensure delegates do not photograph their ballot papers. This would prevent delegates coming under pressure to produce evidence of their vote to interested parties.
"I regret that the system let us down," said Prince Ali, who had asked for the election to be postponed if the booths were not used.
"The only positive aspect of today's ruling is it that the election will now go forward as planned, and the media will be closely watching for any evidence that anyone is photographing their ballot," he said in a statement.
"It is now imperative that voters abide by the ban on mobile phones and cameras in the voting booth. I look forward to Friday's vote and remain as committed as ever to the goal of reforming FIFA."