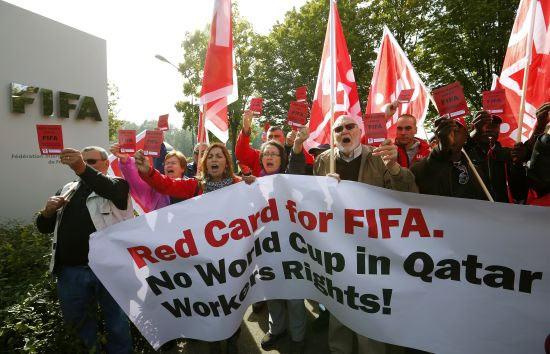 Members of the Swiss UNIA workers union display red cards and shout slogans during a protest in front of the headquarters of soccer's international governing body FIFA Photograph: Arnd Wiegmann/Reuters
FIFA's sponsors must challenge soccer's world governing body over human rights abuses at the 2022 World Cup construction sites in Qatar, pressure group New FIFA Now and international workers' unions said on Monday.
New FIFA Now will work alongside the International Trade Union Confederation (ITUC) and UK Trade Union Congress-backed group PlayFair Qatar to rally FIFA's official sponsors over the rights of workers employed on World Cup construction sites.
Jaimie Fuller, chairman of Swiss-based sportswear company SKINS, the "official non-sponsor" of FIFA, said on Monday he had written to eight of the governing body's sponsors -- Adidas, Gazprom, Hyundai, Kia, McDonalds, Budweiser, Coca-Cola and Visa.
In the letters, Fuller accused the sponsors of "contravening their own values and principles" by contributing significant sums of money to FIFA and thereby providing "implicit support" for working practices and conditions in Qatar.
"We are calling on these sponsors to stand up and do the right thing," Fuller added at a presentation in London where he showed footage of working conditions he obtained after being smuggled into several workers' labour camps in Qatar.
"We are demanding that these sponsors come and distance themselves from what's been going on.
"We don't want sponsors to withdraw their support from FIFA, we don't want them to take their sponsorship away, we don't want them to take their money away.
"But we do want them to use the power of their money to get reform done."
FIFA was not immediately available to comment.