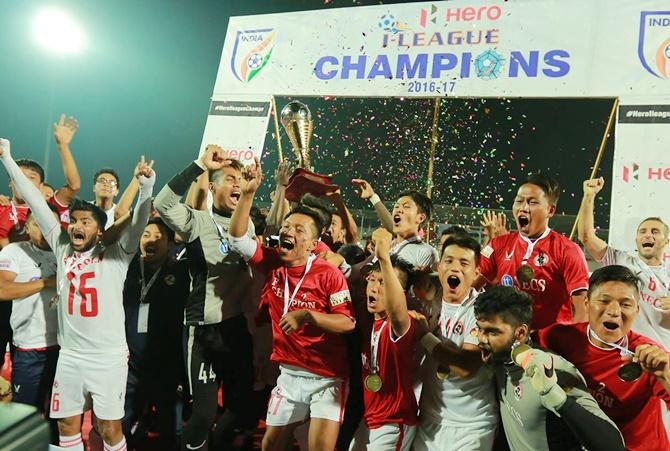 IMAGE: Aizawl FC players celebrate after wining the I-League. Photograph: Facebook
India's prolific film industry churns out scores of movies with plotlines bordering on the absurd every year but even Bollywood might have dismissed as too preposterous the story of the rise of soccer club Aizawl FC.
While Leicester City's Premier League triumph stands as the modern benchmark for footballing fairytales, Aizawl winning the Indian title last month in only their second season in the top flight is perhaps even more far-fetched.
"The manner in which the club with a shoe-string budget managed to overpower the bigwigs will be spoken about in Indian football history for ever," said All India Football Federation (AIFF) general secretary Kushal Das.
Like most fairytales, this one involved a hefty stroke of luck.
Had two other clubs not pulled out of the I-League at the last moment, the modestly-financed club from Mizoram, a hilly finger of a state that pokes down between Bangladesh and Myanmar, would not have been in the top flight at all.
Aizawl were promoted in 2015-16 but finished second bottom in their maiden season in the I-League and headed straight back down until the Goan clubs withdrew over plans to merge the I-League with the Indian Super League (ISL).
From there, despite a budget considerably less than the 22 million Indian rupees ($342,103) that runner-ups Mohun Bagan paid Haitian striker Sony Norde for the season, the dream unfolded.
A draw in their final match of the season away at Shillong Lajong on Apr. 30 was enough to secure the title and no less a figure than FIFA president Gianni Infantino led the tributes.
"This title is the result of determination of everyone involved and my congratulations go to the players, the coach, the administration, the entire technical and medical staff as well as the fans for this great achievement," he wrote.
Aizawl FC was founded in 1984 but despite the passion of the local populace for football, far from the rule in cricket-mad India, was very much in the doldrums until local businessman Robert Royte came on board as club president.
Royte's financial backing reached such a level in 2012 that he became the club's owner.
"As the budget kept ballooning, we realised we need to professionalise the set-up," general secretary Vanlalnghaka Chhawnchhek told Reuters by telephone.
"The club already owed hundreds of thousands of rupees to him and we subsequently handed over club ownership to him."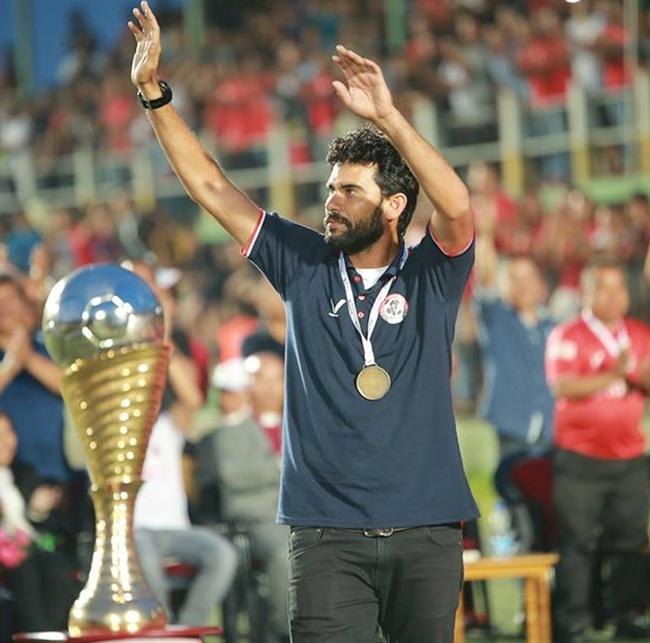 IMAGE: Aizawl FC coach Khalid Jamil. Photograph: Facebook
The second piece of the jigsaw was the coach.
Again there was an element of luck in that former India midfielder Khalid Jamil agreed to swap cosmopolitan Mumbai for the northeast Indian backwater.
"Our inexperience showed in our first season in the top division," Royte told Reuters. "So we needed a coach with considerable I-League experience. Once he left Mumbai, we rushed to sign him."
The softly-spoken coach was handed a rag-tag bunch of mostly local players supplemented by a trio of Africans and a Syrian.
Jamil, who felt he had something to prove after his seven years at Mumbai FC had ended in the sack, threw himself into the task.
"They were really hungry, and being a small team, there was no pressure on us," Jamil told Reuters.
"We focused on the first match, then on the second, then third ... I thought a top-five finish would be a strong achievement but we kept improving and grew confident."
Jamil told his players that Aizawl must under no circumstances lose at home.
"We decided we needed all the points from home matches. So home loss was not an option. We won eight and drew the other match at home," the 40-year-old said, his desire for vindication now sated.
"When I took over this team, I wanted to do well and make a statement. But now, I don't feel anything like that. Whatever happens, happens for good."
All this was played out in front of a following which regularly drowned out their rivals both home and away but made plenty of friends by cleaning up the stands after themselves.
Even after they sealed the title at Shillong, the Aizawl faithful stayed behind to help clear up the detritus left behind by 23,000 spectators.
"We take a lot of pride in it, it's a ritual in Mizoram football," Royte said.
Aizawl did not have much time to celebrate their title before the very merger that had granted them their I-League lifeline was back on the table, threatening their future as a top club.
The AIFF was toying with the idea of retaining eight ISL franchises and just three I-League teams in a merged league. Interested clubs were asked to stump up a franchise fee of some 15 million rupees.
The AIFF has since shelved the idea but Royte, who had threatened Aizawl supporters would go on a hunger strike should they be relegated, is still fuming.
"Winning the top division and not franchise fee should be the criterion," he said.
"We don't want to purchase a spot in the top division, we want to earn it. We will never pay a franchise fee."