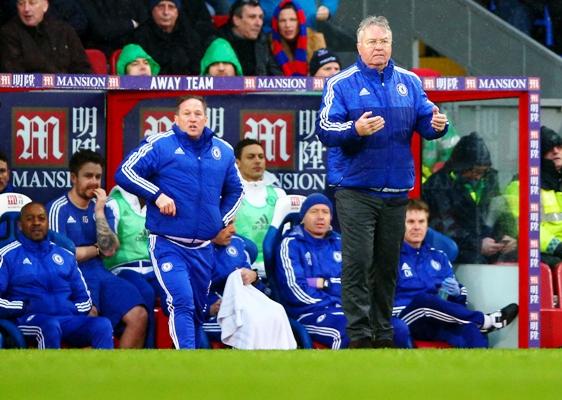 IMAGE: Guus Hiddink, manager of Chelsea, issues instructions to his players during their Premier League match against Crystal Palace. Photograph: Paul Gilham/Getty Images
Chelsea still have a chance of finishing in the Premier League top four and securing Champions League football at the end of the season, interim manager Guus Hiddink has said.
Chelsea beat Crystal Palace 3-0 on Sunday to register their sixth league win of the season and their first since Hiddink took the reins from Jose Mourinho last month.
The win moved Chelsea up to 14th place in the table and 13 points behind fourth-placed Tottenham Hotspur, and Hiddink refused to write off his side's chances of finishing in the top four although he admitted it would be "difficult".
"Everyone knows there's a lot of quality but sometimes a team which has just become champions has a tendency to become complacent," the Dutchman told the BBC.
"When I started, we said mathematically when we could get to a Champions League position it would be lovely.
"It's difficult because this league has become so strong. Everyone can win from everyone, which means it's very difficult to get there.
"But as long as we play like (we did against Palace), we can be happy and then results will come. It's possible still, but a long way to go."