'He had no solutions to offer, he said this challenge was not for him, he has given up'
'In summary, he wanted to leave and was looking for excuses to leave'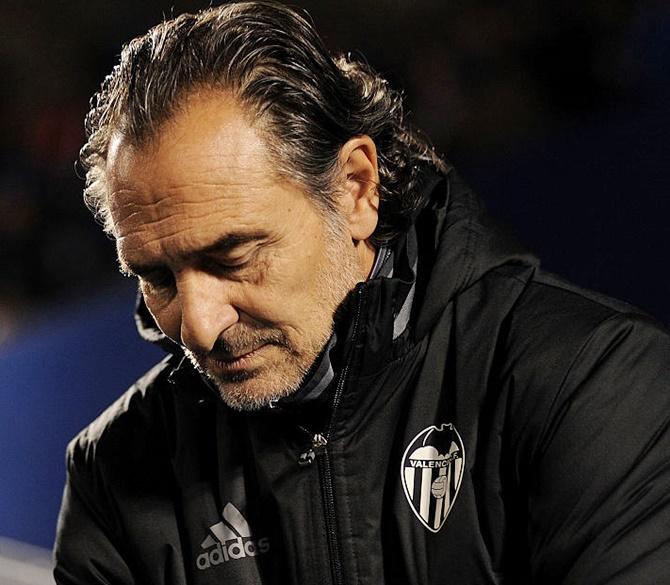 IMAGE: Cesare Prandelli. Photograph: Denis Doyle/Getty Images.
Outgoing Valencia coach Cesare Prandelli was fiercely criticised on Saturday for 'giving up' on the ailing Spanish giants and for looking for excuses to walk out on the team as they hover above the relegation zone.
The former Italy coach announced his resignation from Valencia after just 91 days in charge, in which he won only one of eight league games and left the six-time La Liga champions level on points with the relegation zone.
Prandelli was reported to have lost faith with Valencia after he was told he would not be able to sign the five players he had been promised by the club's billionaire owner Peter Lim in a meeting in Singapore earlier this month.
Valencia chief executive Anil Murthy gave a very different version of events in a news conference on Saturday, slamming the Italian for walking out on the club at a critical time.
"He had no solutions to offer, he said this challenge was not for him, he has given up. In summary, he wanted to leave and was looking for excuses to leave. He earned six points in three months, there's no excuses for that," said Murthy.
During his short reign Prandelli did not hide his feelings about the players' lack of commitment, remarking in December the team's woes were "a problem of personality, not tactics".
Murthy added: "Twenty-four hours ago I met with Prandelli to speak about transfers so it was a big surprise to learn yesterday that he had decided to abandon the ship just before the market opened. At first I thought we should convince him to stay.
"Then I asked myself: what type of person asks the club to guarantee five players over 26 years old before the market opens? What type of person decides he can't do anything more to improve the performance of the team?"
Prandelli is the eighth Valencia coach to lose his job since the club parted ways with Unai Emery in 2012 and his disappointing tenure follows the disastrous reigns of predecessors Pako Ayesteran and Gary Neville.
Salvador 'Voro' Gonzalez will stand in as caretaker of the first team squad for the second time this season while Murthy did not state whether the club were searching for an immediate successor for Prandelli.
Sporting director Jesus Garcia Pitarch also announced he had offered to leave his role but president Layhoon Chan refused to accept his resignation.