Portugal have an even chance of reaching the Euro 2012 final after a dominant second-half performance against the Czech Republic on Thursday eased them into the last four, forward Cristiano Ronaldo said.
-Ronaldo fires Portugal into Euro semis
-Relentless Ronaldo does it again
"We had a lot of opportunities. The Czechs did not have any -- that's a great game," he said as he received the man of the match award after scoring the game's only goal on 79 minutes and hitting the post twice.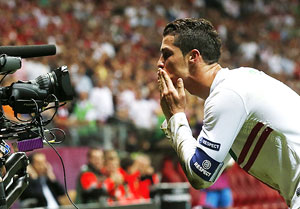 "I think the chances (of reaching the final) are 50-50 and we just have to believe in it."
Coach Paulo Bento said his team rose to the occasion in the second half and do not mind whether they face France or Spain, who play on Saturday, in the first semi-final in Donetsk next Wednesday.
"I wanted the players to show what they did in the last 20 minutes of the first half in the second. I knew that if we could do that we would create a lot of chances," Bento said.
"The semi-finals at a great tournament like this have great, very organised teams. It doesn't matter who will be our opponent, be it France or Spain. We will do the best to reach our goal."
Photograph: Petr Josek Snr/REUTERS