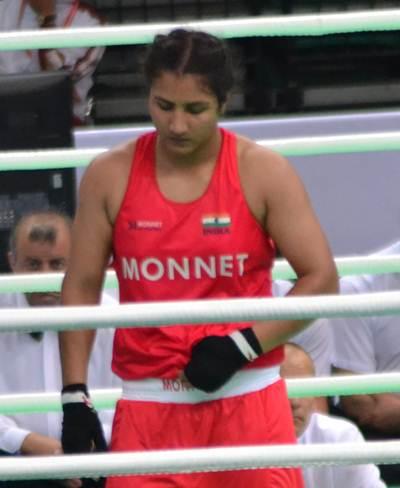 Asian Games bronze medallist Pooja Rani (75kg) entered the pre-quarter-finals in the AIBA World Women's Boxing Championships with a hard-fought victory over Ukraine's Mariya Borutsa, in Astana, on Friday.
In the non-Olympic categories, Nikhat Zareen (54kg) and Sonia Lather (57kg) emerged victorious to also enter the pre-quarter-finals in their respective categories.
Rani was the last Indian boxer to take the ring on Friday. She charged at her rival aggressively in the opening round itself but ended up lagging behind Borutsa on pints. She changed gears in the second round and waited for her opponent to make the first move.
The strategy worked brilliantly for Rani, who had no trouble outwitting Borutsa on the counter-attack. The Ukrainian also self-destructed by bending excessively which fetched her a warning in the third round.
Earlier in the afternoon session, Zareen (54kg) was up against a sprightly opponent in Australia's Bianca El-Mir.
Zareen, a former junior World champion, won a split 2-1 decision owing to El-Mir's determined fight, most notably in the final round.
To the 19-year-old Indian's credit, she kept her composure in the face of El-Mir's sustained attack and meticulously logged points through her precisely-placed and impactful punches.
The Hyderabadi will now be up against Canadian Erica Adjei, who also endured a tough contest before edging past Tunisia's Mariem Homrani, in the pre-quarter-finals on Sunday.
The next Indian in the ring was Sonia Lather (57kg). She made light work of Mongolia's Gundegmaa Myagmar to clinch a 3-0 victory.
She is next up against Germany's Nomin Deutsch, who outpunched Tamara Radunovic in her opening bout.
The evening session began on a disappointing note for India with Meena Rani (69kg) going down to Germany's Nadine Apetz in a one-sided contest.
The Indian was found wanting and seemed no match to an agile and on-target Apetz, who won the bout with a unanimous decision of 3-0.
On Saturday, M C Mary Kom (51kg) will clash against Germany's Azize Nimani, while L Sarita Devi (60kg) will square off against Mexico's Victoria Torres in their respective second round bouts.
The prestigious event -- the final qualifying for women boxers in the three Olympic categories of 51kg, 60kg, and 75kg -- has 12 Rio tickets on offer.
Image: Pooja Rani