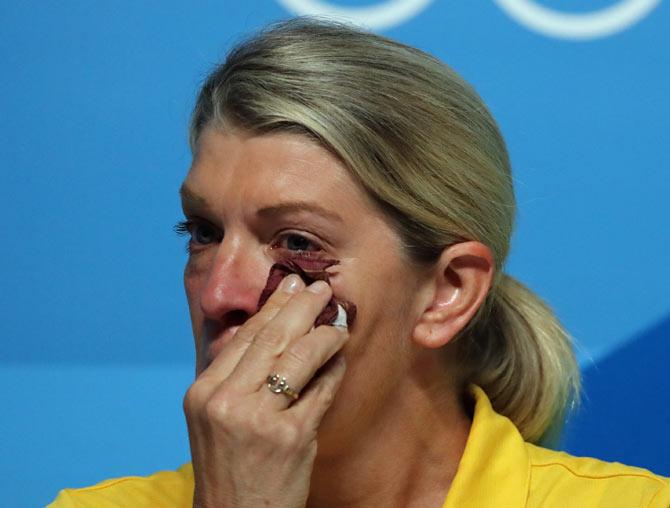 IMAGE: Kitty Chiller, Chef de Mission for Australia at the Rio 2016 Olympic Games, wipes her eyes during a press conference in which she spoke about the fines levied against a group of their athletes for entering the basketball arena without proper accreditation, in Rio de Janeiro. Photograph: Chris Helgren/Getty Images
Several Australian Olympic athletes were released by Brazilian police on Saturday after agreeing to pay a fine for entering the basketball arena to watch a semi-final game between Australia and Serbia at the Rio Olympics without proper accreditation, a team official said.

Fiona de Jong, chief executive of the Australian Olympic Committee (AOC), told reporters outside the police station where the athletes were taken for questioning late on Friday that they had entered the arena without the correct accreditation by "mistake".

"We have agreed on an outcome which is the payment of a fine and good behaviour bond for each of the athletes involved," de Jong said.

The athletes were each fined 10,000 brazilian reais ($3,119).

"The translation is not precise but it was effectively for using a document for a purpose not intended, falsifying a document," de Jong said on Saturday morning. "We have already started an internal investigation."

Australian team chief Kitty Chiller hit out at organisers.

"I am very angry they had to go through this," she said of the athletes. "The athletes are not at fault and we will provide counselling."

Chiller said the athletes would not be admonished, but that the team would investigate how their accreditations came to be tampered with.

Officials for the International Olympic Committee and the Rio 2016 organising committee were not available for comment.

This is the latest in a series of incidents involving Australian athletes at the Games.

A member of the team was robbed earlier this week in the centre of Rio, and before the start of the Games, the team refused to enter their accommodation in the Olympic Village until bad plumbing and faulty wiring had been fixed.