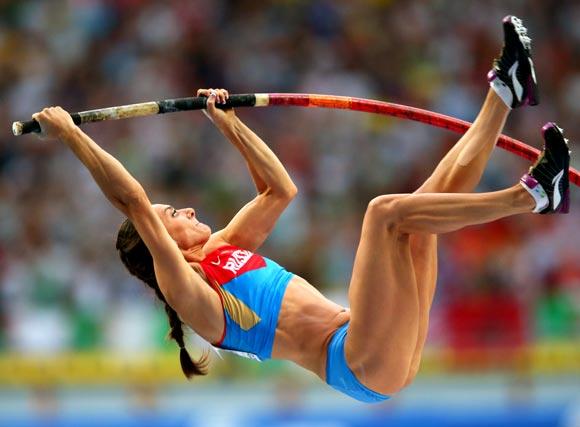 IMAGE: Russian pole vault champion Yelena Isinbayeva. Photograph: Ian Walton/Getty Images.
Twice Olympic pole vault champion Yelena Isinbayeva will stand in the All-Russian Athletics Federation (ARAF) presidential election this year, she said on Wednesday.
The ARAF announced last week that the election would take place on Dec. 9.
"I took this decision of responsibility myself to head the All-Russian Athletics Federation and return its membership of the International federation (IAAF)," the 34-year-old said while addressing the Federation Council, which is the upper house of the Russian parliament.
Isinbayeva was one of 67 Russian athletes ruled out of this year's Olympics in Rio de Janeiro by the IAAF after a World Anti-Doping Agency report uncovered systematic state-sponsored doping within the country.
Russian athletes were banned in November from competing in international competitions and if Isinbayeva is elected her main task will be to try to lift the suspension.
Russian media reported that she was the front-runner to get the job. Dmitry Shlyakhtin has been ARAF president since January.