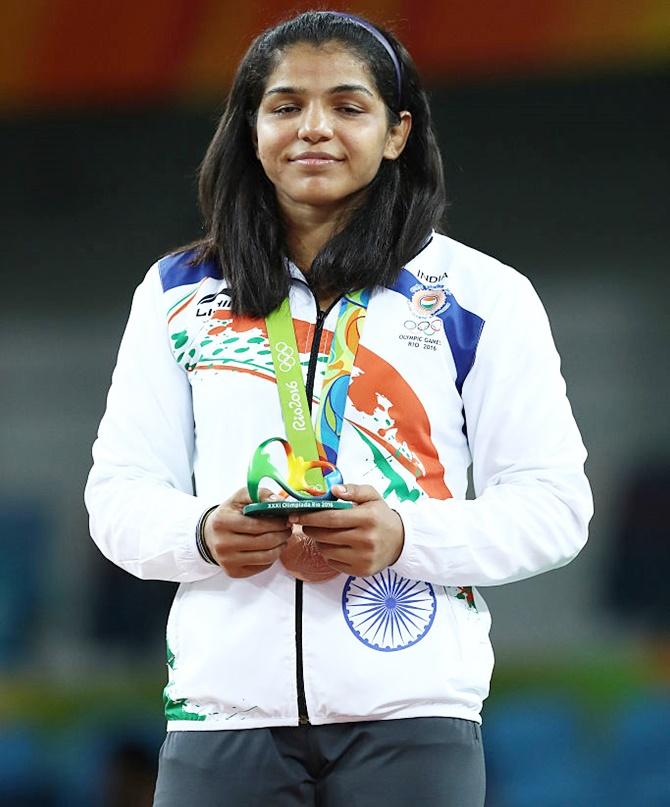 IMAGE: Bronze medalist Sakshi Malik of India during the medal ceremony of the women's freestyle 58 kg wrestling on Day 12 of the Rio Olympics. Photograph: Lars Baron/Getty Images.
The country's sporting fraternity, led by iconic cricketer Sachin Tendulkar, hailed female wrestler Sakshi Malik for clinching a historic bronze and ending India's frustrating wait for a medal at the Rio Olympics.
Tendulkar praised the Haryana wrestler for the resilience she displayed in the 58kg freestyle class on Wednesday, saying the country is proud of her feat.
"What great news to wake up to! #SakshiMalik, your resilience at #Rio2016 has made whole of India proud. Many Congratulations!!!" Tendulkar, who is also a goodwill ambassador of the Indian contingent at the Rio Games, said.
Abhinav Bindra, who won a gold medal in the 10 metre Air Rifle event in 2008 Olympics in Beijing -- the country's lone individual Olympic gold medal -- said: "Congratulations and felicitations to Sakshi Malik. What a great performance. Thank you for lifting the spirits of every Indian."
"Admirable preparation by wrestler Sakshi Malik for the Rio Olympics. My best wishes are with her," was Prime Minister Narendra Modi's post on Twitter.
India's limited-overs cricket captain Mahendra Singh Dhoni tweeted: "Great comeback by Sakshi Malik to win our first medal in Rio. Determination and self belief are the key for a performance like this. Congratulation!
Writer Shobhaa De, who had criticized India's athletes for their poor showing in Rio, also congratulated Sakshi.
"And the first Rio medal for India goes to a WOMAN! Congrats Sakshi Malik," she wrote.
Probably the best tweet of Thursday morning was former India opener Virender Sehwag's. He hit two birds with one stroke with this post: "Sakshi Malik is a reminder of what can happen if you don't kill a girl child. When the going gets tough, its our girls who get going & save our pride."
"Poora Bharat is baat ka Sakshi hai,jab koi bht mushkil ho toh is desh ki ladkiyan hi Malik hain.Thank U," the former swashbuckling batsman posted in another tweet.

Board of Control for Cricket in India president Anurag Thakur wrote on Twitter: "You did it #SakshiMalik, congratulations on winning & a brilliant performance @Olympics #Rio2016 !"
Cricket commemorator Harsha Bhogle wrote, "A medal! And a first for a woman wrestler! Hopefully, the first of many. Congratulations to the tough #SakshiMalik."
Congratulate Sakshi Malik HERE!