Vanity Fair's August edition, featuring Caitlyn Jenner -- formerly the famed 1976 Olympic gold medal-winning decathlon champion Bruce Jenner -- on the cover was the magazine's best-selling issue in years.
Covers featuring tennis aces Serena Williams, Sania Mirza and Maria Sharapova also delighted in 2015. Check them out.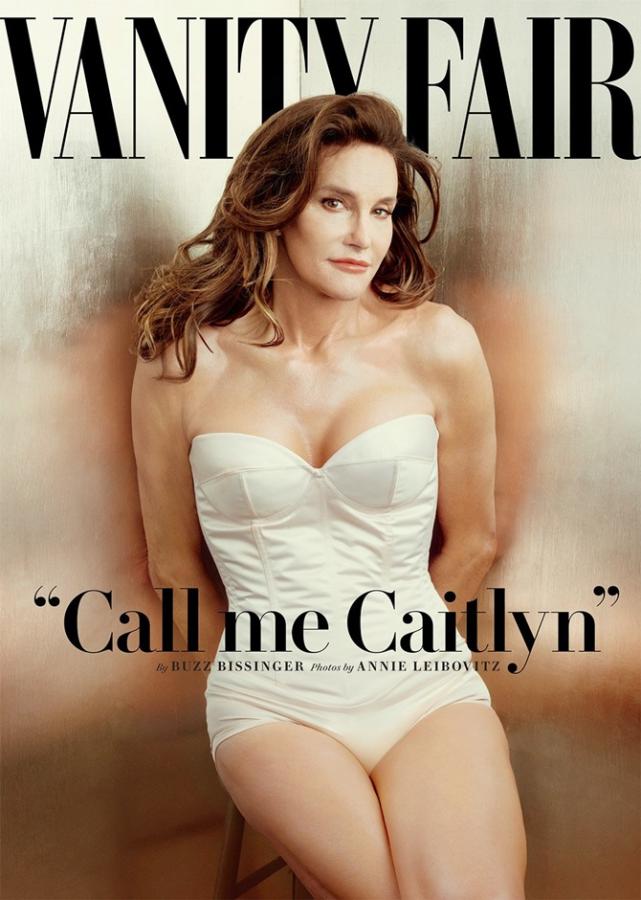 IMAGE: Bruce Jenner is now Caitlyn. Photograph Courtesy: Vanity Fair
Former Olympic athlete and reality TV star Bruce Jenner, who is transitioning to life as a woman, revealed her new name as Caitlyn Jenner and posed in a white strapless leotard on the cover of Vanity Fair magazine's July issue.
In a video on the magazine's website, Jenner said the cover, which has the headline 'Call me Caitlyn,' represents a liberating phase of her transition.
"Bruce always had to tell a lie," Jenner said. "Caitlyn doesn't have any secrets. As soon as the Vanity Fair cover comes out, I'm free."
Jenner launched a new Twitter account immediately as @Caitlyn_Jenner, saying, "I'm so happy after such a long struggle to be living my true self. Welcome to the world Caitlyn."
It became the fastest account to reach one million followers in four hours and three minutes according to Guinness World Records, besting US President Barack Obama's verified @POTUS account that reached one million followers in five hours in June.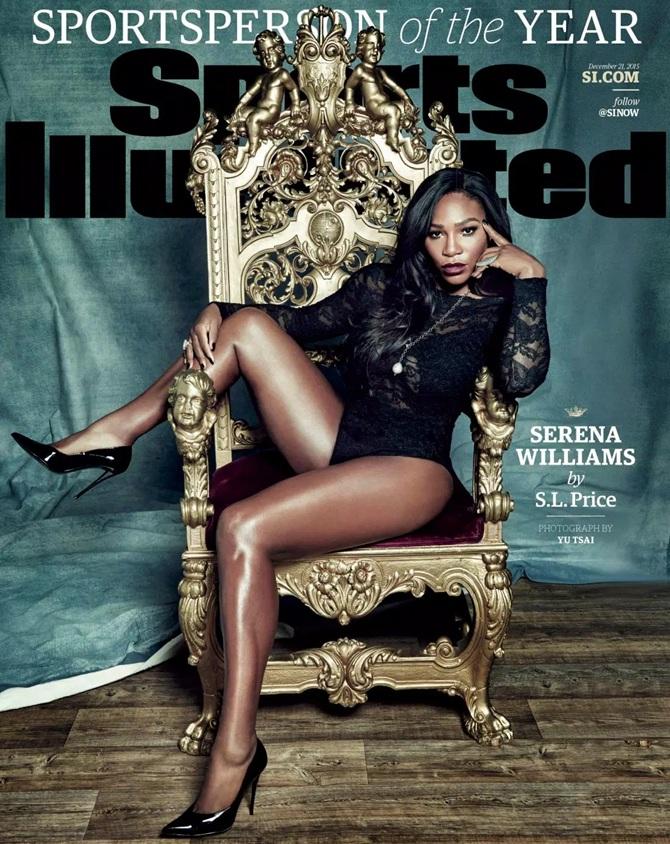 IMAGE: Serena Williams. Photograph: Courtesy Sports Illustrated
Serena Williams, who held all four of tennis's Grand Slam titles for the second time in her career and won 53 of 56 matches in 2015, was named 'Sportsperson of the Year' by Sports Illustrated magazine.
The 34-year-old accomplished her second 'Serena Slam' while battling a string of injuries, producing one of the greatest late-career runs in the history of any sport, the magazine said, hailing her a "global icon".
"Serena has made a very strong case as not only the greatest tennis player of her generation but of all time, and after the string of performances she put together in 2015, she is one of the most dominant athletes playing today," said Sports Illustrated (SI) Group Editor Paul Fichtenbaum.
Sports Illustrated revealed, "The cover was Serena's idea, to express her own ideal of femininity, strength and power."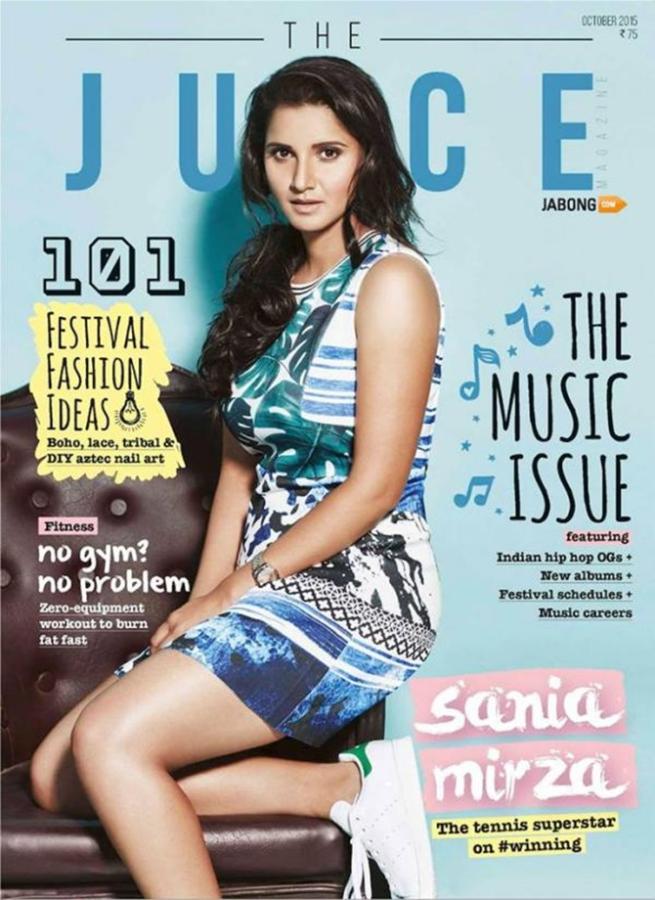 IMAGE: Sania Mirza. Photograph: Courtesy Juice
Sania Mirza charmed her way both on and off the court.
India's tennis sensation savoured a historic 2015, becoming the first female player from the country to win a women's doubles Grand Slam title on the way to becoming world No 1.
The 29-year-old featured on the cover in the October issue of Juice magazine.
WOW! featured her, Sania Mirza-Reigning Queen of Indian Tennis, in its January 2015 edition.
Looking absolutely gorgeous on the magazine cover, Mirza scored a perfect ten for her hot avatar in the black outfit.
The year took a dramatic turn for her as she teamed up with Swiss great Martina Hingis in March.
Her powerful game at the back of the court and Hingis's agility and manouvering at the net made the pair almost invincible.
At the end of the 2015 season, they had won nine titles together, including the prestigious Wimbledon and US Open apart from the year-end WTA Finals.
In 16 events played together, Sania and Martina -- named 'SanTina' by fans -- were an astonishing 55-7!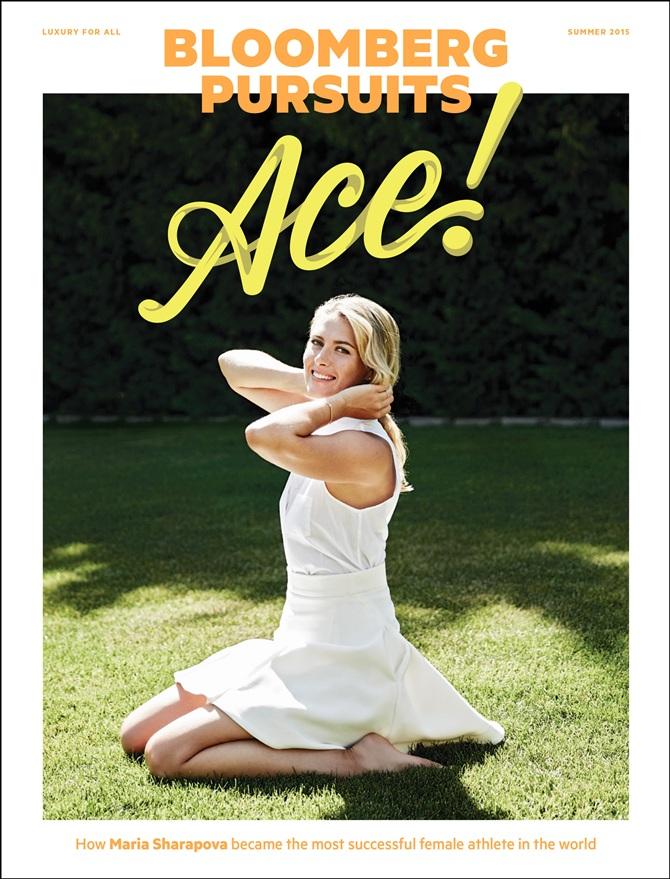 IMAGE: Maria Sharapova. Photograph: Courtesy Juice
Talk about the blend of tennis and glamour and the first thing, or rather name, that comes to mind is Maria Sharapova.
It is not just because she's the most-followed by tennis fans, but her modelesque looks also garner immense magnetism.
Bloomberg Pursuits' Summer 2015 issue featured her on the cover.
Having graced the cover of numerous magazines, the 28-year-old beauty is a no stranger to this vocation.
It was no different as the Russian posed for the prime page of Bloomberg Pursuits magazine.
According to Forbes, Sharapova is a smart and savvy business woman who now lays claim to the title of the world's most marketable female athlete, pulling in almost $30 million a year through earnings, endorsements and off-the-court ventures.
In August she graced the cover of Australian Tennis magazine.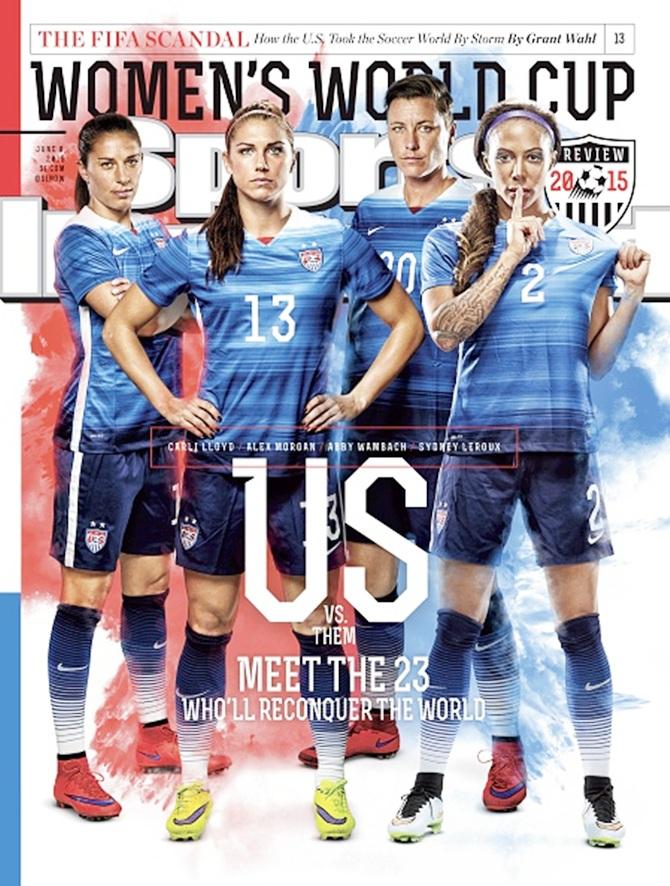 IMAGE: From left, Carli Lloyd, Alex Morgan, Abby Wambach, and Sydney Leroux grace the magazine cover. Photograph: Courtesy Sports Illustrated
The United States won the women's World Cup for a third time with a crushing 5-2 victory over Japan in the final on July 6, striker Carli Lloyd scoring the tournament's fastest ever hat-trick, including a spectacular long-range goal.
The US women's soccer team was rewarded with 25 personalised magazine covers in Sports Illustrated.
ESPN had stars like Sydney Leroux, Abby Wambach, Alex Morgan on their cover.