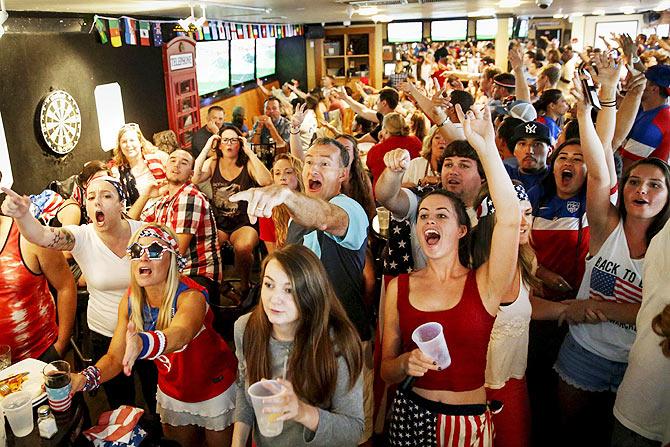 US fans react as they watch the Women's World Cup final match between USA and Japan, at the Underground Pub and Grill in Hermosa Beach, California on Sunday. Patrick T. Fallon/Reuters
There were only 200 people at Ott's Tavern in Carli Lloyd's tiny hometown of Delran but it probably had the most raucous celebration among the scores of Women's World Cup viewing parties held around the country.
- Lloyd hat-trick inspires US to third Women's World Cup title
It didn't hurt that the United States captain scored three goals in the first 16 minutes -- including a jaw-dropping shot from midfield -- en route to a 5-2 win over Japan in the championship match in Vancouver.
With each goal the tavern erupted, not in the chants of "U-S-A, U-S-A" but with "Car-li, Car-li." The win secured the United States' third World Cup and first since 1999.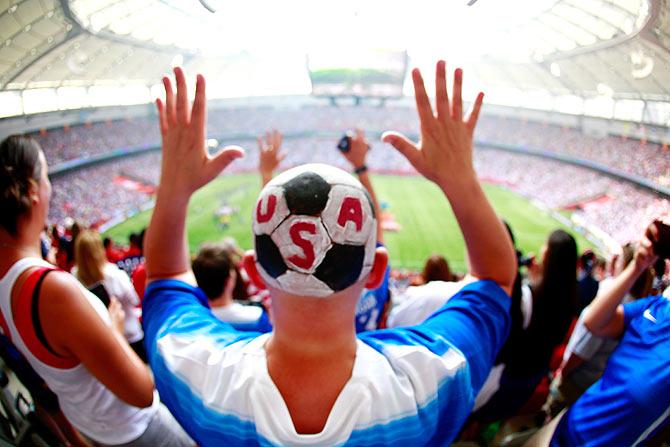 A fan of the United States is seen at the BC Place Stadium during the FIFA Women's World Cup final. Photograph: Jeff Vinnick/Getty Images
After the game, Kathy Hollins, Lloyd's future mother-in-law, said watching her son's fiancee was: "Like a high. You don't even need drugs ... She's so awesome, she just doesn't give up."
Thousands of soccer fans, waving the American flag and wearing red, white and blue normally worn during July 4 cookouts, attended viewing parties in parks, museums and bars throughout the nation.
About 7,000 fans, some with face paint, others with American flags worn like capes, filled Chicago's Lincoln Park to watch the match on a 19-by-33-foot, high-definition screen.
Lloyd's early goal barrage caused the crowd to launch into a steady "U-S-A, U-S-A" chant while they high-fived each other and hugged strangers.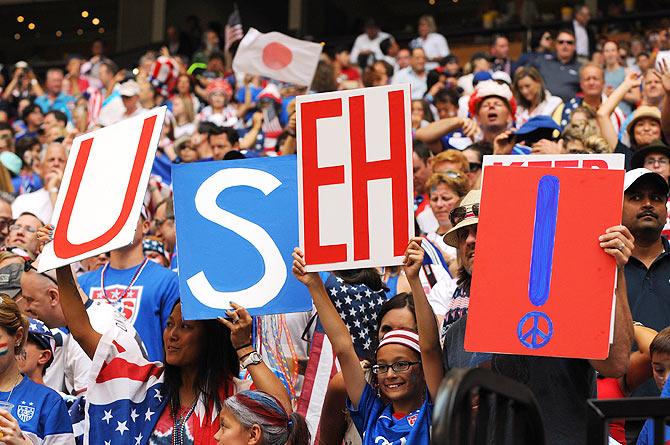 United States fans show support for their team at BC Place Stadium during the final. Photograph: Anne-Marie Sorvin-USA TODAY Sports/Reuters
Jim Zastrow, 58, of Evanston, Illinois, attended the party with his 17-year-old daughter Emma.
"The American women played the best they ever played in their history during this tournament," Zastrow said. "I'm happy to be here with my daughter who used to play. This atmosphere is a happy experience."
At the end of the match, fans in Seattle erupted in a deafening "U-S-A" chant at the viewing party hosted by the Seattle Reign, the city's pro women's soccer team.
Around 200 people, many wearing American flag bandannas and shirts, packed into The Ninety -- a soccer club and event space in downtown Seattle.
"I haven't had this much fun since I was covering grunge in the 90s," said Jeff Lageson, a Seattle-based soccer writer for the website Prost Amerika.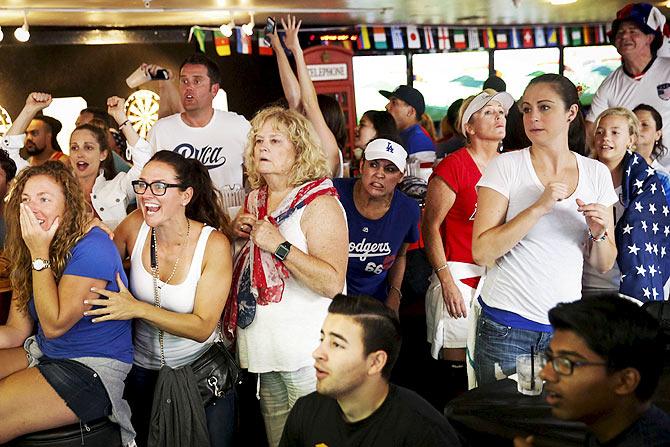 US fans react as they watch the Women's World Cup final at the Underground Pub and Grill in Hermosa Beach, California. Patrick T. Fallon/Reuters
Fans in Portland, Oregon, packed Bazi Bierbrasserie, a popular soccer bar. After the game, patrons in the standing-room-only bar sang the Star Spangled Banner while waving giant American flags.
Outside in the beer garden, fans donned red, white and blue shirts, bandannas and even USA scarves despite the 90-plus degree heat.
"They're so much better than the men," 26-year-old Portland native Ashley Lee, her face painted with 'USA vs Japan', said of the women's team. No place, however, had more interest than Ott's in Delran, where about 40 of the 200 patrons were friends and family of Lloyd's.
Ted Campbell, 52, a truck driver and former high school athlete from Delran, was at Ott's to soak in a bit of local pride.
"When Delran plays, we play for real," he beamed.