All the gold medallists from Saturday's action at the Tokyo Olympics.
Judoka Takato wins Japan's first Tokyo 2020 gold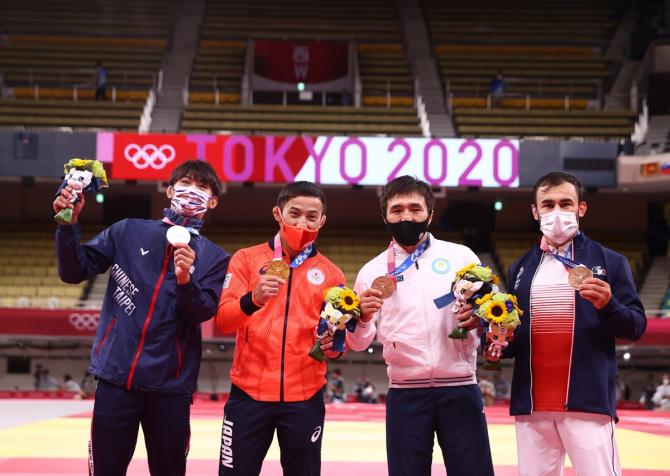 Naohisa Takato won the final of the men's 60kg judo to give host nation Japan their first gold medal of the Tokyo Olympics on Saturday, defeating Yang Yung-wei of Taiwan in the final.
Takato's victory underscored Japan's strength at a sport that originated in the country. Bronze medals went to Yeldos Smetov of Kazakhstan and Luka Mkheidze of France.
The dramatic victory that left Takato in tears stood in contrast to the lack of fans at an empty arena at the Nippon Budokan, a mecca of Japanese martial arts and concert venues.
Japanese female judoka Funa Tonaki reached the final in her 48kg class but lost to Kosovo's Distria Krasniqi.
Tonaki, a one-time world champion making her Olympic debut, won a nailbiting semi-final with an ippon - judo's equivalent of a knockout - by pinning Ukraine's Daria Bilodid in Golden Score overtime.
Japan's triple world champion Takato, a bronze medallist at the Rio 2016 Games, had a close shave in his quarter-final in the 60kg class, winning during Golden Score overtime on a foul by his Georgian opponent Lukhumi Chkhvimiani.
In the elimination round of 16, Takato had delivered an ippon against Belgian Jorre Verstaeten.
Tonaki, 25, had earlier defeated Paula Pareto of Argentina and Hungary's Eva Csernoviczki.
China's Hou wins 49kg weightlifting gold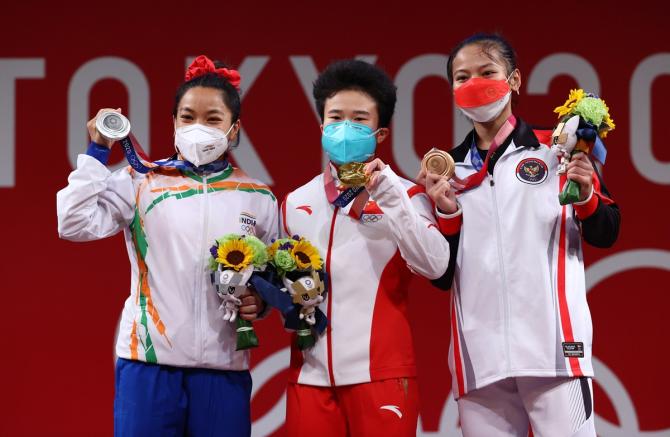 China's Zhihui Hou won the gold medal in women's 49-kg weightlifting at the Tokyo Olympics, bagging the second gold for China in as many competitions, with a comfortable win over Indian and Indonesian medalists.
Hou broke the Olympic records in all three categories of snatch, clean and jerk, and total with 210 kg, three kilos short of her own world record. She also holds the world record with 96 kg in snatch, which she didn't attempt in Tokyo.
Mirabai Chanu, India's only athlete in weightlifting, took home the silver medal. Chanu still holds the world record in clean and jerk of 119 kg.
In Rio 2016, Chanu was one of two athletes in her category who didn't register a total, after failing all three of her clean and jerk attempts.
Nineteen-year-old Indonesian lifter Windy Cantika Aisah clinched the bronze medal with 194 kg in total.
Making her Olympic debut, medal hopeful U.S. lifter Jourdan Delacruz failed all three attempts at clean and jerk. Japan's veteran lifter Hiromi Miyake also failed similarly, and both failed to register a total.
There are two Olympic lifts: the clean and jerk, and the snatch. Each athlete is allowed three attempts at each lift. The best lift in each is combined to determine the overall total. Athletes must successfully attempt the snatch before proceeding to the clean and jerk.
China's Yang Qian grabs first gold of Games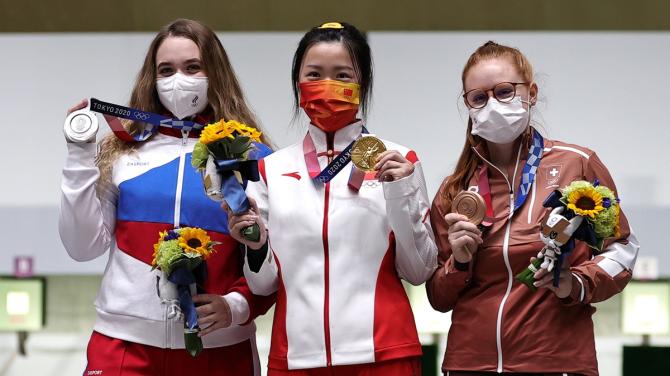 China's Yang Qian won the first gold medal of the Tokyo Olympics on Saturday after prevailing in a battle of nerves with Russian Anastasiia Galashina in the women's 10-metre rifle final.
Galashina barely made it to the final, grabbing the last of the eight qualifying slots, but was in pole position for gold until she cracked under the pressure.
That pressure also weighed heavily on South Korean shooting great Jin Jong-oh, whose quest for a record-extending fifth individual Olympic gold fell short when he failed to qualify for the final of the men's 10m air pistol.
Javad Foroughi comfortably beat an elite field to win gold, Iran's first ever shooting medal, with a Games record total of 244.8 in the final.
Foroughi told reporters he was able to maintain his composure in the final because he had stumbled in qualification but still made it through.
"That's why I was relaxed during the final because in the qualification round I was so nervous and still did well," he said.
Serbian Damir Mikec finished second on 237.9, ahead of 2008 Beijing Olympics champion Pang Wei of China. Defending Olympic champion Hoang Xuan Vinh of Vietnam could not make the final.
In the women's rifle final, Galashina's hopes were dashed by her last shot of 8.9, which was the lowest of any competitor in the final, leaving her on a total of 251.1.
Yang was not immune to the pressure at the Asaka Shooting Range either but her below-par final shot of 9.8 was still enough to snatch the gold with an Olympic record total of 251.8.
In the stands, supporters and team mates watched the nail-biting women's final, cheering to the rock music piped into the venue.
"We did train how to perform under pressure. The coaches would actually create a nerve-wracking atmosphere and try to pressure us," Yang told reporters after winning an event which did not feature a single medallist from Rio.
Galashina said the pressure got to her on the final shot.
Kosovo's Krasniqi wins first judo gold medal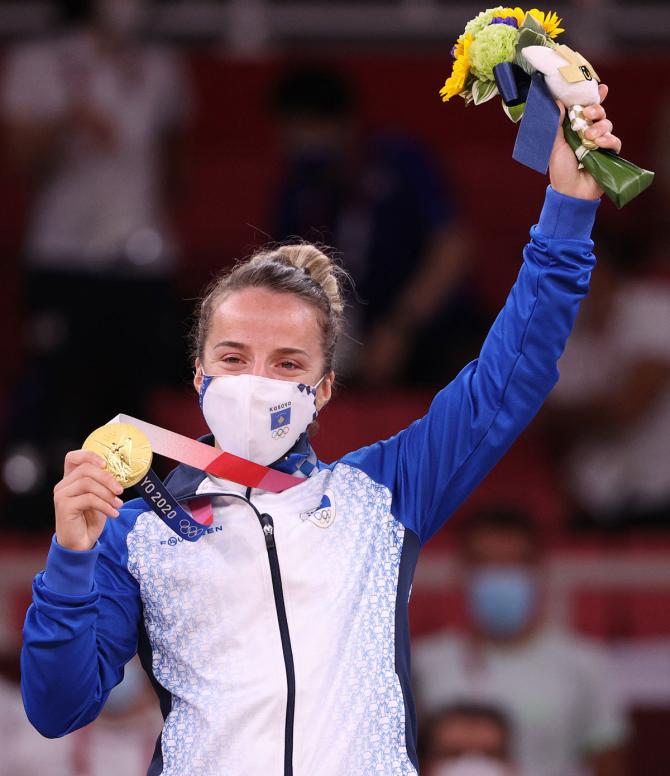 Kosovo's judoka Distria Krasniqi won the gold medal in the women's 48kg category at the Tokyo Olympics on Saturday, beating Japanese rival Funa Tonaki in the final.
Bronze medals went to Daria Bilodid of Ukraine and Urantsetseg Munkhbat of Mongolia.
China's Sun wins women's epee individual gold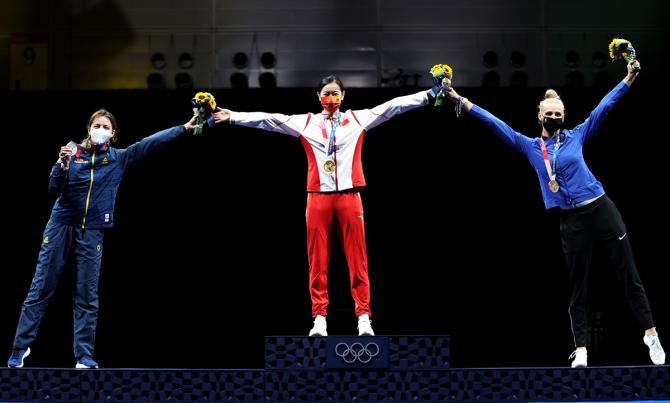 China's Sun Yiwen won the women's individual epee fencing gold medal, defeating five-time Olympian Ana Maria Popescu of Romania 11-10 in overtime to win gold.
Ana Maria Popescu of Romania took silver and Katrina Lehis of Estonia claimed bronze.
Lehis took the bronze by beating Russian fencer Aizanat Murtazaeva 15-8.
Popescu tied the score at 10 with three seconds left for overtime, but Sun scored the winning point in the deciding period to emerge triumphant.
The victory enabled Sun complete her set of Olympic medals, having won an individual bronze and team silver at the 2016 Rio Games.
The Romanian failed to win an individual gold medal at any of her five Olympic appearances. She won team gold in 2016.
Hungary's Szilagyi makes history with third sabre gold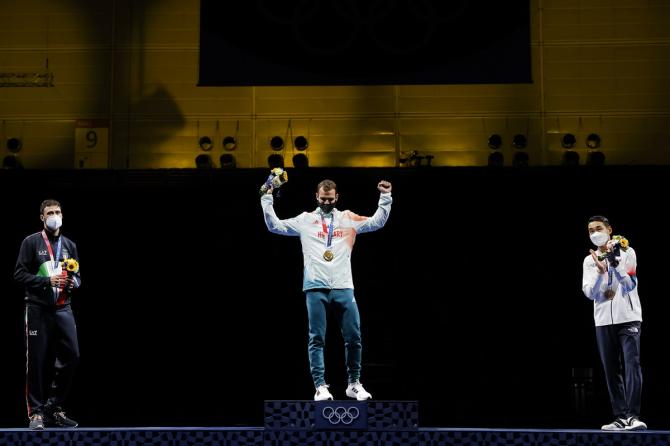 Hungarian fencer Aron Szilagyi made Olympic history on Saturday when he won the men's individual sabre event, defending his title and becoming the first man to take three gold medals in a single discipline in the sport.
When he won the final point over Italy's Luigi Samele, Szilagyi took his mask off and broke into a wide smile, pointing a finger to the sky.
"It's amazing. I can't tell you my feelings, but I'm very much overwhelmed," he told reporters.
Szilagyi came close to losing a tight and tense semi-final against Georgian Sandro Bazadze. They were locked at 13-13 and Szilagyi's final two points were awarded after deliberation by the referees, prompting Bazadze to throw his arms up in the air and eventually storm off into a back room.
But the Hungarian laid in strong from the beginning of the final with quick, decisive strokes, and the bout was over within ten minutes.
He took in the cheers from the crowd of volunteers, team members, and Olympic-related staff in an otherwise spectatorless venue and held the Hungarian flag aloft, while a coach massaged silver medallist Samele's leg as the Italian shrugged and shook his head at team mates.
Archery: South Korea wins gold in mixed team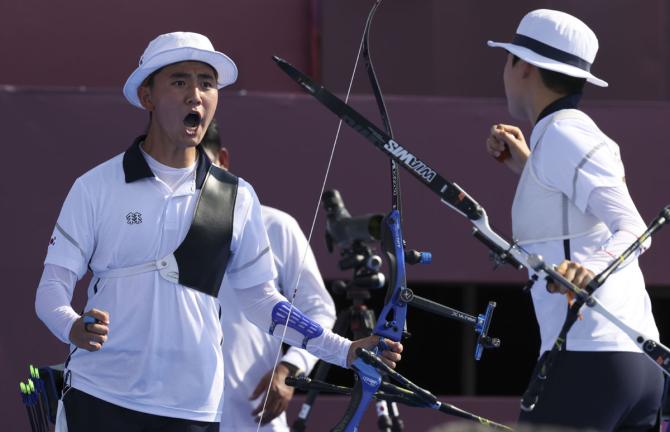 The mixed archery gold went to number one seeds An San and Kim Je Deok, who extended South Korea's long winning run at Olympic archery.

Although not a popular sport in South Korea, the country's Olympic record in archery is unmatched. It has won gold medals at archery in every Games since 1984, and the women's team is aiming for its ninth straight gold, which would be the longest streak in Olympic history.

Carapaz creates history for Ecuador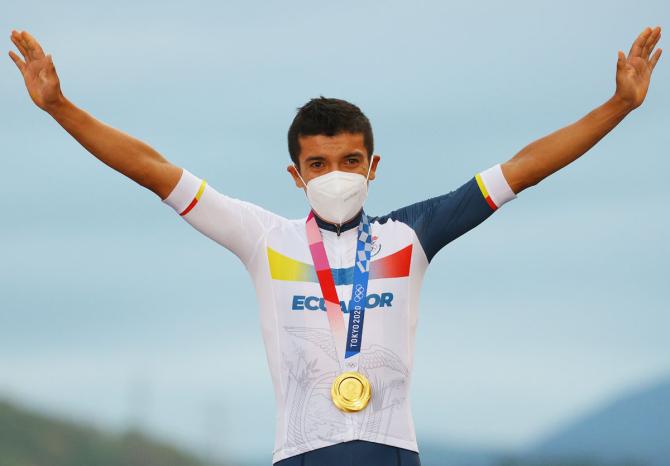 Richard Carapaz took gold in the Olympic road race to give Ecuador its first cycling medal in the Olympics.

The 28-year-old mountain man, known in the men's professional peloton as La Locomotora by dint of his relentless engine, shrugged off everything the elite field could throw at home before launching a solo bid for glory.

Better known as a climbing specialist with his Ineos Grenadiers team, Carapaz powered home like a Formula One car on the Fuji International Speedway to leave his rivals trailing a minute behind him in his tracks.

It was a masterful performance and will go down in Ecuador's sporting folklore as he delivered only the country's second Olympic gold medal after Jefferson Perez's victory in the race walking event at Atlanta in 1996.

Wongpattanakit, Dell'Aquila triumph in taekwondo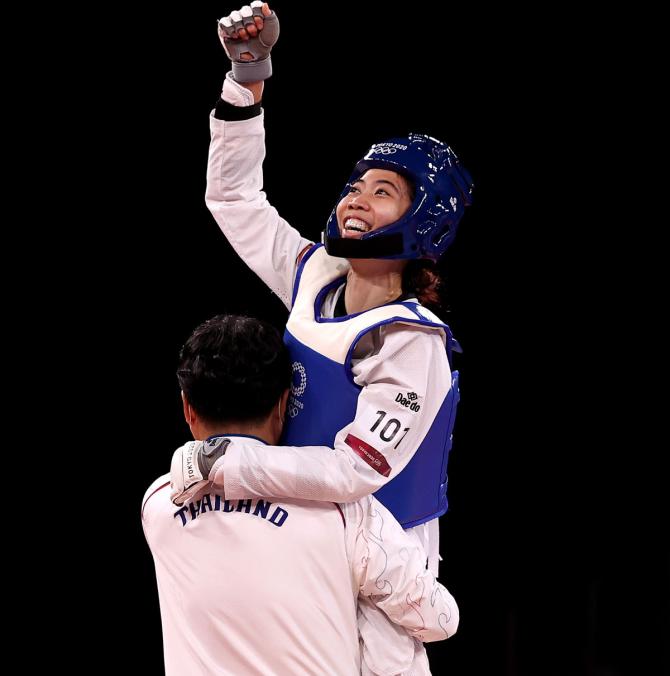 Thailand's Panipak Wongpattanakit, the bronze medallist in Rio five years ago, beat Spanish teenager Adriana Cerezo Iglesias to win the gold medal for women's taekwondo in the 49kg category on Saturday.

Serbia's Tijana Bogdanovic and Israel's Abishag Semberg won the two bronze medals.'

Italy's Vito Dell'Aquila defeated Tunisia's Mohamed Khalil Jendoubi to win the men's taekwondo -58kg category gold medal on Saturday.

South Korean Jang Jun and Russian Mikhail Artamonov claimed the bronze medals.