'Don't say I'm the new Bolt. I'm me.'

'If you like me I will happily entertain you.'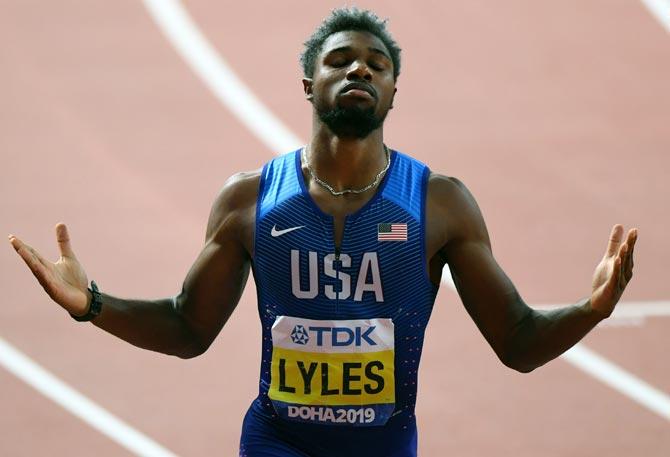 American Noah Lyles shot to 200 meters world championships gold on Tuesday, providing a bright finish to a day darkened by yet another doping scandal.
The showman Lyles, his hair dyed silver after a heroic anime character, kicked off what many predict will be a glittering career by winning his first world title by storming across the line unthreatened in a time off 19.83 seconds.

Canada's Andre De Grasse, the Rio Olympic silver medalist behind Usain Bolt, was second again in 19.95 while Ecuador's Alex Quinonez took the bronze by clocking 19.98.

It was a brilliant finish to a day of competition clouded by a drugs controversy that began with renowned American coach Alberto Salazar being banned for four years for doping violations.

The news landed like a grenade right smack in the middle of the International Association of Athletics Federations's (IAAF) showcase world championships, adding another headache to an event already dogged by criticism over sparse attendance and searing heat.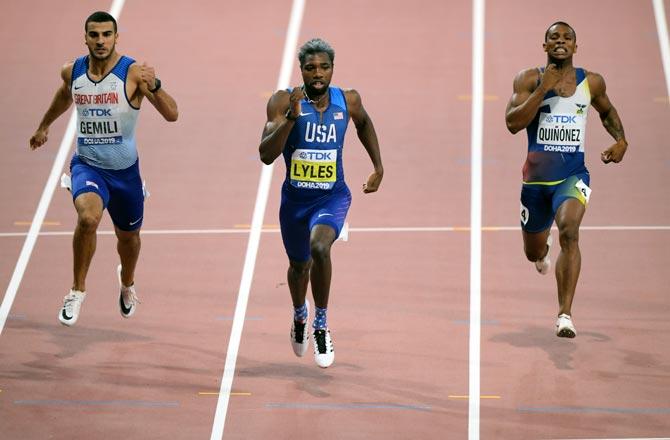 Nothing, however, could distract Lyles from his goal.

The 22-year-old was behind coming out of the blocks but powered into the lead through the corner and was in complete command to the finish.

"So many times this year I have thought about being world champion, you wouldn't believe it," said Lyles.

"I have it on my phone, I say it to myself in my car, I think it all the time and to have finally done it feels unbelievable.

"I don't know how many people come to their first world championships and get a gold medal but I have done it.

"I just knew that no matter what position I found myself in, I would find a way to come through.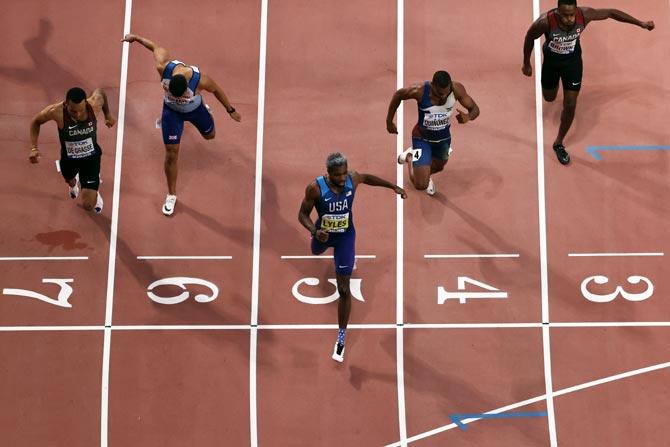 Charismatic, brash and very fast, Lyles' dominating and entertaining performance in Doha will only increase talk that he is the man to take over from Usain Bolt as the new face of the sport.

He is more than just a sprinting machine.

Lyles, an aspiring rap artist who has strolled down the Paris catwalks and runs to his own beat, ticks many of the boxes that could one day make him athletics' leading man.

"Don't say I'm the new Bolt," pleaded Lyles. "I'm me.

"If you like me I will happily entertain you.

"It's my time."

The 200m final offered a small glimpse of a much needed rivalry that the sport also needs.

After spending two years battling injuries, De Grasse was back in fighting form in Doha as he picked up a pair of medals, the 200m silver and a bronze in the 100m.

"He (Lyles) is young," said the 24-year-old De Grasse.

"I'm looking forward to battles with him in the future. He kind of reminded me of my younger self the way he runs.

"Our starts are not that great but our acceleration when we come off the bend and the run home.

"We run kind of alike."
Brazier destroys the field to clinch first 800 meters title for US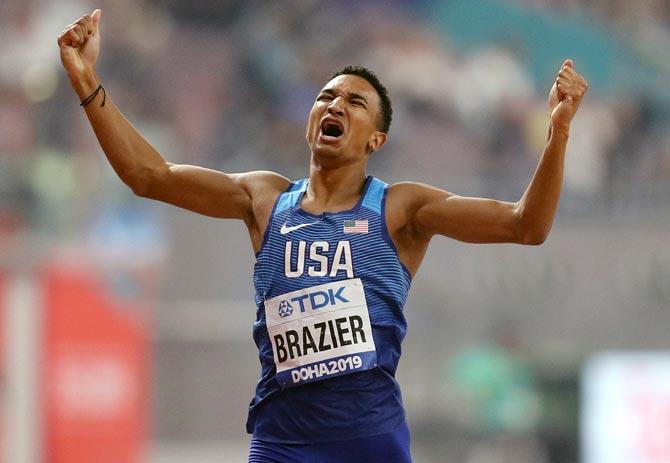 Donavan Brazier stormed home and broke the World Athletics Championship record to claim a first-ever world title for the United States in the men's 800 meters.

The 22-year-old, running in his first world or Olympic final, destroyed the field as he raced past Puerto Rican Wesley Vazquez with 300 meters left to win in one minute 42.34 seconds.

Bosnia's Amel Tuka, who won the bronze in Beijing in 2015, went one better by taking the silver, his country's best-ever result in any event at the championship, and Kenya's Ferguson Cheruiyot Rotich got the bronze.

Brazier's win came less than 24 hours after Alberto Salazar, the head coach at the Nike Oregon Project (NOP) where he trains, was banned for four years by the US Anti-Doping Agency for "orchestrating and facilitating prohibited doping conduct".

Salazar has denied wrongdoing and vowed to appeal and sportswear giant Nike has said it will stand by the 61-year-old American.

Brazier said he had not been distracted by the Salazar issue. "Not at all, I mean he's not my coach," he told reporters, adding that his coach is Pete Julian.

"The only contact I've had with Alberto has been pleasant. I like Alberto, he's a cool guy... I'm just really happy to win the race and get a gold medal out of today."

Brazier was left out of the US team for the Rio de Janeiro Olympics as a 19-year-old and then eliminated in the semi-finals at the World Championships in London two years ago. Last year, he was hampered by injury but this season he has found his form.

"I've said all season that my goal was to get the gold here and to break this record, and that's what I did," he said. "It means the world to me. To be world champion at 22 years old, I can't believe it."

The race was left wide open after Botswana's Nijel Amos, one of the favorites, withdrew before his opening heat on Saturday with an Achilles injury and titleholder Pierre-Ambroise Bosse was eliminated in the semi-finals.

Vazquez quickly took the initiative and led at the bell with Brazier tucked in behind and Tuka in third.

There was never any doubt above the outcome when Brazier made his move down the back straight while Vazquez was also overhauled by Tuka and Rotich on the final bend.
Pole vaulter Kendricks takes second World gold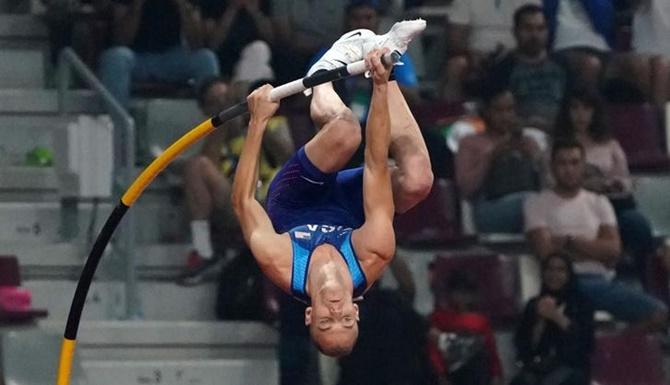 Sam Kendricks of the United States clinched his second consecutive world title on Tuesday after a duel with European champion Armand Duplantis that electrified the usually muted crowd at Khalifa International Stadium.
Kendricks stayed alive by clearing 5.87 and 5.97 metres in his third and final attempts but it was his first-time clearance at 5.92 that put him above Duplantis and earned him gold when neither man could clear 6.02.
Kendricks, who came into the championships with a season's best of 6.06, became the first pole vaulter to secure repeat wins at the worlds since Sergey Bubka clinched his sixth consecutive title in 1997.
Sweden's Duplantis knocked down the bar on this first attempt to clear 5.87 but comfortably cleared the height on his second attempt, pounding his fist on his chest as he stood up from the pit.
The 19-year-old encountered trouble at 5.92, failing to clear on his first two attempts. He remained in contention by lifting himself over the bar on his third try, prompting cheers from a pack of Swedish fans in the crowd.
"He's not just 19. He's 19 with 10 years of pole vault experience," Kendricks, 27, said of his Swedish rival. "It's going to be harder every time, for him and for me, to go for that victory."
Piotr Lisek of Poland, twice a world championship medallist before, settled for bronze after failing to get over the bar at 5.97.
In a display of camaraderie, all three medallists backflipped simultaneously in celebration, drawing cheers and claps from the crowd.
Barber wins Australia's first javelin World title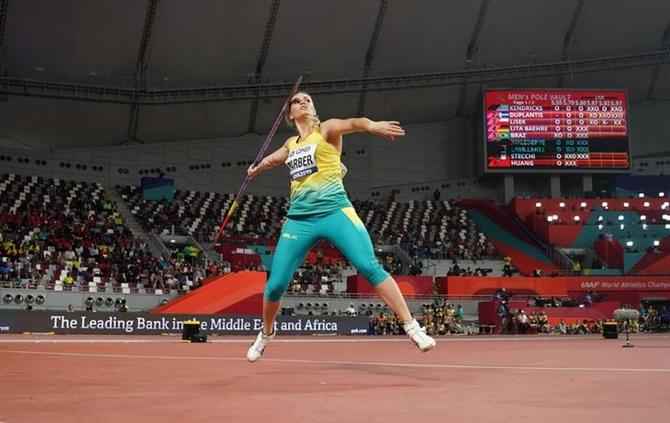 Kelsey-Lee Barber became the first Australian to win the javelin world title on Tuesday, clinching it with her last throw of the competition and ending one of the longest winning streaks in the sport.
The 28-year-old threw 66.56 metres to take her from fourth place to first and draw a huge cheer from the half-full Khalifa stadium.
China took silver and bronze with Liu Shiying throwing 65.88 and the in-form Lyu Huihui 65.49 respectively. Lyu had won her 12 previous meetings and had extended her own world-leading Asian record three times.
Barber had struggled even to reach for the 12-woman final, finishing 10th in qualifying.
"I was holding off my nerves yesterday waiting for the qualifying to see if I got through," she said. "It shows that today is a new day, a clean slate and you have to throw big if you want to be the best."
Asher-Smith storms into 200m final; Thompson withdraws from semis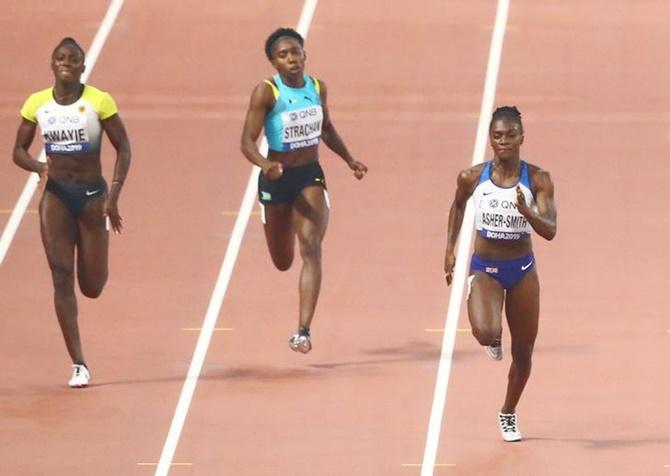 Britain's Dina Asher-Smith led the charge into the 200 metres final at the world athletics championships on Tuesday while Jamaican Olympic champion Elaine Thompson pulled out to leave the gold medal up for grabs.
A silver medallist in the 100m, Asher-Smith will go into Wednesday's final as the clear favourite for gold after cruising home in 22.16 seconds ahead of Americans Brittany Brown (22.46) and Anglerne Annelus (22.49) who posted the top times in the other two heats.
The final will be without both the defending world and Olympic champions in an event that was depleted by withdrawals.
Thompson, who narrowly missed out on a 100m medal on Sunday by finishing fourth, was the latest casualty when she withdrew from the semi-finals.
The 200m has been a double disappointment for Jamaica with Thompson following the withdrawal of 100m champion Shelly-Ann Fraser-Pryce, who scratched from the opening heats with soreness.
Also failing to reach the starting blocks for the first heats were Ivory Coast's 100m bronze medallist Marie-Josée Ta Lou and Dafne Schippers, 200m champion at the last two worlds, who pulled out with strained abductor muscle.
The event had already lost one of the gold medal favourites Shaunae Miller-Uibo of the Bahamas. She owns the best time of 21.74 this season but opted out of the 200m in Doha to run the 400m.