'I make him play very easy. So you cannot expect to win matches in quarter-finals of Grand Slams helping the opponent to play well. That's what I did'
'It's not a bad result at all for me arriving here the way I arrived: only with one match, only with five matches in seven months. So taking the positive part, that's the thing that I have to take'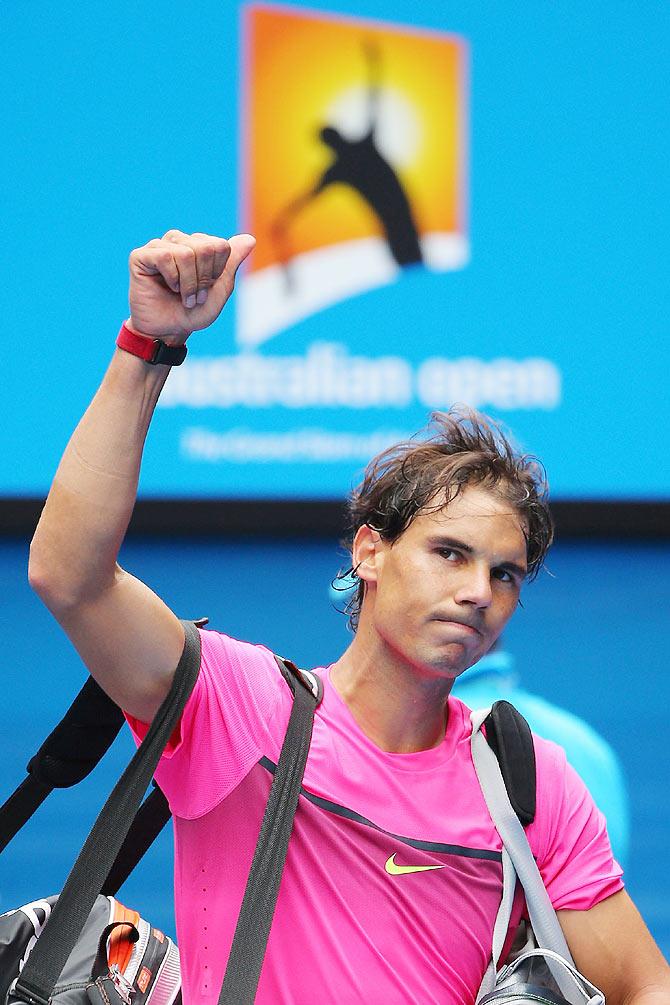 Rafael Nadal of Spain leaves the court after losing in his quarter-final against Tomas Berdych of the Czech Republic on Tuesday. Photograph: Scott Barbour/Getty Images
A fourth-round thrashing of big-serving South African Kevin Anderson had given Rafael Nadal hope he might be back to his best, but the Spaniard's limited preparations came back to haunt him against Tomas Berdych at the Australian Open on Tuesday.
- Aus Open PHOTOS: Nadal knocked out by Berdych; Sharapova tames Bouchard
- Berdych knocks off Nadal monkey off his back
The rangy Czech played majestically to reach his second semi-final at Melbourne Park, upsetting Nadal 6-2, 6-0, 7-6(5) to snap a record 17-match losing streak against the 14-times Grand Slam champion.
Nadal battled hard to keep in touch in the third set and nervelessly saved two match-points to take the decider into a tiebreak.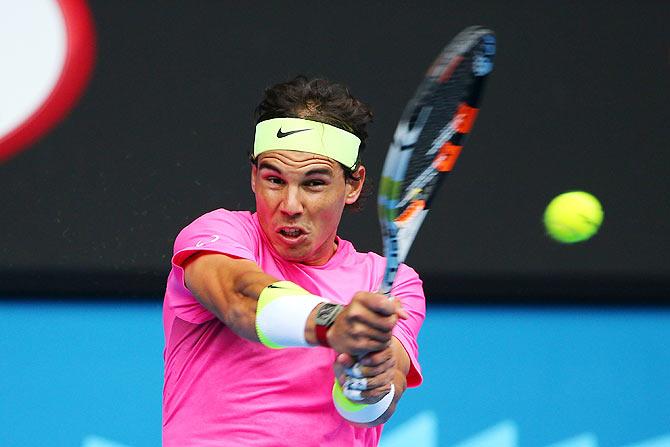 Rafael Nadal plays a backhand in his quarter-final against Tomas Berdych. Photograph: Scott Barbour/Getty Images
But the horse had well and truly bolted when Berdych wrapped up the first two sets in a breath-taking hour of clean hitting.
"The third was the right set, the right game that I have to play. But it is obvious that before I didn't play with the right confidence, with the right intensity, losing court, playing very short," Nadal said.
"I make him play very easy. So you cannot expect to win matches in quarter-finals of Grand Slams helping the opponent to play well. That's what I did."
Nadal played only seven matches in the second half of 2014 after being dumped out of Wimbledon by Australian teenager Nick Kyrgios as he struggled to recover from a wrist injury and then appendicitis.
His one lead-up match to his four at Melbourne Park was a first-round loss to German journeyman Michael Berrer at the Qatar Open.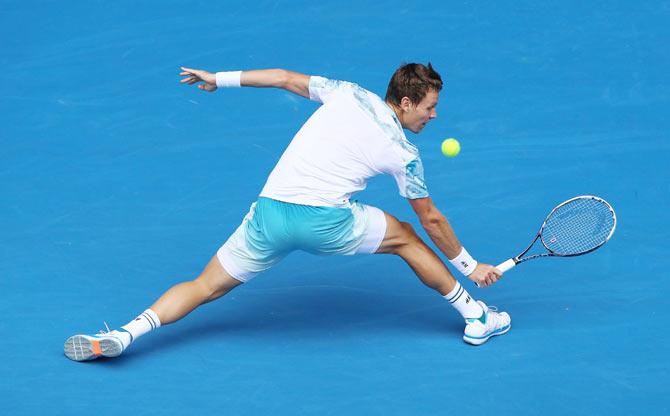 Tomas Berdych plays a backhand against Rafael Nadal. Photograph: Clive Brunskill/Getty Images
Following a straight sets win over first-round opponent Mikhail Youzhny, Nadal suffered heavy cramping in his body against American Tim Smyczek, needing to summon every ounce of his will to get through the five-setter.
Against Berdych, he appeared to be troubled by a leg problem early and was seen taking a pill in the third set.
He refused to blame fitness problems for his slow start, however, with the Czech having kept him pinned behind the baseline and outpointed with a series of imperious winners.
"As I said when I arrived here, the process always is not easy," said Nadal, who wrote off his chances of winning the tournament in the lead-up.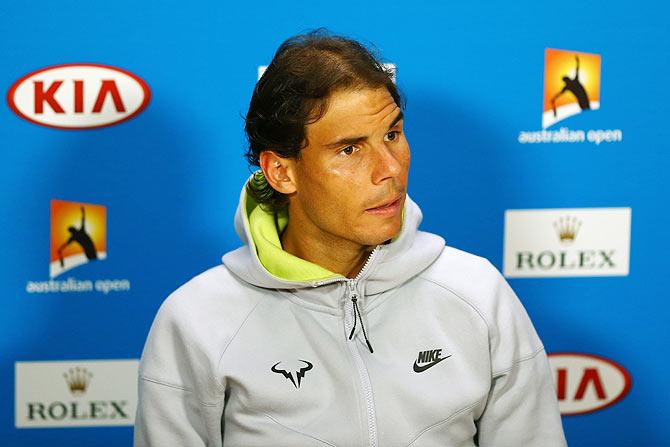 Rafael Nadal of Spain speaks to reporters after his quarter-final loss to Tomas Berdych of the Czech Republic. Photograph: Clive Brunskill/Getty Images
"When you have injuries, it's difficult the comebacks. There are so many examples around the world of sport that have been tough to be back.
"For me, I'm not an exception on that, no? I have to take the positive things. Without being at my top level of tennis I was able to be here in quarter-finals.
"It's not a bad result at all for me arriving here the way I arrived: only with one match, only with five matches in seven months. So taking the positive part, that's the thing that I have to take."