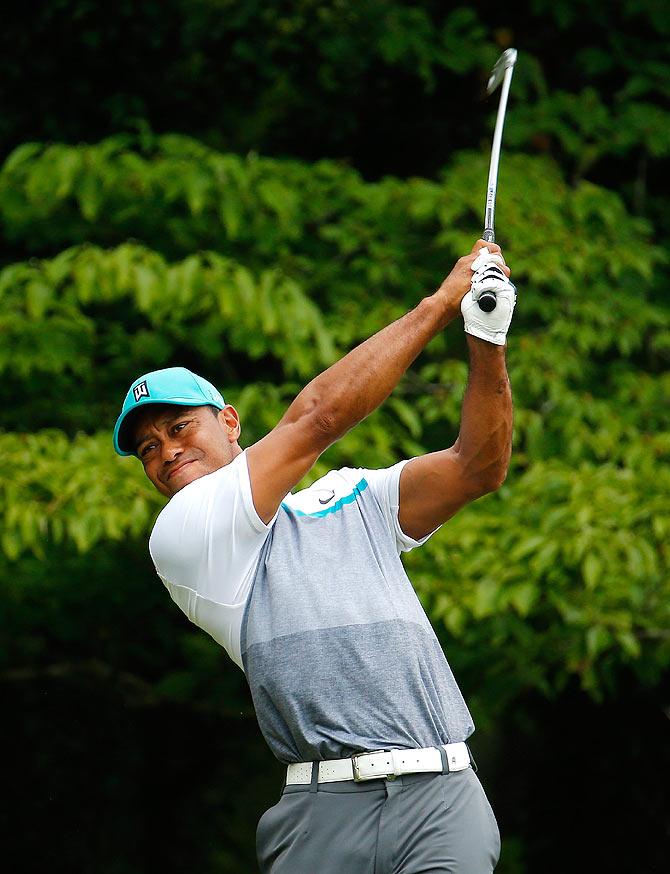 Tiger Woods tees off the ninth hole during the first round of the Wyndham Championship at Sedgefield Country Club in Greensboro, North Carolina, on Thursday. Photograph: Kevin C. Cox/Getty Images)
Tiger Woods fed off an "electric" atmosphere to card his lowest score in two years on the PGA Tour, a six-under 64 that put him within two shots of the early first round lead at the Wyndham Championship on Thursday.
Erik Compton wonders if he should start drinking more often after firing an eight-under-par 62 to grab a three-way share of the first round lead at the Wyndham Championship on Thursday.
The two-time heart-transplant recipient, who tied for second at last year's U.S. Open, took advantage of ideal scoring conditions on a soggy Sedgefield course to join fellow Americans William McGirt and Tom Hoge atop the leaderboard.
Woods, making his first appearance at one of the PGA Tour's oldest tournaments as part of a last-ditch effort to make the FedExCup playoffs, was greeted like a rock star by hundreds of fans when he arrived on his first tee under gloomy skies at Sedgefield Country Club.
And he did not disappoint the droves that turned up at the crack of dawn, promptly chipping in from 55 feet for birdie at his first hole, the par-four 10th.
Despite a bogey at the very next hole, Woods finally got his putter working to roll in six more birdies for his lowest round on tour since firing a 61 in the second round of the 2013 Bridgestone Invitational.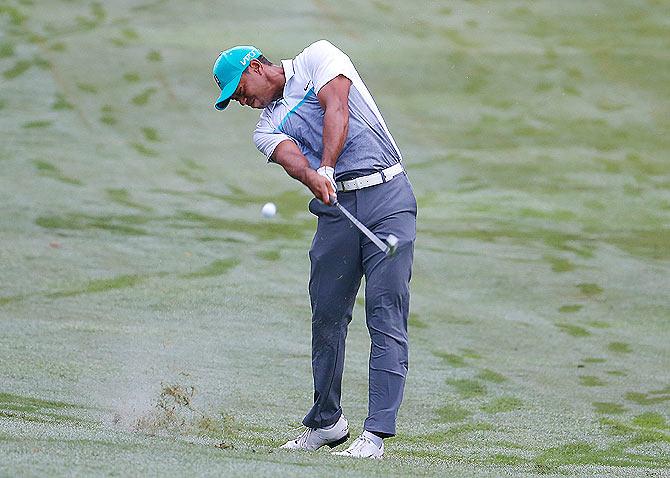 Tiger Woods plays his second shot on the 11th hole. Photograph: Kevin C. Cox/Getty Images
"It was electric, especially early," Woods told reporters after draining a 10-footer to save par at his final hole.
"My iron play was very solid but it was nice to finally get some (birdie) putts going in. On top of that it was nice to make some par putts," said Woods.
Woods, who missed the cut in a major for the third time running last week, trailed clubhouse pacesetters William McGirt and Erik Compton by two strokes.
The 39-year-old only recently committed to the Wyndham, the final event of the regular season on the US circuit, as part of a bid to earn extra FedExCup points.
The 14-times major winner is 187th in the FedExCup standings and needs a victory to guarantee a berth in the lucrative four-event playoff series that starts in New Jersey next week with The Barclays.
It would be premature to suggest Woods's good start means his recent troubles are behind him, because the course, softened by heavy rain, was there for the taking, and players were allowed preferred lies, which made good scoring even easier.
Nevertheless, it was the sort of confidence-boosting round he no doubt needed after the poor form -- no top-15 finishes in 10 starts this year -- he has demonstrated for much of the year.
"I felt very good out there today," Woods said.
"I hit a lot of good iron shots, made some putts, finally got something out of my round."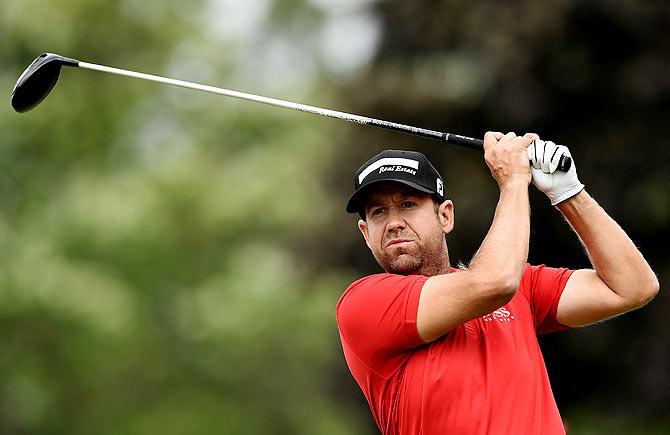 Erik Compton. Photograph: Minas Panagiotakis/Getty Images
Preferred lies and soft greens allowed players to attack the pins fearlessly on a day when 102 players broke par, including Woods.
Compton does not normally drink, but the 25-year-old had a couple after the pro-am on Wednesday after being summoned for a drug test.
"I drank two vodka tonics to get my kidneys working. Maybe I should do that again," Compton joked to reporters.
At 114th on the FedExCup points list, Compton is likely to stay in the top 125 and qualify for the lucrative playoffs starting next week, and a good start here did not hurt his cause.
He arrived after a couple of weeks off and a London holiday with his wife, but knocked off the rust in the pro-am and continued his hot hand when the real action started.
"Kind of an unexpected round," he said after storming home in 28 strokes on his final nine holes, the easier front nine.
"It was really a great ball-striking day with a lot of tap-ins and the course yielded some low scores (so) it was just put your foot down and know (it is) going to take a low number to win this week."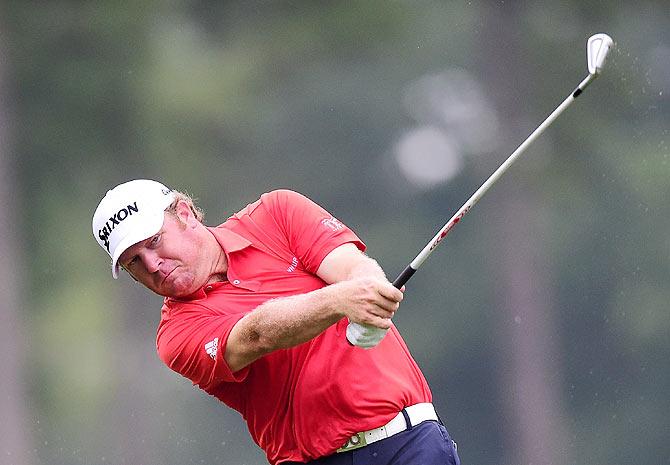 William McGirt plays his second shot from the fairway on the 1st hole. Photograph: Jared C. Tilton/Getty Images
Co-leader McGirt, who grew up in nearby Charlotte, teed off so early that it was hard to read the greens for the first few holes on a cloudy morning.
"It was a little dark early but I played pretty solid all day," said McGirt, who is ranked 86th in the tour standings and, as with Compton, has never won on tour.
Tour rookie Hoge, in the last group of the day, birdied the 18th to make it a three-way tied for the lead.
Compton and McGirt led a group of four players by one stroke, while two-times major winner Martin Kaymer was among those who matched Woods on 64.