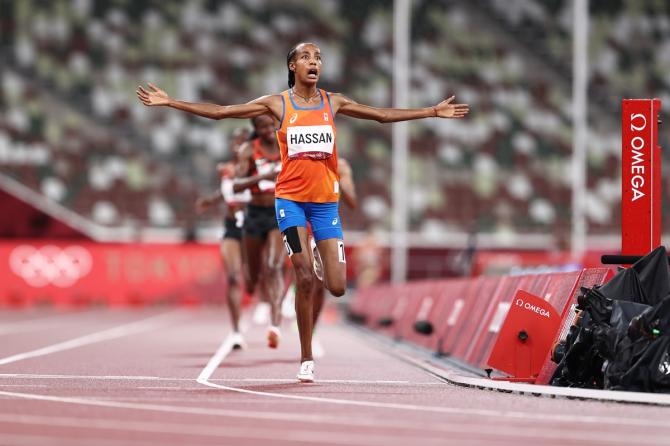 The Netherlands' Sifan Hassan unleashed her sizzling pace in the final lap to win the women's 5,000 metres gold medal on Monday and kick-off her bid for an unprecedented Olympics treble.
The Ethiopian-born middle-distance runner has confirmed that she will add the 1,500 metres event to her 5,000m and 10,000m runs at Tokyo's Olympic Stadium. The 28-year-old Hassan is the reigning World champion in the 1,500 and 10,000m.
Her dream looked under threat during Monday's morning session when she fell in her 1,500m heat at the start of the final lap.
"I can't believe it," she told reporters after completing her win on a slightly wet track following heavy rain.
"I used all my energy this morning and I was kind of tired. I couldn't believe what happened. It was terrible when I tripped.
"I felt terrible afterwards and I never thought I am going to be Olympic champion."
She recovered brilliantly, however, and almost sprinted to win her heat and advance to the semi-finals.
In the evening, she bided her time until the final lap and then showed the same pace to speed away from the leading pack and take victory in 14:36.79.
Hassan said she owed her first Olympic gold medal to caffeine.
"It has been an amazing day. When I fell down and had to jump up I felt like I was using so much energy. I couldn't believe the feelings in my legs. All the energy seemed to leave me," she said.
"Before the race here I didn't even care. I was so tired. Without coffee I would never be Olympic champion. I needed all the caffeine. I was so scared I wasn't going to do it."
Kenya's Hellen Obiri, a double World champion and Olympic silver medallist five years ago in Rio, had to be satisfied with another silver as she finished in 14:38.36.
Ethiopian Gudaf Tsegay went into the race as the world leader with her personal best 14:13.32 that she clocked to win the Ethiopian trials in June.
She could only stay close to Obiri as Hassan sped away, however, and ended with the bronze medal.
Hassan will now turn her focus back on the 1,500m before she lines up for Saturday's 10,000 final.
Camacho-Quinn dazzles in 100m hurdles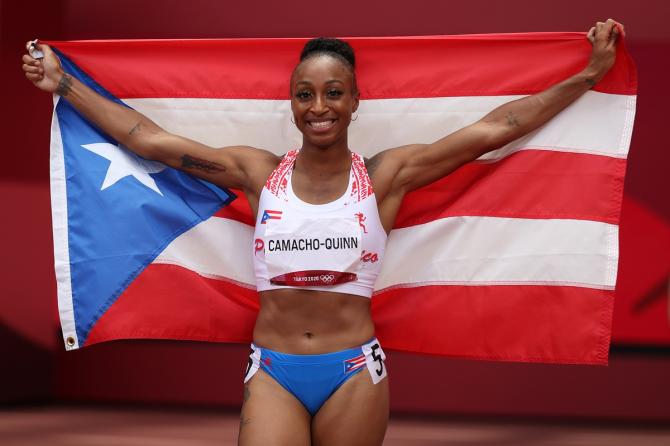 Puerto Rico's Jasmine Camacho-Quinn capped a dazzling performance in the 100 metres hurdles at the Tokyo Olympics with a gold medal while Miltiadis Tentoglou of Greece won the men's long jump title in an action packed Monday morning.
A day earlier, Camacho-Quinn shattered the Olympic record in her semi-final and on Monday she exploded off the blocks and stormed through the finish line, clocking 12.37 seconds to secure her first Olympic gold.
American Kendra Harrison, the world record holder, won silver in 12.52 and Jamaican Megan Tapper grabbed bronze in 12.55.
"At this point I was really running for the world record. I hit the hurdle, but everything happens for a reason. I came through with the gold. My first gold medal," Camacho-Quinn said after the race.
Camacho-Quinn's win was the first Olympic gold medal in athletics for Puerto Rico.
Harrison, who broke the 100m hurdles world record soon after failing to make the team for the 2016 Rio Games, said it felt great to win silver.
"I missed out in 2016 so to come here and get a medal for my country, I couldn't be happier," she said.
Tentoglou wins long jump gold with his last leap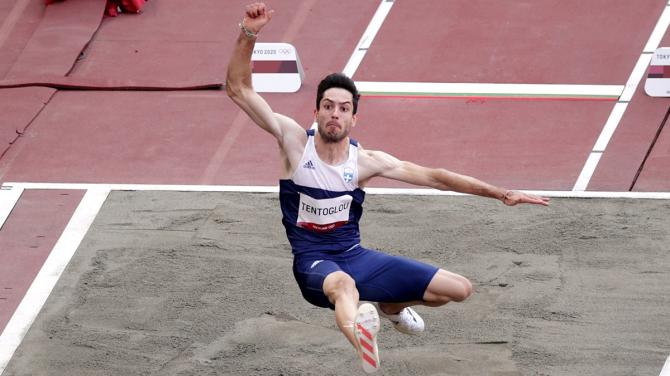 There was drama in the men's long jump as Tentoglou won with his last leap of 8.41 metres which tied with Cuba's Juan Miguel Echevarria's jump, but the Greek secured the title on a countback with his next-best effort of 8.15m ahead of the Cuban's 8.09.
"What an incredible competition. What an incredible jump, the last jump," Tentoglou said after the final. "In the end I managed to pull something out to get the medal."
Echevarria settled for silver while his compatriot Maykel Masso picked up the bronze medal.
"It's not what I expected, the result I expected, but still, it's a very welcome prize," Echevarria said.
His compatriot Mason also lauded the competition.
"It was a spectacular competition, I hope everyone enjoyed it. I am very happy for the country to have won two medals," he said after the final.
In other events on Monday, a terrible error by Jamaica's Shericka Jackson, the recently crowned 100m bronze medallist, put her out of the 200m after she eased up too much in her heat on her way to the finish line and was overhauled to come through only fourth, not enough for her to advance.
One throw enough to earn Allman discus gold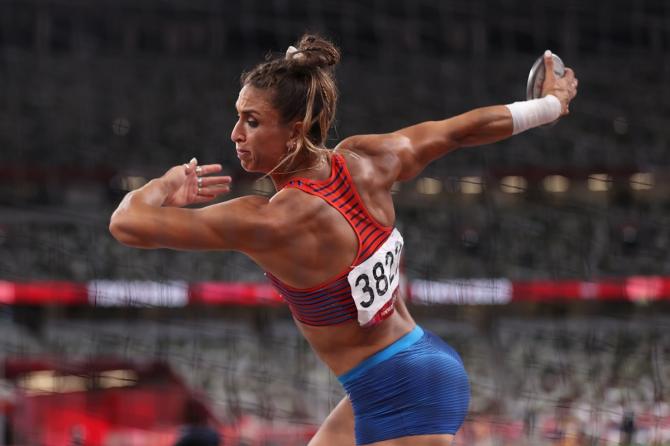 One throw was all it took for the Valarie Allman of the United States to win Olympic gold in the women's discus on Monday, with an effort of 68.98 metres.
Germany's Kristin Pudenz had a personal best 66.86 metres for silver and Cuba's Yaime Perez took bronze with 65.72.
It was the first athletics gold for the US at the Tokyo Games.
"It is an honour, I couldn't be any happier or more proud," said Allman, who was all smiles before the discus had even landed on her opening throw. "I'm still waiting for my feet to touch the ground."
The American finished seventh at the 2019 World Championships and credited her family for her breakthrough success.
"They have been my rock along with my coach," Allman told reporters. "Figuring out my place on the world stage would have been so hard without their love and support."
She threw 70.01 metres at the U.S. team trials in June, the second-best performance of 2021.
A torrential downpour during the second round injected chaos into the competition, as a handful of athletes struggled to complete their throws - including Portugal's Liliana Ca, who slipped and fell on the slick throwing circle - before organisers suspended the event for about an hour.
Three women were allowed to retake their throws when the competition resumed, as volunteers sopped up the water with towels.
"(The stoppage) affected me a lot. It affected my concentration and I got a bit cold," said 2019 World champion Perez after picking up her first Olympic medal in her third Games.
"It is a lot of years worth of work and the only medal that was missing (from my collection) was this one. Like every other athlete I wanted gold, but I'm happy with what I've got."
Pudenz, whose best through four attempts was 65.34 metres, was on course for bronze until she launched the throw of her life in the fifth round, beating Perez's best mark of the night by more than a metre.
Croatia's Sandra Perkovic fell short in her bid for a third consecutive Olympic gold, finishing fourth with 65.01 metres.
Moroccan El Bakkali ends Kenyan steeplechase domination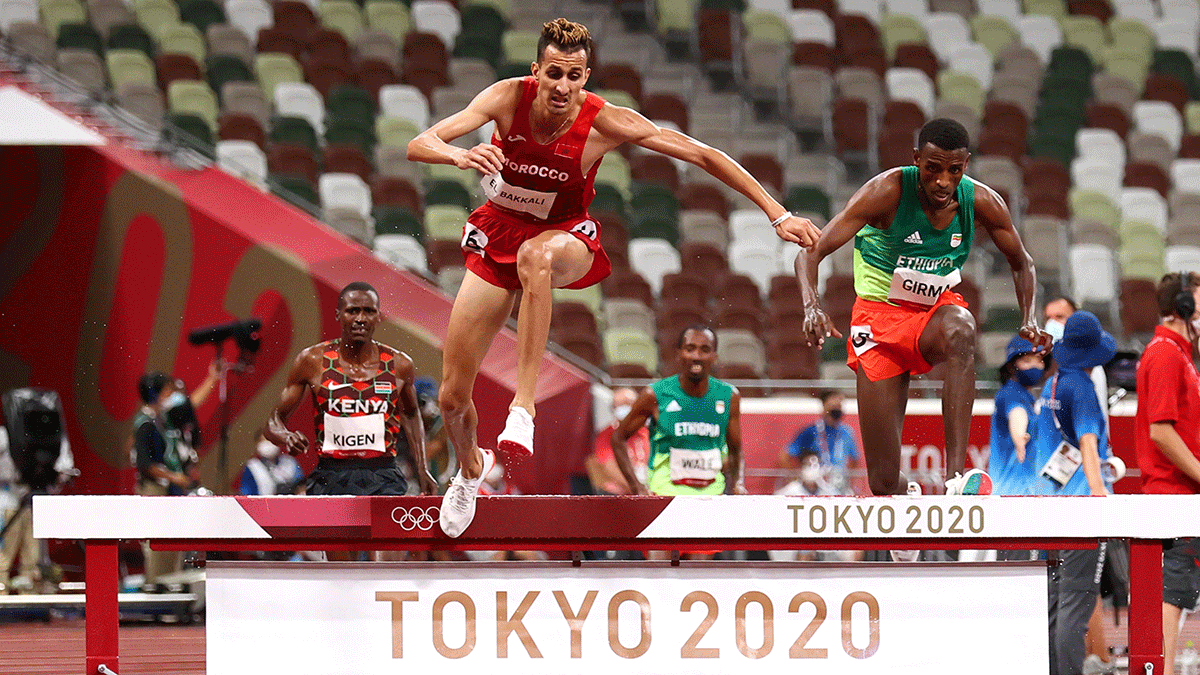 Soufiane El Bakkali of Morocco won gold in the Olympic men's 3,000 metres steeplechase on Monday, breaking Kenya's stranglehold on an event they had won nine times in a row.
The 25-year-old El Bakkali, fourth in the 2016 Olympics and bronze medallist in the 2019 world championships, finished in a time of 8:08.90.
Lamecha Girma of Ethiopia claimed silver, clocking 8:10.38, and Benjamin Kigen of Kenya took the bronze in 8:11.45.
Conseslus Kipruto of Kenya, the 2016 Olympic champion, failed to qualify for the Games, reducing the East African nation's chance of winning a 10th straight Olympic steeplechase gold since 1984.
El Bakkali ran a patient, tactical race on a night when earlier in the evening the heavens opened up and rained poured down at Tokyo's Olympic stadium cooling down the temperature after days of punishing heat.
With about four laps to go, the Moroccan was in the middle of the pack, with Girma, who boasted this year's leading time, and his compatriot Getnet Wale leading, as the Ethiopian delegation in the stadium roared them on as they came on the bend.
Earlier in the race, it looked like it would be Kenya versus Ethiopia battling it out for the medals, as Girma and Wale led, but were almost shoulder to shoulder with Kigen and his countryman Abraham Kibiwot.
The Ethiopians were still out front as the bell rang with one lap remaining, but El Bakkali moved up to third and when Wale took a tumble the Moroccan surged ahead on the final bend and powered to the finish line.
"It was not easy for me to be in front of the Kenyans and Ethiopians. I know how hard it is to be first in front of them," El Bakkali told reporters.
El Bakkali wrapped his country's flag around himself to celebrate his victory.
"I am so used to seeing Kenyans win, it's a big accomplishment for me," he said later. "I have been aiming for this for years and this was my opportunity to show that Morocco is capable of winning this prize.
"I have tried so many times to compare myself with the Kenyans and Ethiopians to see whether I could reach this gold, and I did," he added.
Girma, 20, said that moving ahead early was a tactical decision.
"The race was really interesting. I am happy I got this second place and I am really happy with the result," he said.
Kigen, 28, said there was a lot of pressure that came with knowing that Kenya had been so dominant in the event.
"I ran to my best and I have (a) medal. It is my first time at the Olympics, which is a privilege for me," he said.
"There is a lot of pressure. I know a lot of our previous champions and train with them. Next time I promise I will bring the (gold) medal."