'They called me mad, but thankfully today the truth is out and I am enjoying it'
'With Ali, the good will remain and the bad I will personally kick you know where'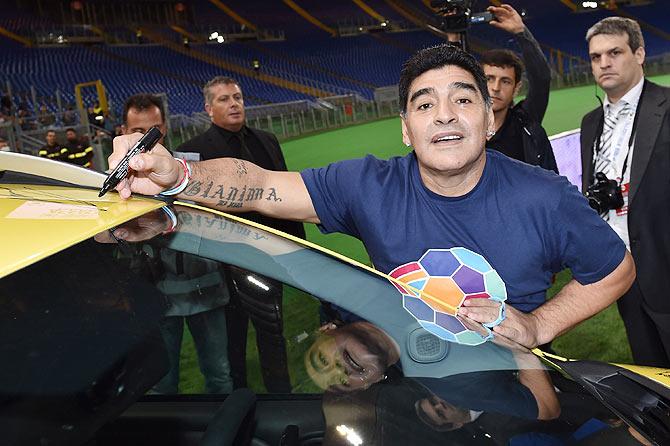 Former Argentina football captain Diego Maradona. Photograph: Tullio M. Puglia/Getty Images
Diego Maradona, one of soccer's most gifted players, said he was "enjoying" the spectacle of several of the world governing body's top officials charged with corruption after US and Swiss authorities announced investigations on Wednesday.
- Former FIFA VP Jack Warner surrenders: Reports
- Six officials arrested and detained in Zurich over FIFA graft
- Factbox - Soccer officials arrested in Switzerland
Maradona, a World Cup winner in 1986 with Argentina and whose career was blighted by drug addiction and alcoholism, said it was time for FIFA to stop peddling lies and confront the truth.
"They called me mad, but thankfully today the truth is out and I am enjoying it," Maradona told Argentine radio station La Red.
US authorities announced nine soccer officials and five sports media and promotions executives were indicted on charges involving more than $150 million in bribes. The probe exposed a web of complex money laundering schemes, prosecutors said. Swiss authorities arrested seven people.
Those detained did not include FIFA chief Sepp Blatter, with whom Maradona has frequently clashed and previously accused of running the organization like a mafia.
"They hate soccer. They hate transparency. Enough shady dealings. Enough lying to the people," Maradona railed.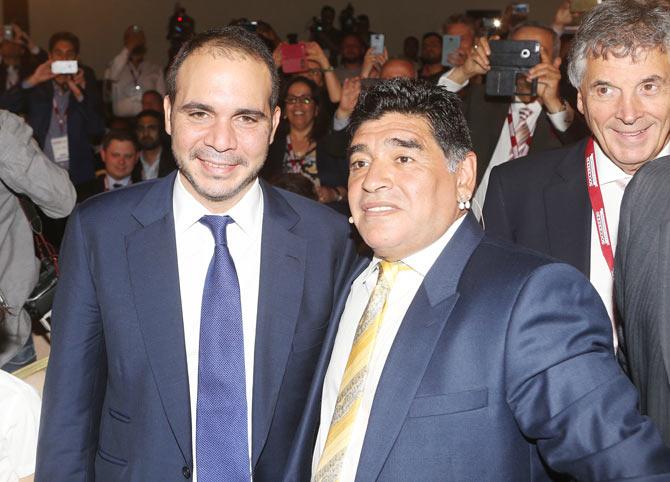 Jordanian Prince Ali Bin Al Hussein (left) with football legend Diego Maradona. Photograph: Salah Malkawi/Getty Images for Soccerex
The scandal threw the world's most popular sport into turmoil days before a vote that is expected to put Blatter in office for a fifth term.
Maradona underlined his support for Jordan's Prince Ali Bin Al Hussein's bid for soccer's top job.
"We're going to remove all the old-timers, we'll have to see if Blatter wins this time," Maradona said.
"With Ali, the good will remain and the bad I will personally kick you know where."
Maradona, 54, was himself never far from controversy during his dazzling career. In 1991 he failed a drug test, for cocaine, earning a 15 month suspension from the sport and he was sent home from the 1994 World Cup after testing positive for a banned stimulant. In 1998, Maradona was given a suspended jail sentence for shooting at journalists with an air rifle.