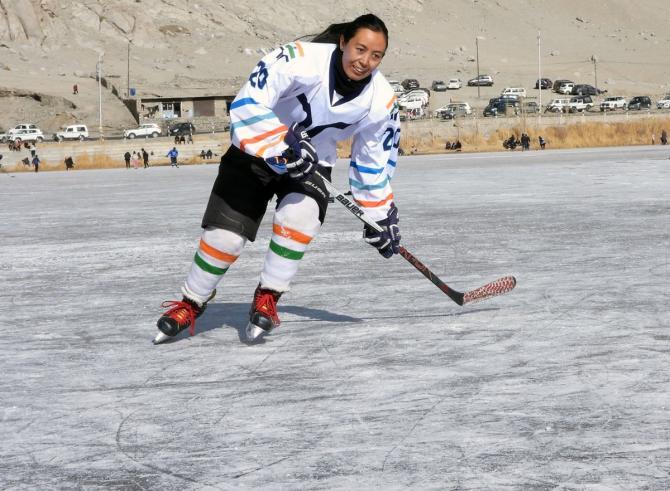 The sub-zero temperature in Ladakh has frozen water bodies creating ice fields suitable for ice hockey and skating for young athletes.
When winter months arrive in the Union Territory, ice hockey is the only game played in town. For two months, youngsters take to ice hockey on frozen lakes like Gupuks, just outside Leh town.
According to the Ladakh Winter Sports Club, there are approximately 10,000 - 12,000 Ladakhis who play ice hockey in one form or another.
National player Rinchen Dolma said that while they all are happy to get back to practising ice hockey, they are being cautious and maintaining social distancing in the wake of the coronavirus pandemic.
"We have come here to practise. We wait for these two months every year and it is an advantage that we get to practice on this natural ice. Due to the coronavirus pandemic, we are practising while maintaining social distancing. But we are happy that the winter season has arrived and we can now practise," Dolma said
Meanwhile, a young girl, Stanzin Tsekar said: "The benefit of the winter season is that we get to play ice hockey. In this weather, the water freezes and we get to play on it."
With frozen ponds, borrowed equipments, Ladakh has produced every member of the women's national ice hockey team.
Even the Canadian Prime Minister Justin Trudeau, on a state visit to India in February 2018, met the team in Delhi.
"India's national women's ice hockey team is breaking barriers, taking on challengers, and showing girls that anything is possible," Trudeau had tweeted.