IMAGES from the Australian Open matches played on Thursday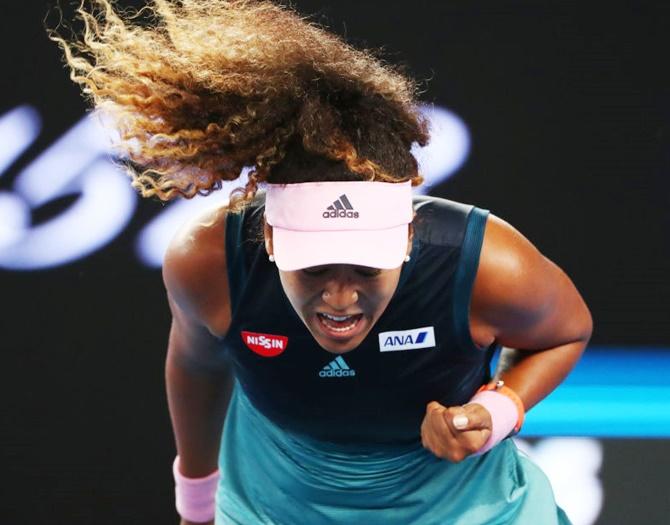 US Open champion Naomi Osaka staved off a fight-back from Karolina Pliskova to reach her maiden Australian Open final with a 6-2, 4-6, 6-4 win on Thursday and set up a title clash with double Wimbledon champion Petra Kvitova.
Osaka burnished her reputation as one of the cleanest hitters of the ball in women's tennis by smacking winners almost at will from both her forehand and backhand under the roof of the Rod Laver Arena which was closed due to extreme heat.
"I like the heat so I was kind of sad about that... No, but like, they have the roof open and I was like, 'oh, it's my time to shine'," Osaka said in an on-court interview.
She scorched the court further with 56 winners, often going down on one knee to generate immense power often leaving Pliskova stranded.
The Czech could muster only 20, half of which came in the second set when she hung in to level the match despite the barrage of winners from her opponent.
"I mean I kind of expected (the comeback) a little... I was expecting a really hard battle," said the Japanese, who had won once in their three previous meeting before Thursday.
"I just told myself to regroup in the third set and try as hard as I can."
Osaka broke Pliskova's service games twice while facing not a single breakpoint to canter through the first set.
Pliskova, who had stunned Serena Williams in the quarter-finals, failed to live up to her reputation as a big server but showed lot of pluck to level the match with a second break at 5-4 after the players had an early trade of breaks.
Osaka converted her only breakpoint opportunity in the decider while her opponent wasted four and the 21-year-old made it to her second straight Grand Slam final with her 15th ace to seal the match in an hour and 53 minutes.
Osaka will meet another Czech in Kvitova, who defeated unseeded American Danielle Collins 7-6(2) 6-0 in the first semi-final.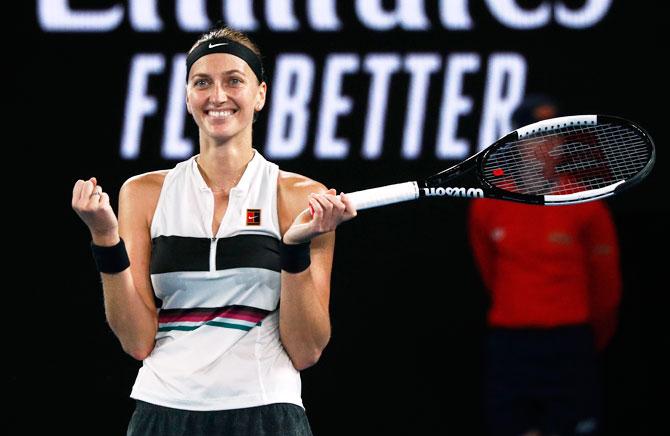 Petra Kvitova will compete in her first Grand Slam final in five years after ending the fairy-tale run of unseeded American Danielle Collins with a decisive 7-6 (2), 6-0 victory on a scorching afternoon at Melbourne Park on Thursday.
The eighth seeded Czech will meet the winner of US Open champion Naomi Osaka and seventh seeded compatriot Karolina Pliskova as she bids for her first Grand Slam triumph since claiming the second of her Wimbledon titles in 2014.
The match at Rod Laver Arena was riven with tension, with a delay to close the roof during the first set due to the stifling conditions and a malfunction of the net cord sensor at the start of the second that left server Collins fuming.
Kvitova capitalised on the American's distraction to break her three times in succession on the way to an emphatic victory that made her the first Czech woman to reach the Melbourne final since Jana Novotna lost the 1991 decider to Monica Seles.
"It means everything. I really worked very hard, finally I made it deep in this tournament," Kvitova said in her on-court interview.
"I am going to enjoy the final whatever happens. I am very, very happy.
"The first set was very tight. I was very nervous. I am glad I came through the tiebreak."
Collins was angered when the net cord technology failed at 15-30 when she was on serve during the opening game of the second set.
Having won the point, she was made to replay it and remonstrated with chair umpire Carlos Ramos.
The technology gave up another phantom beep on Collins's replayed serve and Ramos told both players there had been a malfunction.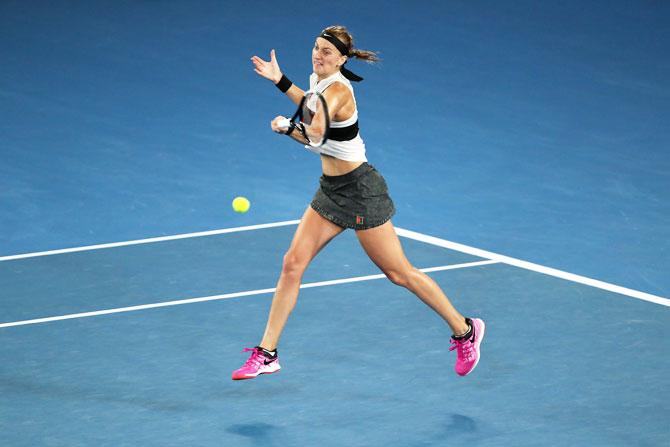 Re-starting with a second serve, Collins gave up a backhand unforced error to concede two break points.
She saved one with a big backhand winner but netted on the second.
From there, things quickly went downhill for the American as the Czech ramped up her power game and roared to 5-0.
Collins conceded another unforced error on her forehand to give Kvitova match point and the Czech fired her 30th winner to claim a clinical win.