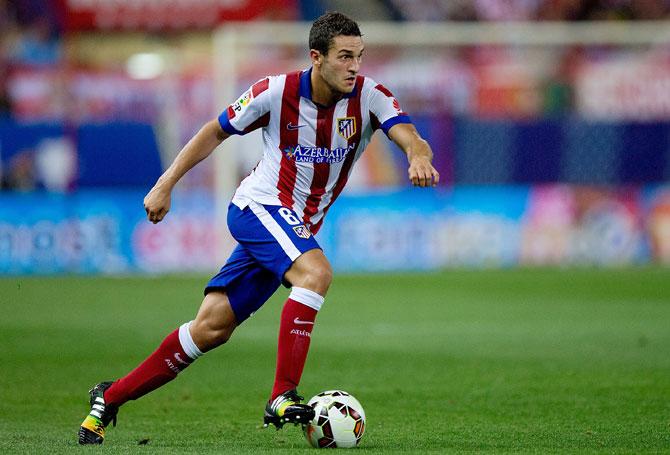 Koke of Atletico de Madrid controls the ball during a La Liga match. Photograph: Gonzalo Arroyo Moreno/Getty Images
Atletico Madrid midfielder Koke is part of a fresh generation of Spain players aiming to make an impact in Euro 2016 qualifying and says he would be happy if he achieves half the success of retired great Xavi.
It is a new-look Spain that is bidding to win their third consecutive European Championship following their failure at the World Cup in Brazil where the reigning champions crashed out in the group stage.
Since then, midfielders Xavi and Xabi Alonso and striker David Villa, figureheads of Spain's recent golden period, have all decided to retire from the international game and allow new blood to come through.
Spain's success since their Euro 2008 triumph has been founded on their ability to gradually incorporate new players into the fold and, while this has not been a revolution, there has been a notable change to the core of the current side.
Captain Iker Casillas remains, but there is now an opportunity for young players like Koke, still only 22, to establish himself in midfield.
"I hope I can achieve half what he (Xavi) has done," Koke told Spanish radio.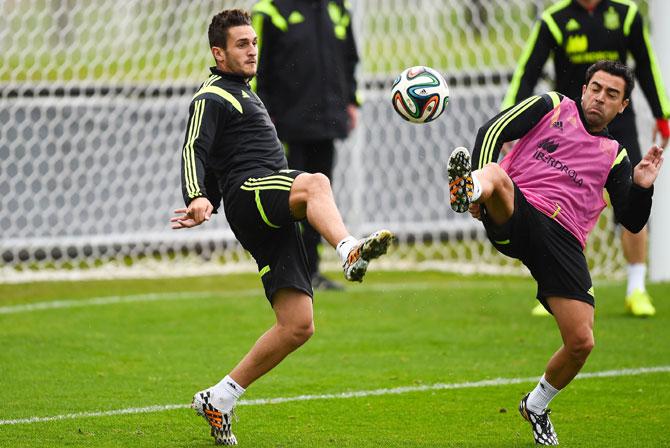 Koke and Xavi Hernandez of Spain competes for the ball during a Spain training session. Photograph: David Ramos/Getty Images
Xavi has achieved everything with the national team and been a fundamental player. He has won everything for Barcelona and here."
Koke came to the fore with Atletico last season with the quality of his crosses and passing helping them to win La Liga and reach the Champions League final.
He was on the fringes of the Spain team at the World Cup and only started the final group game against Australia, which they won.
"Xavi is at the top for me. I have a long way to go and a lot of work to do but in the end, Xavi will always be Xavi and Koke will always be Koke," he added.
Koke also had words of encouragement for former team mate Diego Costa, who has struggled for goals when leading the line for Vicente del Bosque's Spain.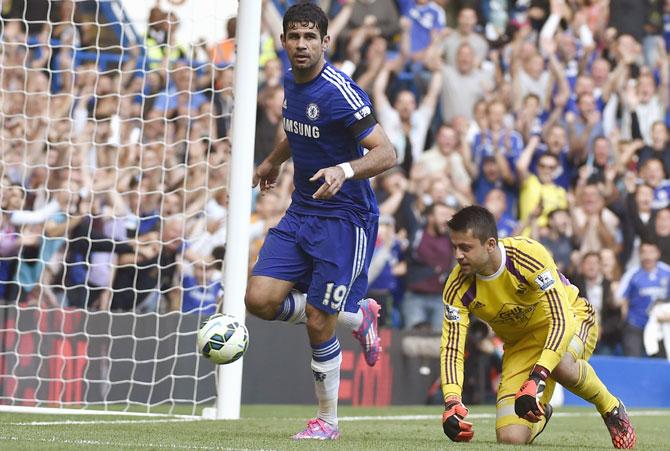 Chelsea's Diego Costa celebrates scoring a goal. Photograph: Toby Melville/Reuters
The Chelsea striker has scored nine in nine games for his club this season, but has failed to hit the back of the net in five games for his country.
"He has told me he is looking forward to scoring. At the moment they aren't coming but after the first then they will start to flow," Koke said.
"He is a goalscorer and it will work out with the national team. In England he is scoring from everywhere and it has worked out for him to go there.
"Diego has to fit in with us but also we have to find him when he has space and can get free. With his movement he has the ability to get one-on-one with the keeper."
Spain won their first qualifying game 5-1 against Macedonia last month in Group C. They face Slovakia on Thursday and Luxembourg on Sunday, two fixtures which offer ample opportunity for Costa to get off the mark.
Del Bosque says the team is in transition, but is full of confidence despite the World Cup failure.
"We are going through a change," he told a news conference in Slovakia.
"We need to forget Brazil because football doesn't stop and we now have fresh faces who are in high spirits and looking forward to a new start."