IMAGE: Egyptians celebrate after their football team defeated Congo in the World Cup qualifiers in Cairo, Egypt on Sunday. Photograph: Mohamed Abd El Ghany/Reuters
Egypt's capital crackled with fireworks and blared with horns as the soccer-crazy country reached the World Cup for the first time in 28 years as rare scenes of joy took hold of city blocks celebrating a 2-1 victory over Congo.
Winger Mohamed Salah scored twice, securing victory with a last-gasp penalty to put Egypt four points clear with one match left in their African group E qualifying campaign.
The win clinched Egypt a long-awaited spot in Russia for the 2018 World Cup finals, where the Arab world's most populous country will compete on football's ultimate stage for the first time since Italy in 1990.
"It's been 28 years and we're finally going to enter the World Cup. Today is a day of celebration for the entire country," said 41-year-old Gaber Fathy.
India's Ambassador to Egypt Sanjay Bhattacharyya also congratulated the country after sealing their World Cup berth.
The Ambassador tweeted -- "Congratulations #Egypt for qualifying #Russia2018WorldCup Bravo @IndianDiplomacy".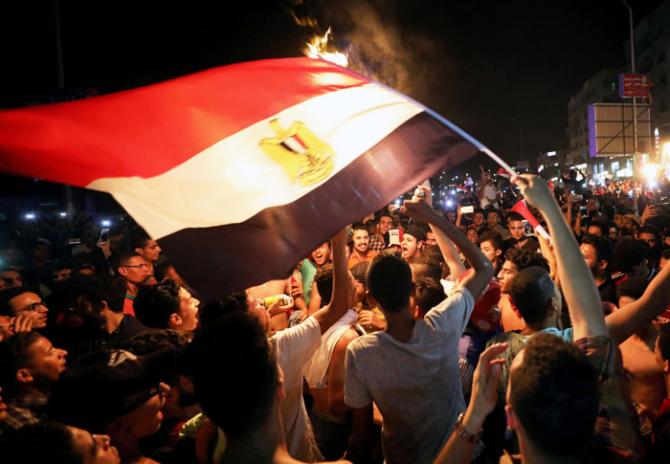 IMAGE: Egyptians celebrate after their team qualified for the 2018 FIFA World Cup. Photograph: Mohamed Abd El Ghany/Reuters
The raucous mood spilling out on the streets marked a respite for Egyptians after years of hardship, from IMF-backed austerity reforms that have pushed inflation to record highs to a tough law on protests that has made public gatherings exceedingly rare after two presidents were toppled since a 2011 uprising.
"You can look around and see how people are happy. This is something you never witness in Egypt," said 23-year-old Gamal Mohamed in downtown Cairo's Tahrir Square, the iconic centre of the country's once-active protest movement, which has since been quashed by tough security measures.
Egypt's President Abdel Fattah al-Sisi congratulated the Egyptian people after the match as tireless fans draped in flags turned the streets into an impromptu parade of red, white and black.
Just across the border in neighbouring Gaza, where Egypt has led a political reconciliation process, thousands of Palestinians poured into an open-air park to cheer on the second Arab country to qualify for the 2018 World Cup after Saudi Arabia.
IMAGE: Egypt's Mohamed Salah celebrates scoring a goal against Congo during their World Cup qualifiers at Borg El Arab Stadium, Alexandria, Egypt on Sunday. Photograph: Amr Abdallah Dalsh/Reuters
Salah scored with a last-gasp penalty to book Egypt a place in the World Cup finals and the Liverpool striker's two goals put Egypt four points clear with one match left in the preliminary campaign.
Salah had given his side a 63rd minute lead even though Egypt still looked tentative in a tense match with opponents who had yet to win a match at the bottom of the group.
A defensive blunder had let in Salah, to the relief of the home crowd, but Egypt's dreams threatened to turn into a nightmare when Arnold Bouka Moutou equalised, firing past 44-year-old goalkeeper Essam Al Hadary with three minutes left.
The home side, though, won a 95th minute penalty which Salah converted to secure the trip to Russia -- Egypt's first appearance at the finals since 1990 in Italy.