IMAGES from the French Open men's semi-finals at Roland Garros in Paris on Friday.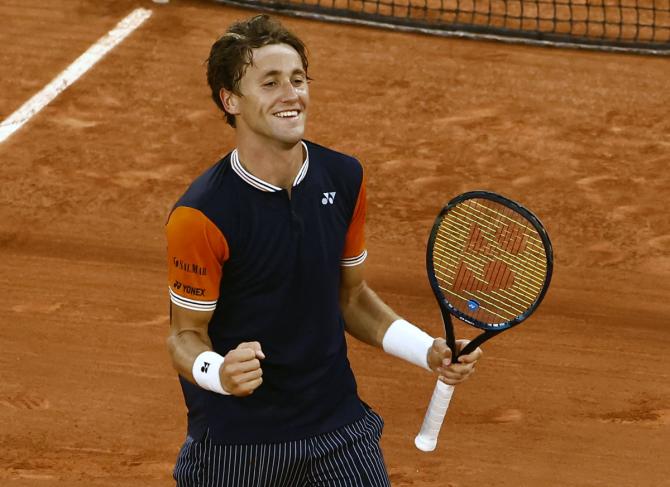 A flawless Casper Ruud returned to the French Open final for a second year running by dismantling German 22nd seed Alexander Zverev 6-3, 6-4, 6-0 in a battle of big-hitters on Friday to set up a showdown with 22-times Grand Slam champion Novak Djokovic.
Last year's runner-up Ruud swapped early breaks with Zverev before turning up the heat on a warm evening on Court Philippe Chatrier by pounding the German with some vicious, spin-heavy forehands to go up 5-2 en route to claiming the opening set.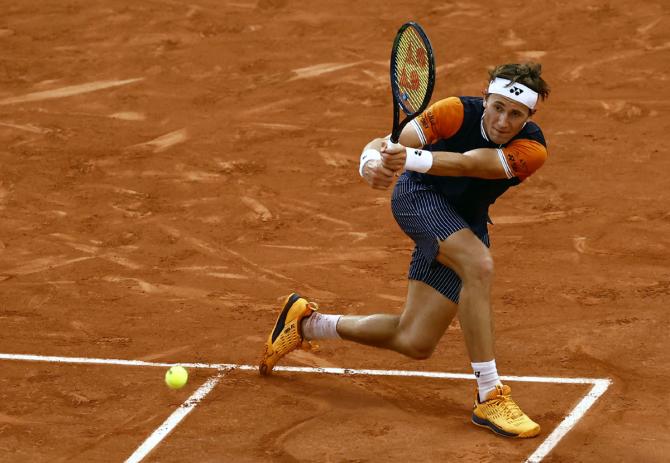 Zverev, playing in a third straight Roland Garros semi-final at the scene of his season-ending ankle injury last year, wasted an early opening in the next set and found himself in trouble as fourth seed Ruud snatched another break in the seventh game.

Ruud extended his lead in the match and continued to control the rallies from behind the baseline to frustrate an error-prone Zverev in the next set, before storming into a third Grand Slam final in his last five events going back to Roland Garros 2022.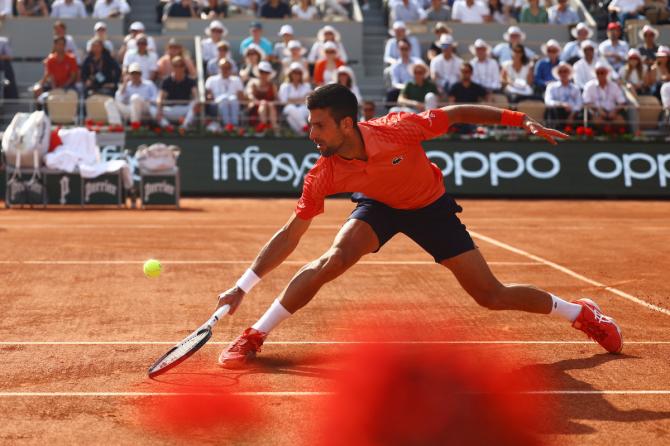 Earlier, Novak Djokovic made a huge leap towards a record 23rd men's Grand Slam title with a 6-3, 5-7, 6-1, 6-1 French Open semi-final victory against an ailing Carlos Alcaraz in a clash of titans that ended in anticlimatic fashion on Friday.
World number one Alcaraz had just levelled the contest when disaster struck as he limped to his bench holding his right leg at 1-1 in the third set.
While he continued playing, the US Open champion was clearly hampered but Djokovic was merciless, dropping only one of 12 games to book a spot for Sunday's showdown against either last year's runner-up Ruud.
It was unclear whether Alcaraz, who skipped this year's Australian Open because of a hamstring injury, was suffering from cramps or injured.
Djokovic will play his 34th Grand Slam final, his seventh at Roland Garros, where he lifted the Musketeers' Cup twice, in 2016 and 2021.
The 36-year-old was facing the ultimate test against Alcaraz, who had bulldozed through the draw, only for the machine to break down in abrupt fashion.
"Tough luck for Carlos. Obviously at this level, the last thing you want is cramps and physical problems in the last stages of a Grand Slam," said Djokovic, who was in his 46th semi-final at a major.
"It was probably difficult for him to decide whether he should retire or continue until the last point but he's a fighter, so respect to him for that."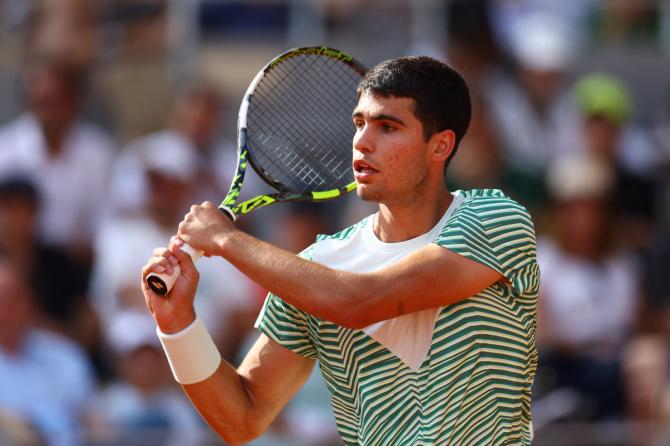 The much-awaited clash had started with Djokovic going for the throat and breaking for 3-1 before saving four break points and taking the opening set after almost an hour.
With Mike Tyson watching from the stands, both players traded punches and Djokovic was on the ropes in the second set, with Alcaraz playing several spectacular shots.
After an exchange of breaks, the 20-year-old Spaniard levelled as Djokovic overcooked a forehand and it appeared that the momentum had shifted.
"It is not easy to maintain that intensity," said Djokovic, who has now won his last 100 Grand Slam matches in which he bagged the opening set.
"Towards the end of the second set he was the better player. I had to be aggressive, to take the ball early otherwise he would be the aggressive one. He is very fast, very dynamic so I had to match that and do even better, which was very exhausting."
It was, however, the youngest player's body that capitulated first in a contest that could have been a classic.