Sifan Hassan first athlete, male or female, to win the two events at a single Olympic Games or World championships.
Images from Saturday's proceedings at the World Athletics Championships in Doha.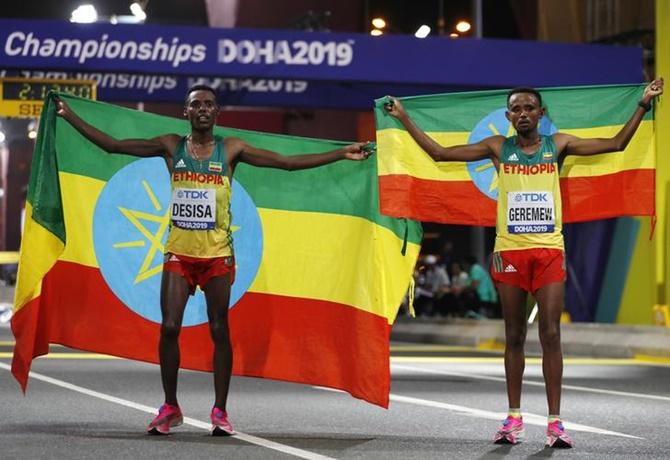 Lelisa Desisa ended an 18-year wait for Ethiopia when he triumphed in a sprint finish against compatriot Mosinet Geremew to win a midnight marathon at the World Athletics Championships on Sunday.
Desisa, last year's New York marathon winner and World silver medallist in Moscow six years ago, became the first Ethiopian to win the title since Gezahegne Abera in 2001.
Geremew, four seconds behind, took silver and Amos Kipruto of Kenya the bronze.
The race in Qatar ended in a heartbreak for Britain's Callum Hawkins who managed to close the gap on the leaders near the end only to finish fourth for the second time running, this time missing out on the medal by six seconds.
"This is for 100 million of Ethiopians who were behind me," said Desisa. "I am the second man from my country to win this title and it is not just for me, it is for my country."
As with the other road races during the championship, the race started just before midnight to escape the worst of the heat and humidity.
Conditions were less brutal than previously although it was still 29.09 Celsius with 48.6% humidity at the start, organisers said, and 55 of the 73 starters completed the course - the last, Nicolas Cuestas of Uruguay, finishing half an hour behind the winner.
Desisa said he had been training especially for the conditions.
"I trained in a place with these weather condition, so this race was not hard - it was similar to my training," he said.
The runners did six laps of a seven-kilometre loop of Doha's waterfront although it was again a surreal atmosphere with virtually no spectators lining the route. The only encouragement for the runners came from team delegates and reporters near the finish line.
Paraguay's Derlys Ayala hared off at the start and gave himself a 150 metre-lead over the rest of the field within the first kilometre. He managed to keep the lead for around an hour before being swallowed by the pack and then dropping out.
Eventually, Desisa, Geremew, Kipruto, Stephen Mokoka and Zersenay Tadese broke away from the rest and took control of the race.
After several kilometres of cat and mouse, they were caught by Dawkins with three kilometres left to set up an enthralling finish.
Mokoka and Tadese were the first to be dropped before Dawkins also lost contact around one kilometre from the end. Kipruto was also unable to keep up and it ended with Desisa charging away to claim the gold.
"(I'm) gutted," said Hawkins. "Maybe I just gave too much in the middle stages. But I couldn't do any more."
Angry Hassan completes unique double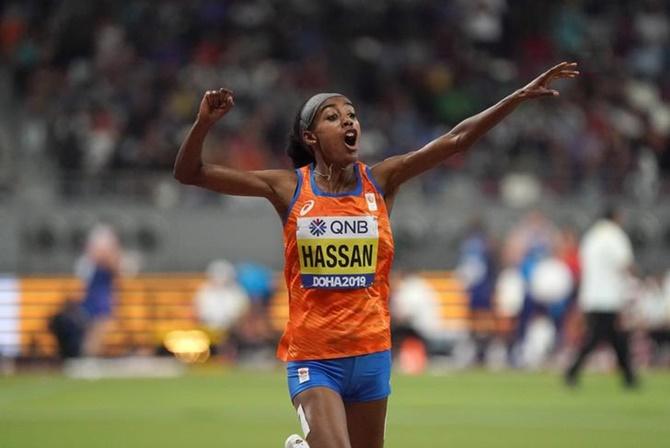 Sifan Hassan of the Netherlands completed a unique double when she dominated the race to win the 1,500 metres on Saturday, adding to the 10,000 metres title she won earlier in the competition.
In doing so, she became the first athlete, male or female, to win the two events at a single Olympic Games or World championships.
Hassan, who moved to the Netherlands after leaving Ethiopia as a refugee when she was 15, took over the lead at the end of the first lap and never looked back as she broke the championship record with a time of three minutes 51.95 seconds.
Titleholder Faith Kipyegon of Kenya finished more than two seconds behind in second, despite setting a Kenyan record of 3:54.22, and Ethiopia's Guday Tsegay took the bronze.
Hassan gave an emotional interview after the race during which she said she was angry at being linked to the doping scandal involving Alberto Salazar, head coach of the Nike Oregon Project (NOP) where she trains.
"It's a very hard week for me, I was so just angry and I could not talk to anyone. I just ran all out. That hard work can't be beaten by anything," she told the BBC.
"It's what makes me angry, I have been clean all my life. I work hard, I'm not an emotional person but it makes me so mad."
Salazar was banned for four years by the US Anti-Doping Agency (WADA) on Monday for "orchestrating and facilitating prohibited doping conduct".
Salazar has denied wrongdoing and vowed to appeal while Nike has said it will stand by the coach. There has been no suggestion of any wrongdoing by Hassan but she has faced constant questioning about her connections with him since the decision was announced.
After taking the lead, the 26-year-old Hassan led the field around two laps, then charged away over the last 400 metres and left the others in her wake.
Britain's Lara Muir was second at the bell but was overhauled by Kipyegon and Tsegay around the final bend.
Kipyegon, also the Olympic champion, has returned to running after giving birth to a daughter last year.
The remarkably versatile Hassan also broke the world mile record this year, won world championship bronze over 1,500 metres in 2015 and 5,000 metres two years ago.
"I've been working hard at 1,500 this year," Hassan said. "It looked this was easy for me but it took so much hard work."
Coleman, Lyles help US end relay gold drought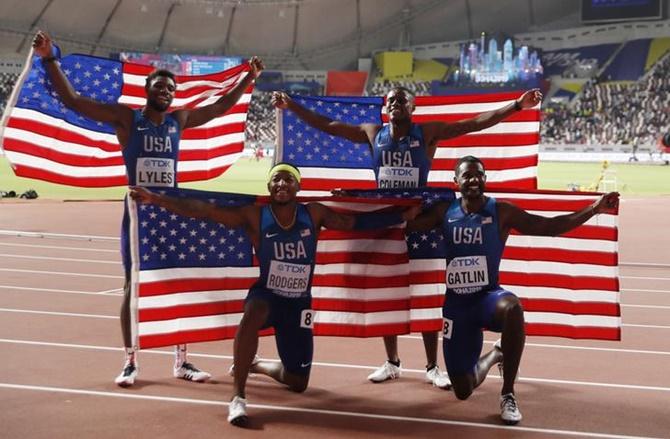 A United States quartet led by Christian Coleman blazed to the 4x100 metres relay title at the, clocking the second fastest time ever at 37.10 seconds to end a 12-year gold medal drought.
Coleman, world 100m champion, put the Americans ahead with a stunning start and 200m gold medallist Noah Lyles completed the job, crossing the line with his arms raised triumphantly in the air as his team mates celebrated wrapped in American flags.
Defending champions Britain took the silver in 37.36 seconds, a European record, as Nethaneel Mitchell-Blake failed to catch Lyles on the final straight.
Japan won bronze with a time of 37.43 seconds, an Asian record.
Joining Coleman and Lyles, the two rising stars on the global sprint scene, were veterans in Justin Gatlin, twice World champion, and 34-year-old Mike Rodgers, who had never before stood atop a world championship or Olympic podium.
After a wobbly performance in the heats in which Canada filed a protest against the US for failing to make a proper exchange, the American quartet had a meeting to ensure there were no hiccups in the final.
Victims of sloppy exchanges and dropped batons over the years, the message came through loud and clear as the United States made four clean exchanges in a polished effort to come home just outside Jamaica's world record 36.84.
Jamaica beat Britain for women's relay gold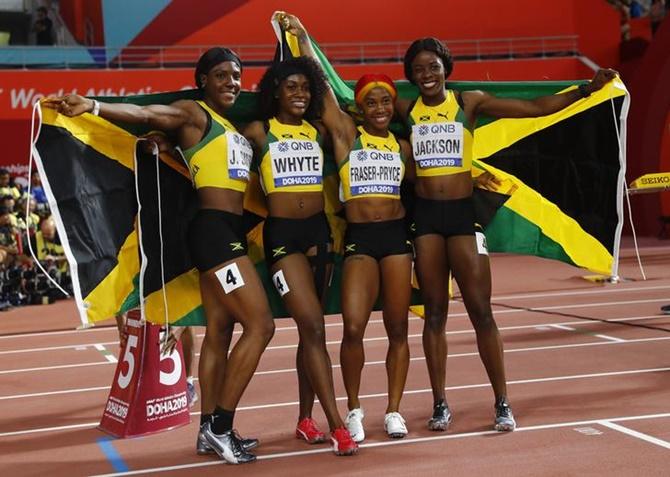 Jamaica stormed to World Championship gold in the women's 4x100 metres relay, beating Britain in a battle that featured 100 and 200 metres winners Shelly-Ann Fraser-Pryce and Dina Asher-Smith.
Since 2005 the United States and Jamaica have dominated the event at the Worlds, with the Americans topping the podium four times, including two years ago in London, and the Jamaicans three.
In Doha, though, the fight for gold came down to Jamaica and Britain, the Caribbean nation returning to the top of the podium with a time of 41.44 seconds.
Britain took silver in 41.85 and the U.S. bronze in 42.10.
In a surprise twist Fraser-Pryce and Asher-Smith, the two sprint stars of the championships, were not given the responsibility of anchoring their teams but instead went head-to-head in the second leg down the back stretch.
Shericka Jackson, bronze medallist in the 400m, brought Jamaica home while Daryll Neita anchored Britain.
It was the second gold of the championships for the evergreen Fraser-Pryce, the 32-year-old bringing her haul from six worlds to nine gold medals and two silvers.
The Jamaican women have taken over the mantle of global sprint superpower from their men and showed the depth of their talent by winning without the services of reigning Olympic champion Elaine Thompson, who was out with injury.
With the US women sprinters turning in unimpressive results in Doha, Jamaica's biggest threat at the 2020 Tokyo Summer Games could very well come from Britain.
Asher-Smith established her credentials as a reliable medal producer by collecting three in Doha -- gold in the 200 and silver in the 100m and relay.
Kovacs snatches shot put gold on final throw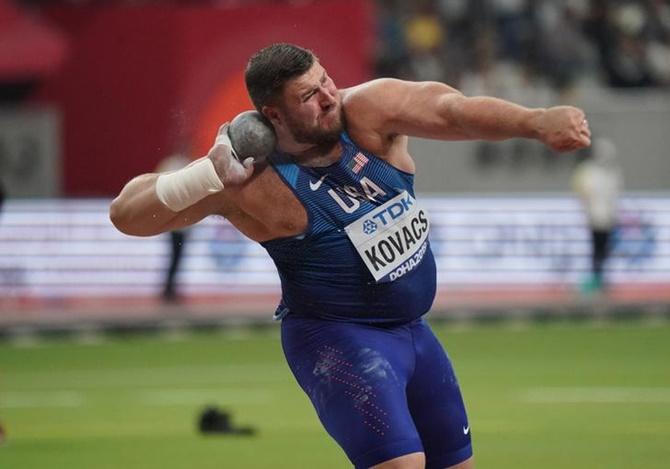 American Joe Kovacs produced the third best shot put of all-time, 22.91 metres, to snatch the World Championships gold medal from New Zealand's Tomas Walsh with his final throw.
Holder Walsh had looked poised for a successful defence of his crown when he opened the competition with 22.90 but he was forced to settle for bronze when he was beaten by a second American at the death.
Olympic champion Ryan Crouser also saved his best for last, matching Walsh's effort of 22.90 but getting the silver ahead of the New Zealander who had only one legal throw in the competition.
"There is something that I knew before and that's that shot put is crazy," said Walsh. "I am not angry.
"I still a little bit disbelieve it, these two guys, these huge PBs (personal bests), I cannot believe it."
The final round capped a thrilling night of putting as Crouser, Kovacs and Walsh, the gold, silver and bronze medallists at the 2016 Rio Olympics, attacked the record book.
Just four of the 16 previous World shot put titles had been won with throws in excess of 22 metres and on Saturday four athletes exceeded the distance.
Walsh wasted no time opening the defence of his title, heaving the shot 22.90 on his first attempt. Confident that he had done enough, he stepped out of the circle after each of his next four attempts.
When Kovacs unleashed a huge, gold-medal winning throw on his final attempt, Walsh knew he needed to respond and he let go a mighty effort that sailed over the 22m line but again the New Zealander overstepped.
That proved to be a fatal error, with Crouser grabbing the silver on the basis of more legal throws.
Kenya's Obiri defends 5,000m World title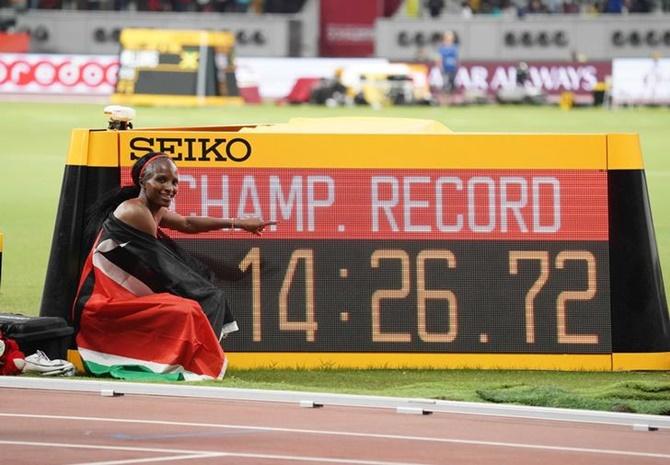 Hellen Obiri of Kenya displayed her dominance of the 5,000 metres by winning a second consecutive World title in a tight race at Khalifa International Stadium.
The 29-year-old, who had entered the competition with the fastest time of the season, ran the first kilometre in less than three minutes and stayed ahead of the pack for most of the race.
With four laps remaining, Germany's Konstanze Klosterhalfen and Margaret Kipkemboi of Kenya were a stride behind Obiri but she resisted the pressure and stayed in front.
Obiri's lead came under threat again at the bell but the Kenyan kept her composure, sprinting to increase the gap between herself and the pack to cross the finish line in 14 minutes 26.72 seconds, a championship record.
"We have such great runners in Kenya," Obiri said. "I worked hard to prove that we can win."
Kipkemboi won silver, finishing less than one second after Obiri, drawing applause and cheers from flag-waving Kenyan supporters.
Klosterhalfen took the bronze with 14:28.43.
Klosterhalfen is part of the Nike Oregon Project (NOP), an elite long-distance running training centre led by American coach Alberto Salazar who earlier this week was banned for four years for doping violations.
The 22-year-old German joins other NOP athletes to step on to the podium in Doha, including Sifan Hassan of the Netherlands, who won gold in the 1,500m and 10,000m.
Klosterhalfen said the scandal around Salazar had not disrupted her preparations for the race.
Obiri had finished a disappointing fifth in the 10,000m last Saturday but refocused in time to redeem herself in the shorter race.
Rojas retains women's triple jump World title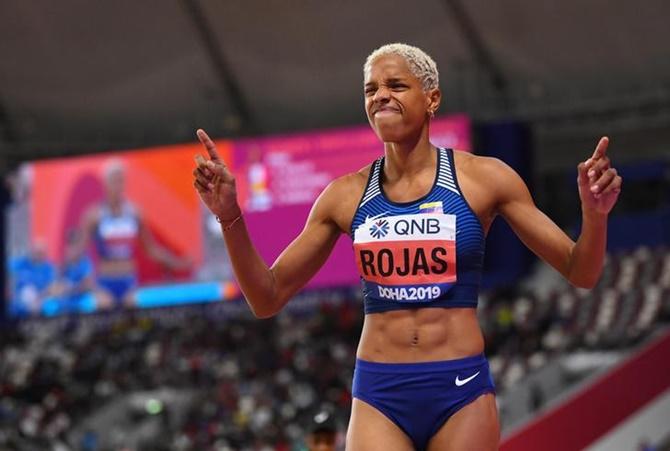 Venezuela's Yulimar Rojas retained her World triple jump title with a display which reflected her recent dominance of the event as she twice soared past 15 metres.
The 23-year-old won with a huge jump of 15.37 metres, only four centimetres short of the second longest jump in history that she produced in Spain last month.
Jamaica's Shanieka Ricketts took silver with 14.92 metres and Colombian Caterine Ibarguen, the Olympic champion and until recently Rojas's closest rival, was third with 14.73.
Rojas is the only Venezuelan to have ever won a world athletics title and she said she hoped her success would be an inspiration to her country which is mired in a political and economic crisis that has led to an estimated four million citizens abandoning the country.
"I fight, for my country, to lift Venezuela's profile in the world and I think people are grateful for what I do," she told reporters.
"It makes me happy that I bring some happiness to my country and that children are influenced by me and each day kids look at me as an example... an example that the country can go forward."
Rojas, who trains in Spain with former Cuban long jumper Ivan Pedroso, said she wanted to try to beat the world record of 15.50 metres set by Ukraine's Inessa Kravets in 2015 and win Olympic gold next year.
Rojas quickly established a lead with a jump of 14.87 in the first round but there was more to come. She bettered that with 15.37 in the second and went 15.18 with her fourth attempt.