The 2015 Dakar Rally, in South America from January 4 to 17, witnessed endurance racers covering a distance of 9,000 kilometres across Argentina, Chile and Bolivia.
Rally racing is all about adrenaline; with it comes the excitement.
Rediff.com encapsulates the grit and grind of the participants in these breathtaking visuals from the rally.
KTM rider Emanuel Gyenes of Romania rides during the 12th stage of the Dakar Rally 2015 from Termas de Rio Hondo to Rosario on January 16. Photograph: Jean-Paul Pelissier/Reuters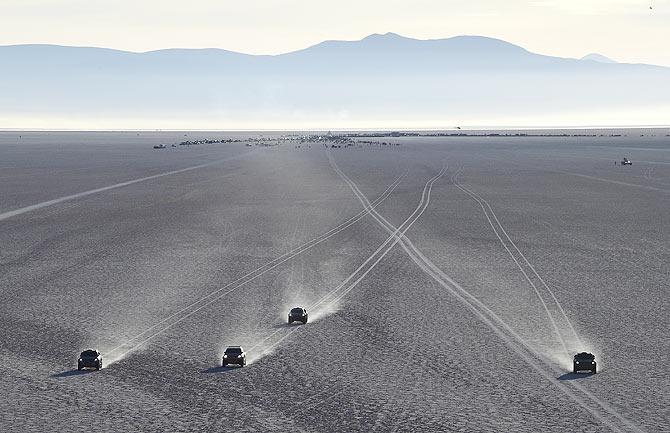 Competitors begin the 8th stage of the Dakar Rally 2015 on the Salar de Uyuni salt flat, from Uyuni to Iquique, Bolivia on January 11. Photograph: Jean-Paul Pelissier/Reuters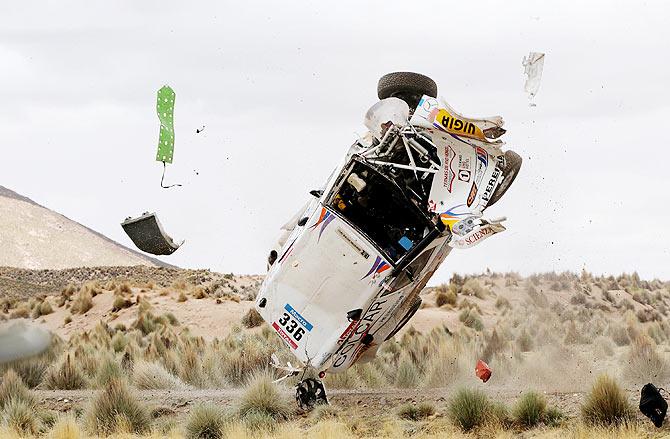 Juan Manuel Silva and Pablo Sisterna of Argentina crash in their Mercedes car during the 7th stage of the Dakar Rally from Iquique to Uyuni, Bolivia on January 10. Photograph: Daniel Rodrigo/Reuters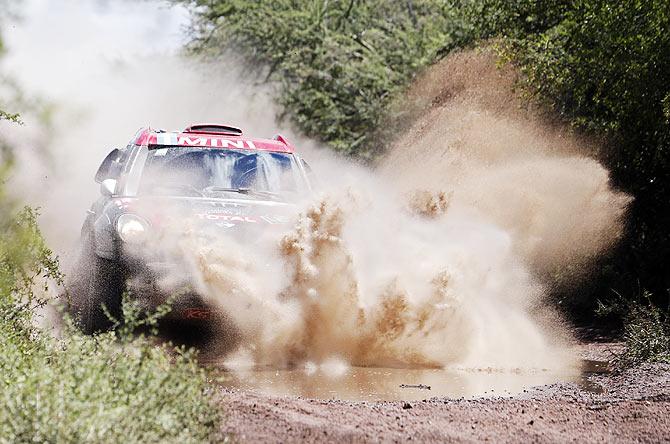 Mini driver Orlando Terranova of Argentina drives during the 12th stage of the Dakar Rally 2015 from Termas de Rio Hondo to Rosario on January 16. Photograph: Jean-Paul Pelissier/Reuters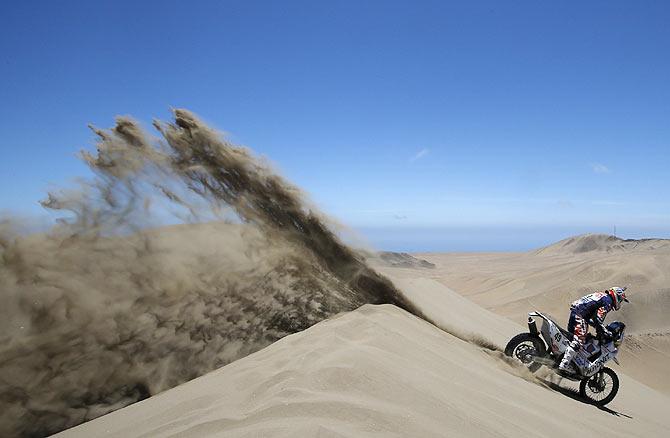 KTM rider Emanuel Gyenes of Romania rides during the sixth stage of the Dakar Rally 2015, from Antofagasta to Iquique, Chile on January 9. Photograph: Jean-Paul Pelissier/Reuters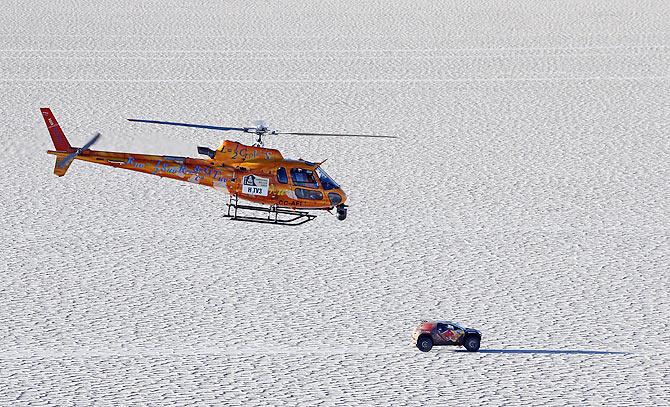 Peugeot driver Stephane Peterhansel of France drives on the Salar de Uyuni salt flat during the 8th stage of the Dakar Rally 2015, from Uyuni to Iquique, Bolivia on January 11. Photograph: Jean-Paul Pelissier/Reuters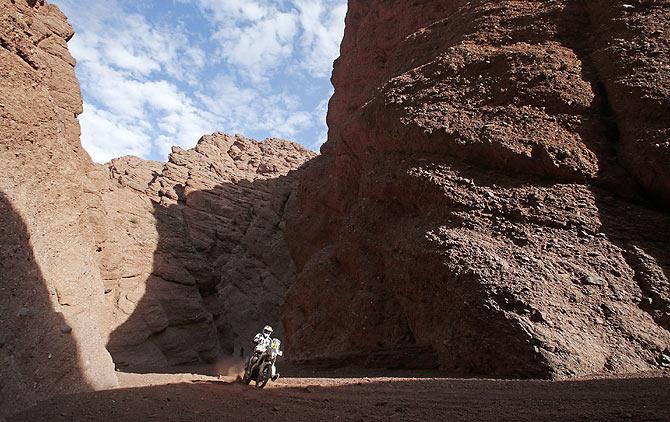 KTM rider Ivan Jakes of Slovakia rides during the 11th stage of the Dakar Rally 2015 from Cachi to Termas de Rio Hondo, Argentina on January 15. Photograph: Jean-Paul Pelissier/Reuters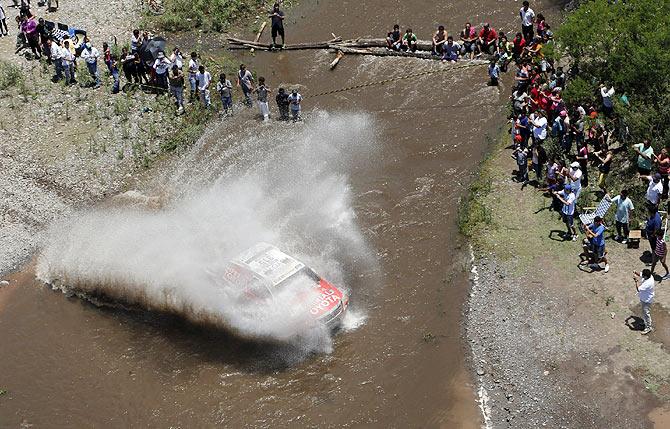 Toyota driver Bernhard Ten Brinke of the Netherlands crosses a river during the 11th stage of the Dakar Rally 2015 from Cachi to Termas de Rio Hondo, Argentina on January 15. Photograph: Jean-Paul Pelissier/Reuters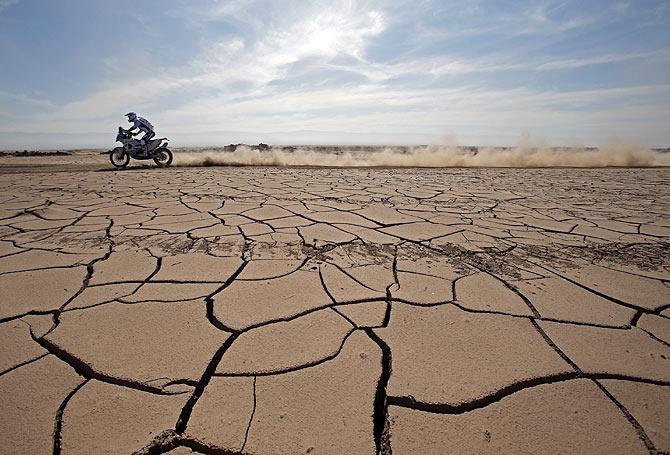 KTM rider Hans Vogels of the Netherlands rides during the sixth stage of the Dakar Rally 2015, from Antofagasta to Iquique, Chile on January 9. Photograph: Jean-Paul Pelissier/Reuters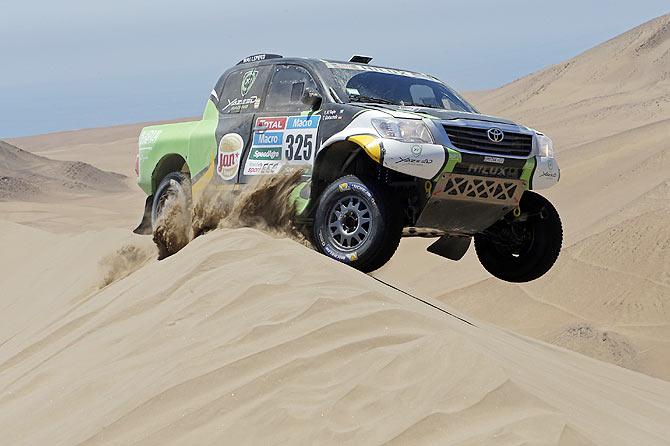 Toyota driver Yazeed Alrajhi of Saudi Arabia drives during the sixth stage of the Dakar Rally 2015, from Antofagasta to Iquique, Chile on January 9. Photograph: Jean-Paul Pelissier/Reuters