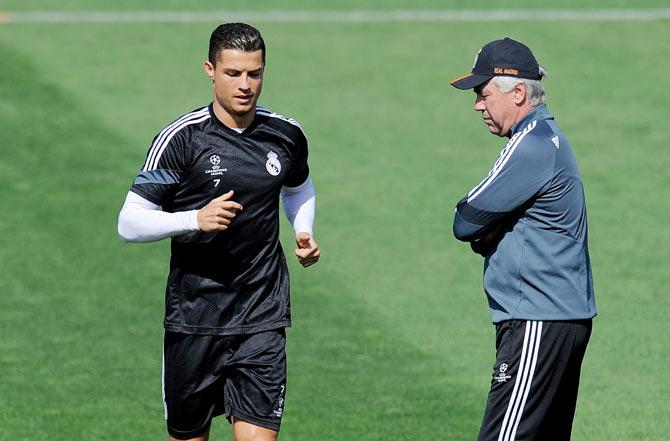 Real Madrid coach Carlo Ancelotti. Photograph: Juan Medina/Reuters
If there is one lesson Real Madrid coach Carlo Ancelotti has learned during his two seasons in Spain it is that resting on your laurels is not an option at the world's richest club by income.
- Rewind: How Barca tightened their grip on the title over the season...
- PHOTOS: Barca players let their hair down after 23rd La Liga title win
After leading Real to a record-extending 10th European crown and a King's Cup triumph last term, Real have failed to win any of the three major trophies in 2014-15 and speculation has already been swirling for weeks about the Italian's future.
Club director Emilio Butragueno pointedly refused to confirm Ancelotti will see out his contract, which runs for another season, after Real were knocked out of the Champions League by Juventus on Wednesday.
The former Real and Spain forward did so again following Barcelona's victory at Atletico Madrid on Sunday, which secured a fifth La Liga title in seven years with a game to spare for Real's arch rivals, who are also through to the finals of the Champions League and King's Cup.
They are on course to repeat 2009's historic treble, something neither Real or any other Spanish club have achieved.
"It is not something to be said now," Butragueno told Spanish television when asked about Ancelotti's future.
"And this is not the place either," he added.
"There is one match left and after that we'll see."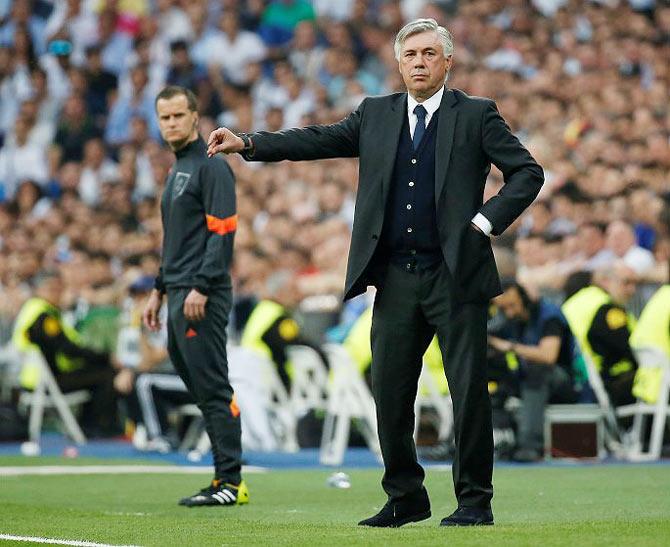 Real Madrid's Cristiano Ronaldo runs past head coach Carlo Ancelotti during a team training session. Photograph: Denis Doyle/Getty Images
Ancelotti is a vastly experienced coach, having won the Champions League twice previously while in charge at AC Milan, and appears to be taking it all in his stride.
He had to watch Real's 4-1 victory at Espanyol on Sunday from the stands due to a touchline ban and was captured on television calmly smoking a cigarette during the game.
Among names to have been linked with his job are Borussia Dortmund coach Juergen Klopp, who is leaving the Bundesliga side at the end of the season.
Jose Mourinho, Rafael Benitez and Julen Lopetegui have also been mentioned, while it seems too early for former Real and France great Zinedine Zidane to step up from his current post as assistant coach of Real's B team.
Ancelotti hinted he would continue next season.
"As always, I would like to win the most important competition, which is the Champions League, but also La Liga," Ancelotti told reporters.
"This year I was very close but we will try again next," added the 55-year-old.