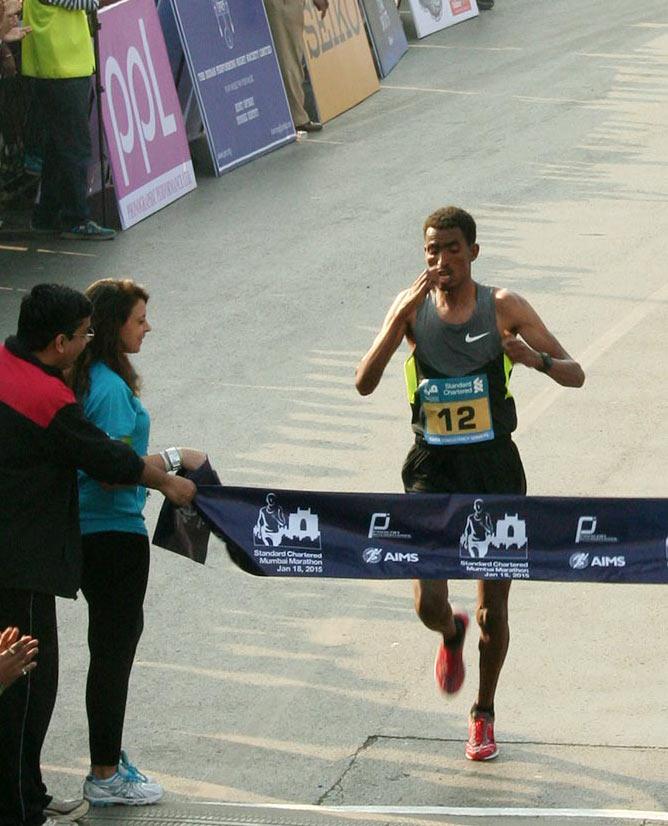 Ethiopian Tesfaye Abera won the Standard Chartered Mumbai Marathon, crossing the finish line in 2 hours, 9 minutes and 46 seconds on Sunday.
Compatriot Dereje Debele finished the race just under a minute behind Abera, clocking a time of 2 hours, 10 minutes and 31 seconds.
"I wanted to break the course record in my first marathon but unfortunately could not do so," said the Ethiopian who has run quite a few half marathons.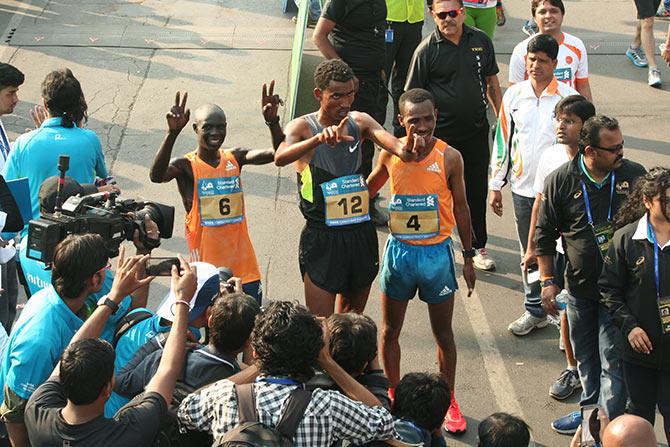 Luke Kibet of Kenya, the 2007 world champion, rounded off the top three spot, completing the run in 2 hours, 10minutes and 57 seconds.
Abera, basically a 15 and 21-km runner, made his maiden marathon run a memorable one by leaving his rivals behind in his wake at
the 32-km mark to storm to the finish line.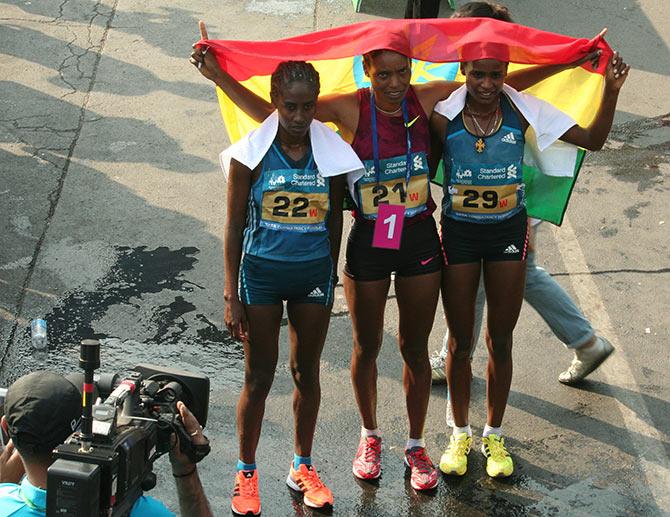 Ethiopia women dominated the marathon with Dinknesh Mekash (2 hrs, 30 minutes), Kumeshi Sichala (2 hrs, 30 minutes and 56 seconds) and Marta Megra (2 hours, 31 minutes and 45 seconds) taking home the medals.
Mekash, who won last year after having come in second in 2013, left the rest of the field behind at the halfway mark to win the women's competition.
Mekash said that after the 35-km mark her calf and back started aching.
"I run in three marathons in a year -- in China, Mumbai and Paris," said the 29-year-old Ethiopian whose personal best is 2:25:09 clocked while ending up fourth in 2013 in Paris.
Ethiopian women runners took the first seven slots.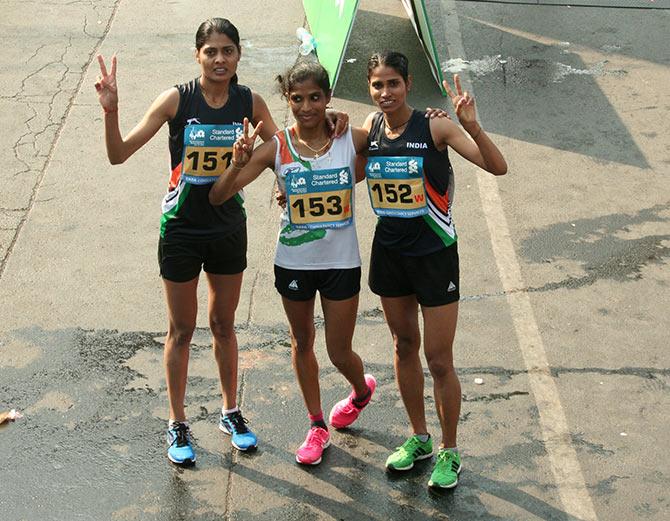 India's seasoned track athlete O P Jaisha, running her maiden marathon, and steeplechaser Lalita Babar, last year's fastest Indian woman finisher, took the eighth and ninth slots with Jaisha also breaking a 19-year-old national mark in the process.
The three women thus became the top three in the Indian women's category.
Jaisha clocked a time of 2 hours, 37 minutes and 29 seconds, thus bettering the 20-year-old national mark of 2 hours, 38 minutes and 10 seconds set by Vally Satyabhama in Chennai in December 21, 1995.
Lalita, the 3,000m steeplechase bronze medal winner at the 2014 Incheon Asian Games, clocked 2:38:21 while Sudha Singh finished 11th in 2:42.12.
The trio's impressive timings -- under the 2:44 cut-off mark set by the Athletics Federation of India (AFI) -- have merited them a place at the August World Championship in Beijing.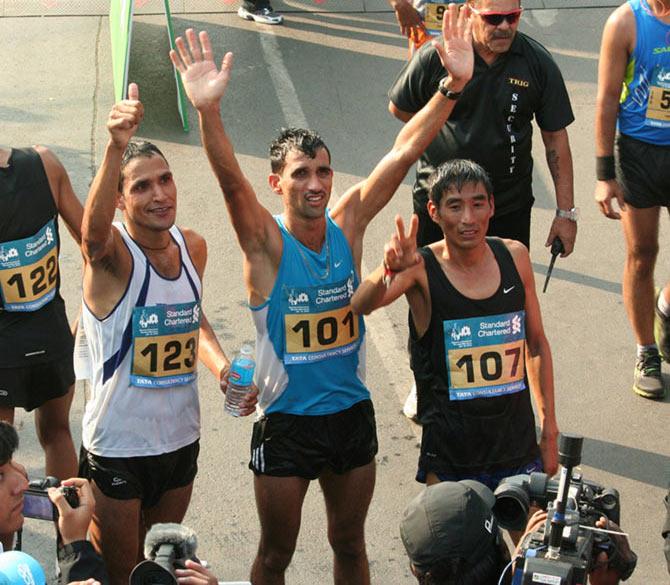 Among Indian male full marathoners, Karan Singh, Arjun Pradhan and Bahadur Singh Dhoni were the first three to cross the finish line.
While Karan completed the race in 2 hours, 21 minutes and 35 seconds, Pradhan and Dhoni did the distance in 2 hours, 22 minutes and 22 seconds and 2 hours, 22 minutes and 41 seconds respectively.
Asian Games medalist Kavita Raut of ONGC clinched the women's half marathon, her fourth road race in two months after recovering from a stress fracture in her leg, by clocking a time of 1:19:50. The corresponding men's title was clinched by defendig champion Indrajeet Patel in 1:08:09.
Results:
Full marathon:
(Overall)
Men: 1. T Abera (Eth) 2:09:46, 2. D Debele (Eth) 2:10:31; 3. Luke Kibet (Ken) 2:10:
Women: 1. D Mekash (Eth) 2:30:00, 2. Kumeshi Sichala (Eth) 2:30:56, 3. Marta Megra (Eth) 2:31:45.
(Indian)
Men: 1. Karan Singh 2:21:35, 2. Arjun Pradhan 2:22:22, 3. Bahadur Singh Dhoni 2:22:41.
Women: 1. O P Jaisha 2:37:29, 2. Lalita Babar 2:38:21, 3. Sudha Singh 2:42:12.
Half marathon:
Men: 1. Indrajeet Patel 1:08:09, Atwa Bhagat 1:08:11, 3. Govind Singh 1:08:14.
Women: 1. Kavita Raut 1:19:50, 2. Eve Bugler (Britain) 1:22:18, 3. Supriya Patil 1:26:48.