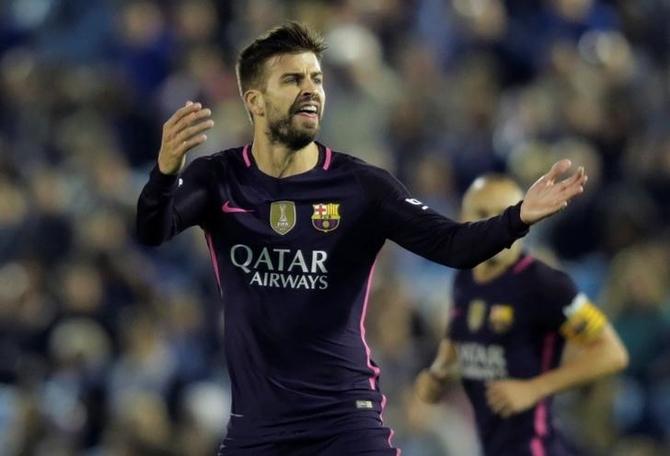 Influential Spain defender Gerard Pique has said he will retire from international soccer after the 2018 World Cup, because he is "tired" of the criticism levelled at him from supporters.
The Barcelona centre-back was the focus of attention in Sunday's World Cup qualifier with Albania after having cut off the sleeves from his shirt which bore Spain's colours of yellow and red.
Pique, who has an awkward relationship with Spain fans for his repeated jibes at Real Madrid and his support for a referendum on Catalan independence, was heavily criticised on social media and in the sports press for the act.
He stunned reporters after the game by declaring he was ready to quit the national team.
"Yes, I'm tired of it and the World Cup in Russia is going to be my last commitment with the Spain team and then I hope I can be left in peace," Pique said on Sunday.
"I cut my shirt because the sleeves were very short and they were bothering me. I've tried everything but I can't take it any more, the thing with the sleeve is the straw that has broken the camel's back."
Pique has made 86 appearances for Spain and won the 2010 World Cup in South Africa and Euro 2012. He was also present in Spain's disappointing campaigns in the 2014 World Cup and Euro 2016.
The outspoken Barcelona-born defender, however, does not enjoy the same rapport with Spain supporters as his international team mates.
He was resoundly booed in a friendly with Costa Rica in 2015 after making a joke about Real Madrid's Cristiano Ronaldo and those wounds were re-opened on Sunday.
"They have succeeded in killing my joy in playing for Spain and even though after Russia I'll only be 31, I'm going to quit then," added Pique.
"I have always tried to give everything but while some people appreciate that others think it's better for me not to be with Spain."
He added his decision to not quit immediately was because of the influence of new manager Julen Lopetegui, who replaced World Cup winning coach Vicente del Bosque earlier this year.
"I'm very excited with this new project with Julen and I don't want to quit at all," Pique added.
"I'll keep playing until the World Cup. We've started this together and we're going to finish it together."