Check out the gold medal winners on Day 7 of the 2016 Games.

Ethiopia's Ayana shatters World record to win 10,000m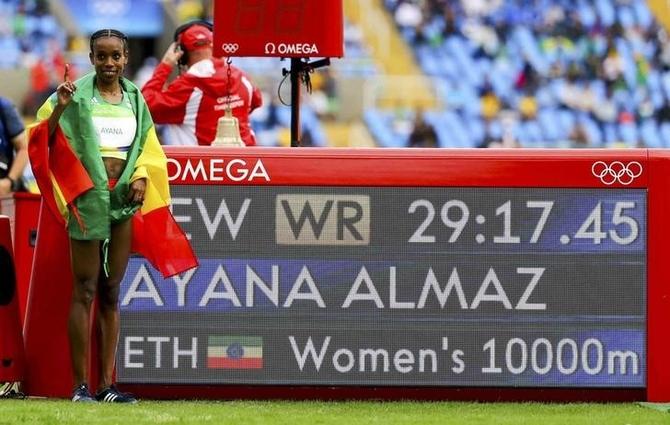 IMAGE: Almaz Ayana of Ethiopia poses next to a display with her timing after setting a new World record. Photograph: Lucy Nicholson/Reuters.
Ethiopia's Almaz Ayana smashed the world record to win the Olympic 10,000 metres title on Friday, blowing away the competition in one of the greatest ever long-distance races at the Games.
Ayana ran boldly from the start and halfway through the race she surged away from the leading pack, injecting staggering pace to finish in 29 minutes 17.45 seconds. Her time was 14 seconds inside the 29:31.78 set by China's Wang Junxia in 1993.
Kenya's world 10,000m champion Vivian Cheruiyot tried in vain to keep up with Ayana but had to settle for silver while Ethiopian Tirunesh Dibaba, the defending Olympic champion, grabbed bronze.
Britain's Stanning and Glover dominate again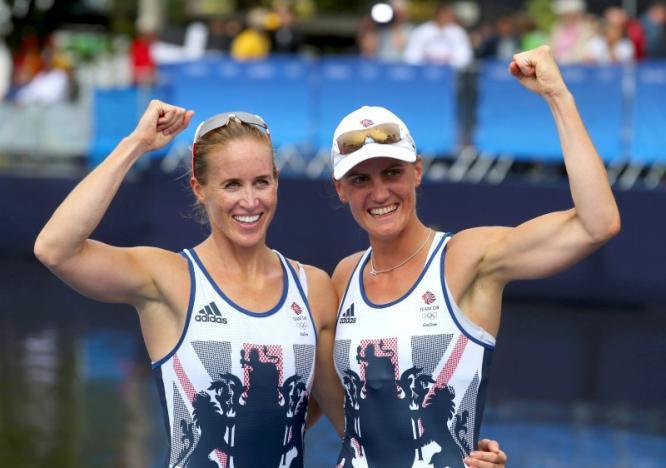 IMAGE: Helen Glover and Heather Stanning of Britain celebrate their gold medal. Photograph: Carlos Barria/Reuters.
Britain's Helen Glover and Heather Stanning extended their five-year unbeaten run and claimed their second consecutive gold medal in the women's pair in the Olympic rowing regatta.
As is their style, the Britons led from the start in one of the most highly anticipated finals of the rowing event and a win had by no means been guaranteed.
The world and Olympic record holders led their nearest challengers by more than three-and-a-half seconds at the half way stage and by roughly four seconds at the 1,500-metre mark.
New Zealand's Rebecca Scown and Genevieve Behrent left it late to make their mark but moved up in the last stretch to take silver.
Germany's Junghaenel wins rifle gold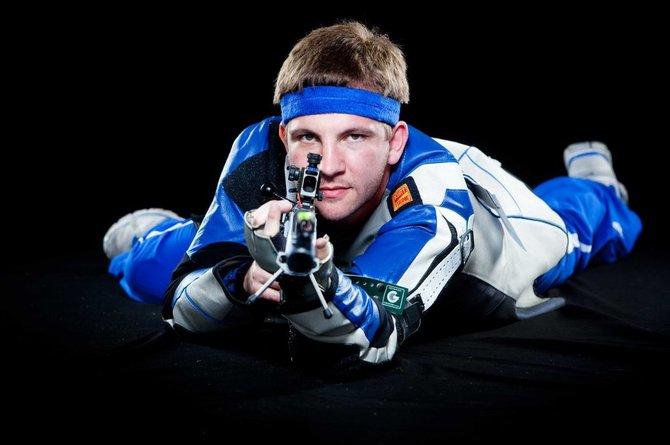 IMAGE: Henri Junghaenel of Germany.
Henri Junghaenel of Germany walked away with a gold medal in his first Olympic Games by winning the 50 meter rifle prone event.
Having scraped into the finals in the last of eight positions, the 28-year-old Junghaenel established an early lead with several successive 10.8 shots, shy of the perfect 10.9.
Kim Jonghyun, 31, of South Korea, won his second Olympic silver with a perfect 10.9 shoot-off with Russia's Kirill Grigoryan, who took the bronze.
Junghaenel finished with a 209.5, 1.3 points over Kim, but shy of his 2013 world record finals score of 211.2.
Dutch take women's lightweight double sculls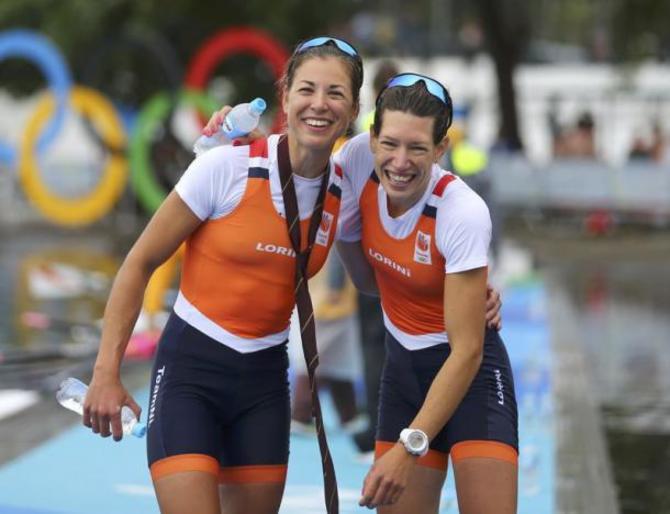 IMAGE: Ilse Paulis and Maaike Head of the Netherlands after winning gold. Photograph: Reuters.
The Netherlands duo of Ilse Paulis and Maaike Head claimed gold in the lightweight women's double sculls the Olympics rowing regatta on a rain swept Rodrigo de Freitas Lagoon, the second Dutch medal in rowing at this year's Games.
Canada took silver 1.1 seconds behind the Dutch women and China bronze.
Manuel and Oleksiak tie for 100m freestyle gold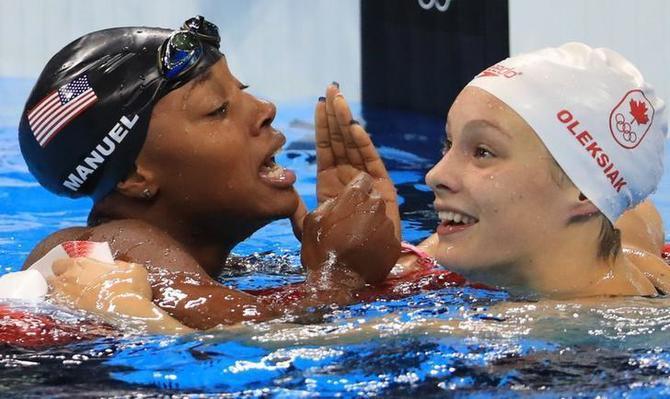 IMAGE: Canadian Penny Oleksiak and Simone Manuel of the United States after winning the gold medal. Photograph: Stefan Wermuth/Reuters.
Canadian Penny Oleksiak and Simone Manuel of the United States were inseparable at the finish and even more united in joy after a stunning 100 meters freestyle dead-heat rewarded both with Olympic gold.
Both women, one 16 and the other 20 and very much part of a new wave in swimming, touched the wall in 52.70 seconds as the crowd gasped at the times flashing up on the scoreboard.
Sweden's Sarah Sjostrom, the Olympic 100m butterfly champion who took the bronze in 52.99, was astonished.
Rowing: British men's four win fifth consecutive gold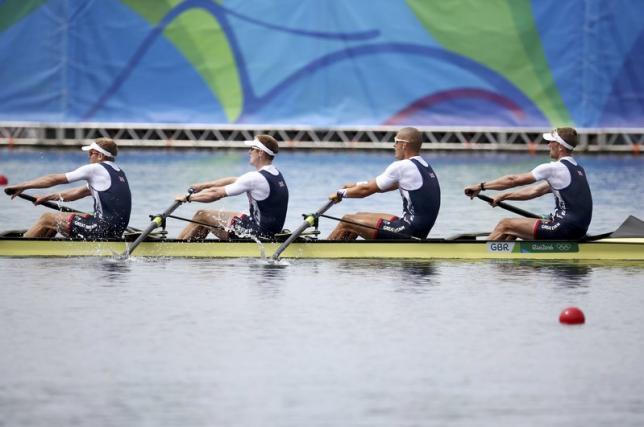 IMAGE: Alex Gregory, Mohamed Sbihi, George Nash and Constantine Louloudis of Britain compete. Photograph: Stefan Wermuth/Reuters.
Britain's men's four battled stroke-for-stroke with Australia but edged ahead to claim a fifth consecutive gold medal in the event at the Olympic rowing regatta.
The Australians kept pace with the Britons for most of the race but their pace slipped in the latter stages.
Britain finished in 5 minutes 58.61 seconds, 1.83 ahead.
Australia took silver and Italy finished a distant third.
Archery: Ku wins men's gold to complete South Korean sweep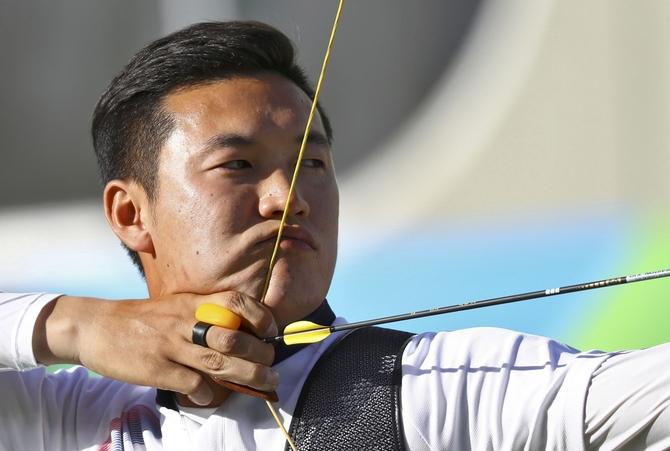 IMAGE: Ku Bon-Chan of South Korea competes. Photograph: Leonhard Foeger/Reuters.
Ku Bon-chan outlasted Frenchman Jean-Charles Valladont in the final of the men's individual archery on Friday to capture his second gold of the Rio Olympics and ensure South Korea completed an unprecedented sweep of all four titles.
Ku, who won the team gold with South Korea on Saturday, survived two nail-biting tiebreaks in the quarter-finals and semis before fending off a hard-charging Valladont to win 7-3 on another gusty day at the Sambadrome.
Italians win gold and silver, American makes history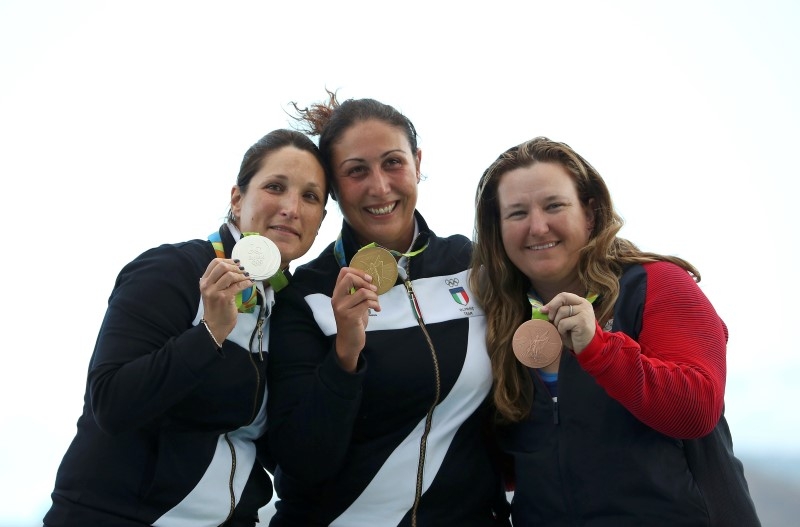 IMAGE: Left to right- Chiara Cainero of Italy, Diana Bacosi of Italy and Kimberly Rhode of USA pose with their medals. Photograph: Dylan Martinez/Reuters.
Italy's Diana Bacosi defeated team mate and 2008 Olympic champion Chiara Cainero to win the gold medal in women's skeet shooting on Friday, marking the first one-two finish for Italy in Olympic shooting.
History was also made by the bronze medal winner, defending champion American Kim Rhode, who joined an elite record-holding group of just five other Olympic athletes who have won a medal in six different Olympic Games.
Cycling: China win track gold in women's team sprint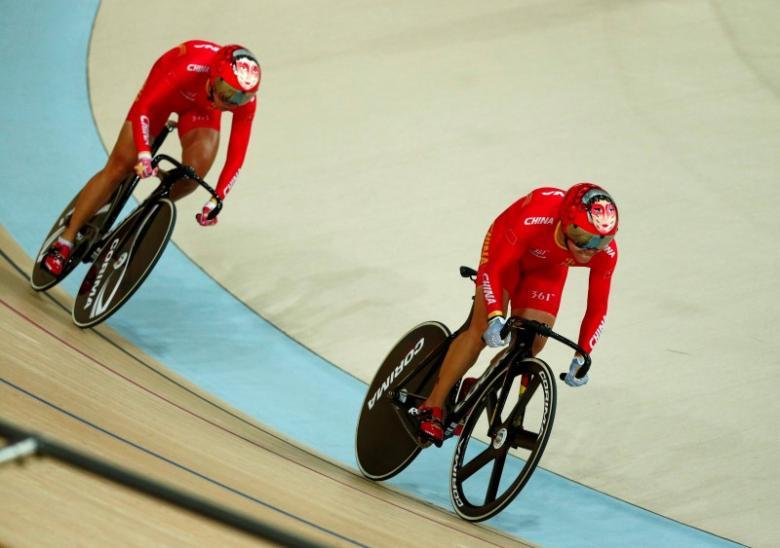 IMAGE: Jinjie Gong and Tianshi Zhong of China compete in the women's cycling track team sprint at Rio Olympic Velodrome. Photograph: Andrew P. Scott-USA TODAY Sports/Reuters.
Gong Jinjie and Zhong Tianshi claimed China's first ever Olympic track cycling gold medal when they won the women's team sprint title on Friday, beating Russia in the final.
The Chinese broke the world record in qualifying for the final and were too strong for Russians Anastasia Voinova and Daria Shmeleva as they sped to gold.
Germany's Mirian Welte and Kristina Voegel beat Australian duo Anna Meares and Stephanie Morton for bronze, denying Meares a sixth Olympic medal.