Check out the gold medallists on Sunday, Day 16 of the 2016 Games in Rio de Janeiro.
Boxing: Yoka wins Super-heavy gold for France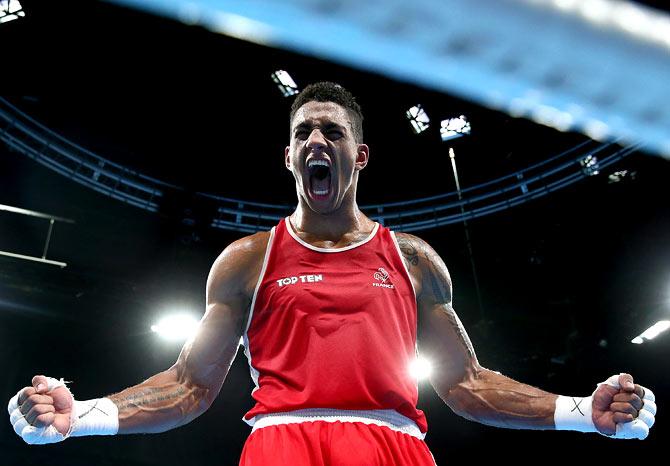 IMAGE: Tony Yoka celebrates after winning the men's Super Heavyweight (+91kg) final on Day 16 of the Rio Olympics, on August 21, 2016. Photograph: Clive Brunskill/Getty Images
France's Tony Yoka beat Britain's Joe Joyce to win the men's Olympic super-heavyweight title on Sunday and match the lightweight gold medal won by girlfriend Estelle Mossely earlier in the week.

Now half of a golden couple, Yoka becomes the first Frenchman to win gold in the heaviest division.

Croatia's Filip Hrgovic and Kazakhstan's Ivan Dychko took the bronze medals as losing semi-finalists.

Britain's Anthony Joshua, the 2012 champion, turned professional after the London Games.
Basketball: US routs Serbia for third straight gold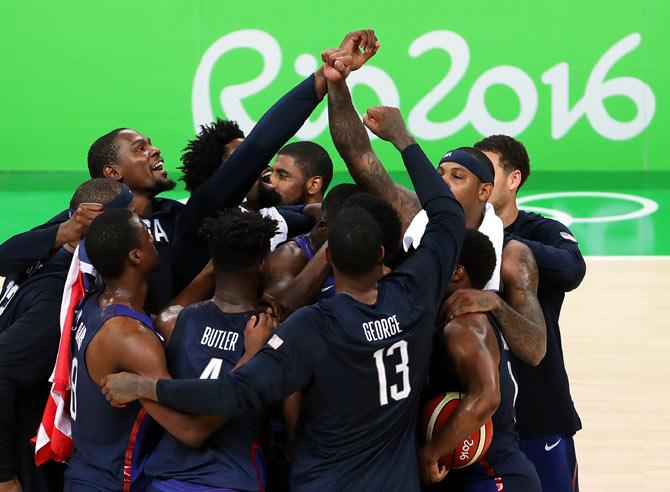 IMAGE: The US men's basketball team celebrates after defeating Serbia in the gold medal game on Day 16 of the Rio Olympics. Photograph: Christian Petersen/Getty Images
A ruthless United States pounded Serbia 96-66 to claim a third straight Olympic men's basketball title on Sunday to give coach Mike Krzyzewski a golden send-off.

After scrapping to a tense three point win over Serbia in the group round, the United States quickly removed any suspense from the rematch, surging to a 52-29 halftime lead then cruising to their 25th straight win on Olympic hardwood.

Kevin Durant led the assault, pouring in 30 points including 24 in a brilliant opening half, while DeMarcus Cousins was again a beast on the boards, pulling down 15 rebounds.

The rout capped a brilliant tenure as Team USA head coach for Krzyzewski, who signs off having guided the U.S. to three consecutive Olympic gold medals and a near perfect 88-1 record in international competition.

The only blemish on the resume of 'Coach K', as Krzyzewski is known to many, is a semi-final loss to Greece at the 2006 world championships.

Earlier, Spain edged Australia 89-88 to take home the bronze.
Rhythmic gymnastics: Russia wins fifth successive team gold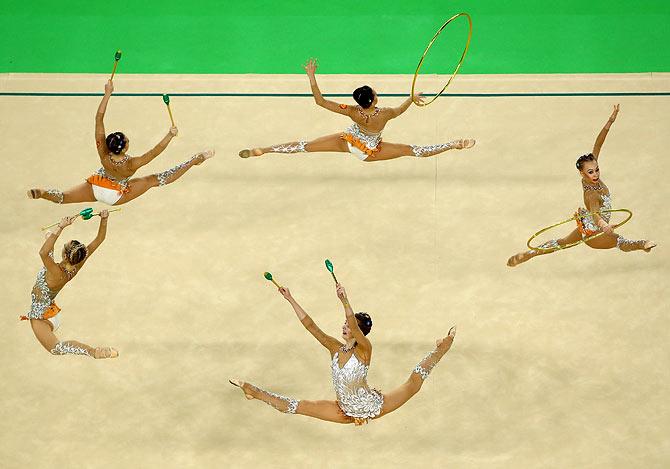 IMAGE: Vera Biriukova, Anastasia Bliznyuk, Anastasiia Maksimova, Anastasiia Tatareva and Maria Tolkacheva of Russia compete during the Group All-round final on Day 16 of the Rio Games. Photograph: Clive Brunskill/Getty Images
Russia's rhythmic gymnasts shut out the rest of the world for a fifth successive Olympics on Sunday, with a free-flowing acrobatic display with hoops and clubs winning them another group all-around gold medal.

Spain had high hopes of snapping Russia's reign as they were leading at the halfway point of the competition following an exquisite display with five ribbons, with the champions trailing in third behind Bulgaria.

With 30 meters of multi-colored ribbons on show in the opening routines, the main challenge for the gymnasts was to avoid getting tangled as they showed off their synchronized choreography and acrobatic skills during the two minute 30 second displays.

The competition came alive when world champions Russia returned with two hoops and six clubs. Rolling the hoop along the contours of their bodies, diving through it, and using their feet to catapult it to fellow gymnasts were popular moves.

They drew rapturous applause as they each arched one leg back to perform a synchronized fast-paced Biellmann spin.

Russia's dynamic performance with their second routine allowed them to leapfrog the early pacesetters, and they topped the standings with 36.233.

"We were concerned after the first rotation when everything did not go smoothly," said Russia's Anastasiia Tatareva.

"There was a collision and one of the ribbons ended up on the floor. That hiccup forced us to pull ourselves together and do our best to beat our rivals."

For the fifth successive Olympics, Russia completed the rhythmic gymnastics double after Margarita Mamun won the individual all-around gold on Saturday.

Spain, who won the gold in 1996 when the sport made its Olympic debut but then failed to get on the podium at the next four Olympics, claimed silver with 35.766.

Bulgaria, world champions in 2014, grabbed the bronze.
Wrestling: Snyder wins last gold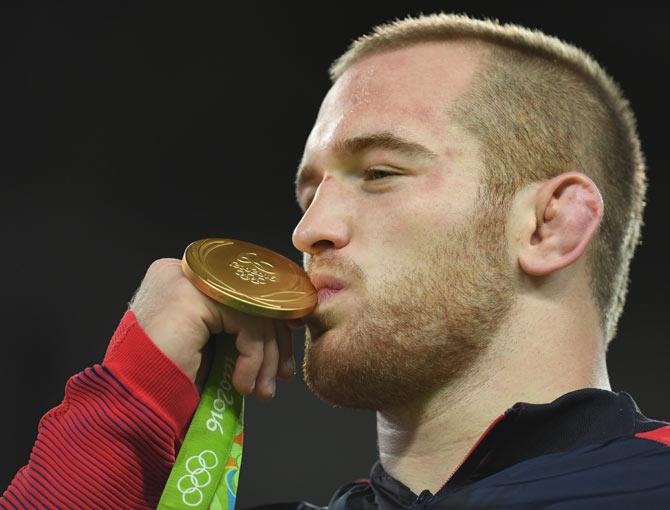 IMAGE: Gold medallist Kyle Frederick Snyder of the United States stands on the podium during the medal ceremony for the men's Freestyle 97kg. Photograph: Laurence Griffiths/Getty Imagess
Kyle Snyder of the United States won the last wrestling gold medal of the Rio Olympics on Sunday as he fought a cagey, low-scoring contest in the 97 kg category against Azerbaijan's Khetag Goziumov, hanging in to defend his 2-1 lead as his opponent pressed hard in the closing seconds in a bid to lift and throw him.

"He was really strong underneath there. I was like, wow, this guy's really crazy strong in that position. But I wasn't going to let another point go up on that board unless it was me scoring," said the 20-year-old American, who had lost to the same opponent a month earlier.

Azerbaijan were also forced to settle for silver in the earlier 65 kg final, where Russia's Soslan Rakhmonov defeated Toghrul Asgarov.

Cycling: Swiss Schurter wins gold in men's cross-country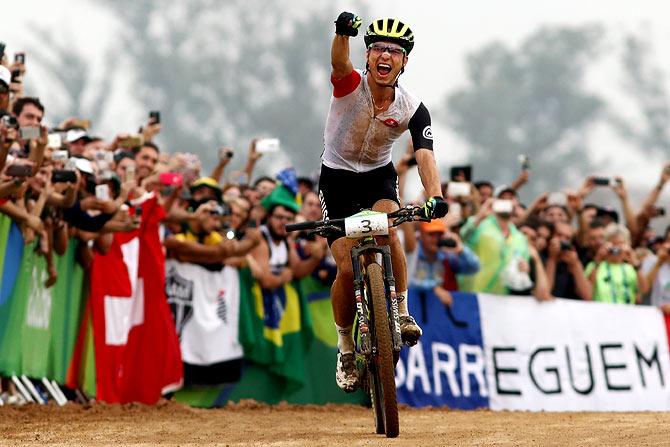 IMAGE: Nino Schurter celebrates winning the gold medal in the men's Cross-Country on Day 16 of the Rio Games. Photograph: Phil Walter/Getty Images
Switzerland's Nino Schurter completed his Olympic medal collection as he won gold in the men's cross-country cycling race on Sunday.

The 30-year-old, third in Beijing and second in London, put the hammer down on the sixth of seven laps of the winding 4.8km circuit in the Rio hills and powered away alone to victory.

Czech Jaroslav Kulhavy, the man who beat five-times world champion Schurter to gold in a thrilling sprint finish in London, took the silver medal 44 seconds back.

Carlos Caloma Nicolas of Spain was third after grinding down France's Maxime Marotte in the closing stages.

Slovakia's Peter Sagan, the world road champion, had a luckless day with punctures ruining his chance of a surprise medal after he had made a flying start.
Boxing: Shields wears two golds around her neck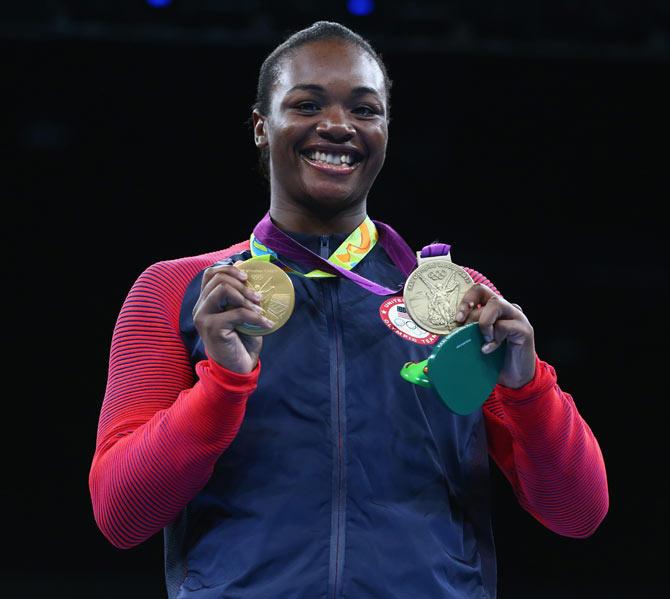 IMAGE: Gold medallist Claressa Maria Shields poses on the podium during the medal ceremony for the women's boxing Middleweight (69-75kg) on Day 16 of the Rio Games. Photograph: Alex Livesey/Getty Images
Claressa Shields brought one gold medal to the ring with her and left with two hanging around her neck after retaining her Olympic middleweight title and making US boxing history.

As a gesture of confidence, having the 2012 gold at hand in the expectation of showing it off with another took some beating.

But so too does Shields, who has not lost a fight since 2012 and is her country's first double boxing champion in 112 years.

"At London I knew I was going to win and I knew I was going to win here," Shields told reporters after the unanimous decision over Nouchka Fontijn of the Netherlands.

"I've worked so hard to be here. You know not everybody can be an Olympic gold medallist. I'm a two-time Olympic gold medallist. Oh my god, I can't believe I just said that," she exclaimed.

Volleyball: Brazil's men beat Italy for third gold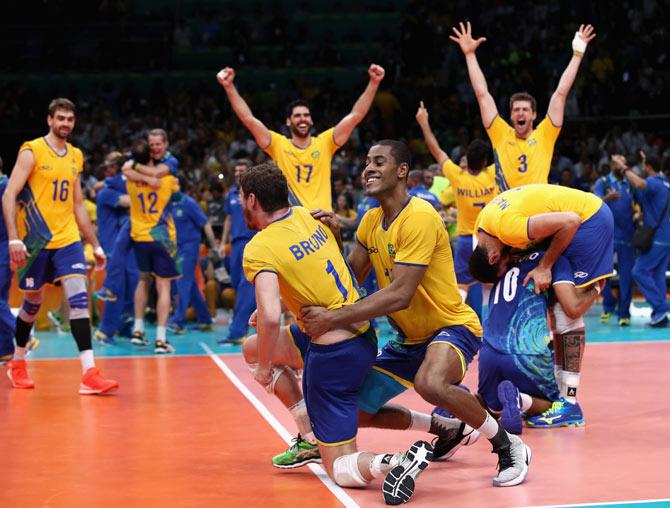 IMAGE: Brazil's players celebrates after winning the gold medal in the men's volleyball on Day 16 of the Rio Games. Photograph: Mark Kolbe/Getty Images
Brazil's men's volleyball team defeated Italy on Sunday to win their third gold medal in the sport and cap their country's best Olympic performance with a total of seven golds in the Rio Games.

The Brazilians had lost to the Italians in a pool match but won the final in straight sets 25-22, 28-26, 26-24, handing Italy its third silver medal in men's volleyball.

Brazil struggled in the pool stage, losing two matches, to the US and Italy, and only making it into the knockout rounds after a tense victory over France in the last game.

But having emerged from the pool, Brazil began to show its class and fueled by raucous home support dropped just one set between the quarter-finals and clinching gold.

The Brazilian victory was largely due to a barrage of winning spikes, serves and blocks by its outstanding outside hitter Wallace de Souza, who scored 20 of Brazil's points.

Brazilian fans that packed Rio's Maracanazinho stadium erupted with joy, chanting "The champ is back." Cheering was heard in neighborhood streets across Rio.

In the audience to witness the win was Brazilian soccer star Neymar, fresh from Saturday's gold-winning final against Germany.

Brazil last won volleyball men's gold in 2004 when it beat Italy in Athens, and took its first at Barcelona in 1992.

Boxing: Uzbek Gaibnazarov wins men's light-welter gold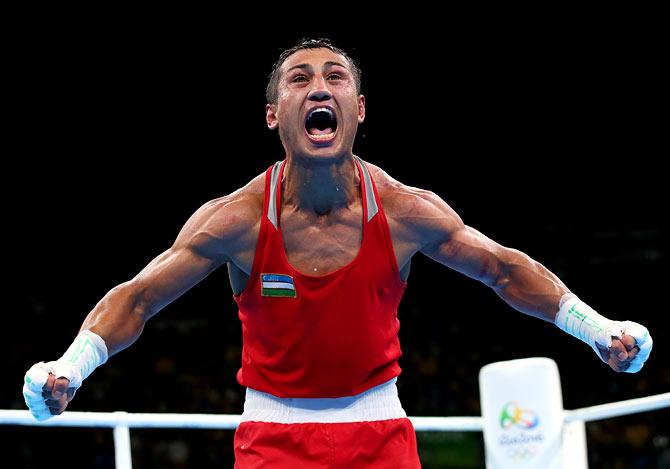 IMAGE: Fazliddin Gaibnazarov celebrates victory in the men's Light-welter (64kg) final at the Rio Games. Photograph: Alex Livesey/Getty Images
Uzbekistan's Fazliddin Gaibnazarov won the Olympic light-welterweight gold by beating Azerbaijan's Cuban-born Lorenzo Sotomayor Collazo on a 2-1 split decision on Sunday.

The gold was Uzbekistan's second of the afternoon and third of the boxing tournament.

Russia's Vitaly Dunaytsev and Germany's Artem Harutyunyan won the bronze medals.

Handball: Delighted Denmark beat France to win first gold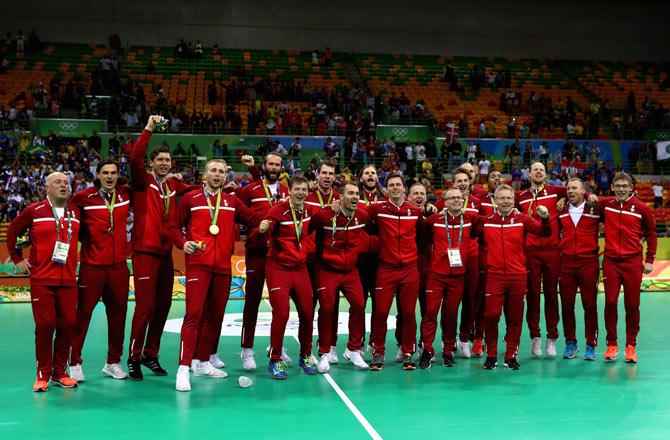 IMAGE: Team Denmark pose during the medal ceremony for men's Handball after winning the gold medal. Photograph: Sean M. Haffey/Getty Images
A delighted Denmark won their first gold medal in men's handball on Sunday, overcoming the defending French champions to win 28-26 in a thrilling Olympic final.

The score was tight throughout the game at Rio's Future Arena, where a mostly France-leaning crowd chanted for their "Bleus", but the Danes managed to pull ahead in part thanks to brilliant saves by 2.01 meter-tall keeper Niklas Landin.

When the breakneck game was finally over, the Danish team poured onto the court hugging, high-fiving, and clasping their hands on their heads in disbelief.

For the French, who won gold in London 2012 and Beijing 2008, defeat to the Danish underdogs was bitter. It came a day after the French women also lost the final, settling for silver against Russia.

Earlier on Sunday, Germany's men's team overcame Poland 31-25 to win bronze.

Kenya's Kipchoge triumphs in men's marathon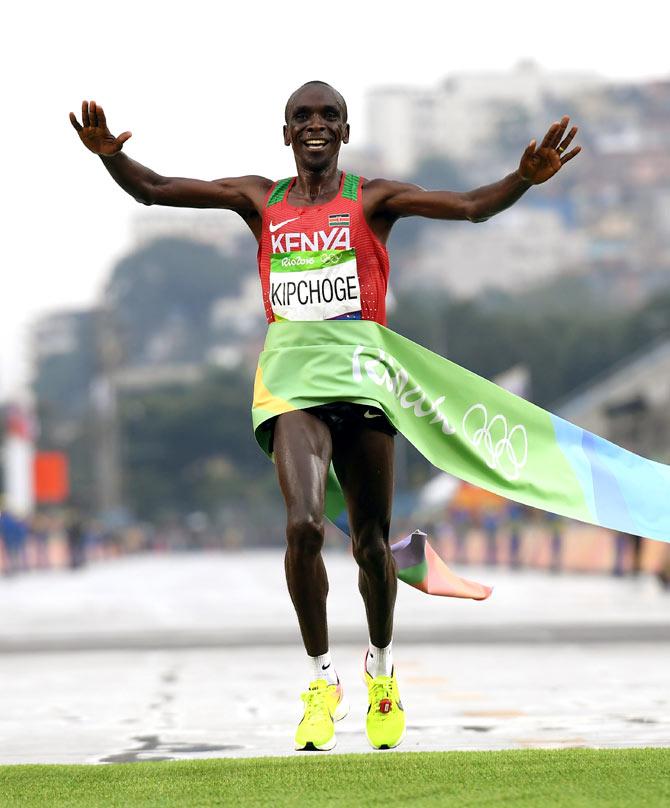 IMAGE: Kenya Eliud Kipchoge celebrates as he crosses the line to win gold in the men's Marathon. Photograph: Matthias Hangst/Getty Images
Kenya's Eliud Kipchoge won the men's Olympic marathon with a dominating performance, running alone into the Sambadrome and finishing in two hours, eight minutes and 44 seconds on Sunday.

Ethiopia's Feyisa Lilesa claimed the silver medal and American Galen Rupp took the bronze in humid conditions on a rain-slicked course.

Kipchoge, 31, began to split the field after around 30 kilometers, starting with a group of a dozen runners about him that slowly dropped away until he ran the final kilometers alone.

"It was a bit slow so I decided to take over. Maybe it was the rain, maybe not. Everyone wants a medal. I was coming here for gold," said Kipchoge, who has won seven of the eight marathons he has entered, including two London Marathon victories.

In previous Olympic appearances, in 2004 and 2008, he had competed in the 5,000 meters before shifting his focus to the longer distance.

It marked the third straight time a Kenyan had claimed a spot on the Olympic podium, following silver and bronze performances in 2012 and a 2008 gold.

As he crossed the line, Lilesa raised his crossed arms in the air, a gesture of solidarity with members of his tribe who have faced violent government reprisals to their protests against a plan to redevelop farmland.

Kipchoge's victory came a week after compatriot Jemima Jelagat Sumgong won gold in the women's marathon, marking the first time both races had been won by the same nation.