Check out the winners on Saturday, Day 15 of the 2016 Games in Rio de Janeiro.
United States reclaim men's 4x400m title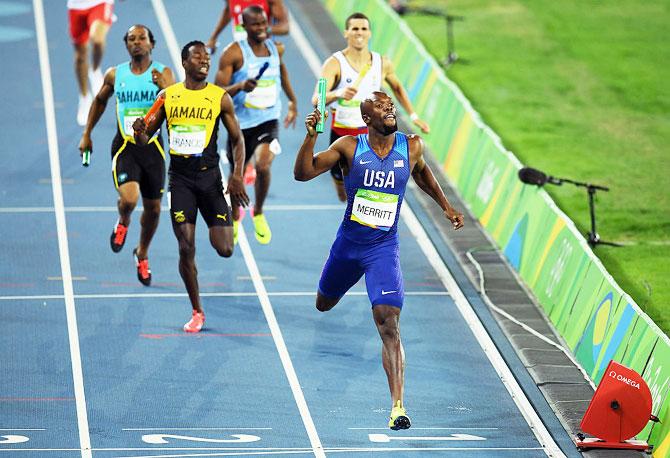 IMAGE: The USA's Lashawn Merritt reacts after winning gold in the men's 4x400 metres relay at the Olympic Stadium in Rio de Janeiro on Saturday. Photograph: Matthias Hangst/Getty Images
LaShawn Merritt ran a blistering anchor leg to return the men's 4x400m title to the United States, and win his third Olympic gold medal, in the final athletics event of the Rio Games on Saturday.
Arman Hall, Tony McQuay and Gil Roberts combined over the first three laps to give Merritt a two metre lead and the former 400m Olympic and World champion extended that to seven to win in two minutes, 57.30 seconds.
Javon Francis stormed down the final straight to give Jamaica the silver in 2:58.16, while the Bahamas ran 2:58.49 to pip Belgium, who ran a national record 2:58.52, for bronze.
Centrowitz ends America's long wait for 1,500m gold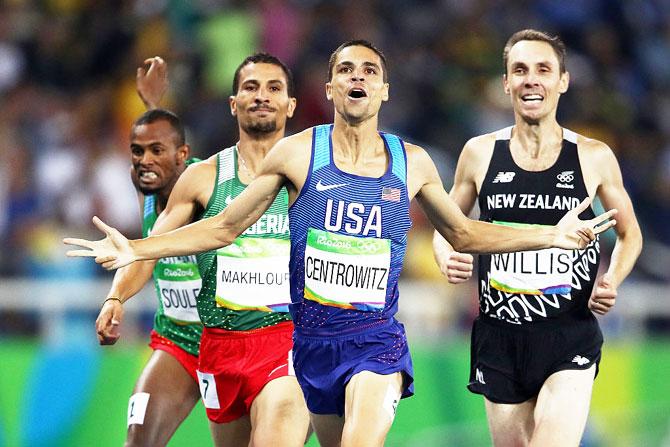 IMAGE: United States' Matthew Centrowitz reacts after winning gold in the men's 1500 metrs final on Saturday. Photograph: Cameron Spencer/Getty Images
American Matthew Centrowitz pulled of a shock victory in the 1,500m final on Saturday, stunning pre-race favorite Asbel Kiprop of Kenya to secure his country's first gold medal in the event since 1908.
Centrowitz held off defending champion Taoufik Makhloufi of Algeria to cross the line in 3:50:00.
Centrowitz, who won a World championship bronze in 2011 and silver in 2013, ran the final lap in 50.62 seconds to take gold in a field stacked with African talent.
Makhloufi, who also won silver in the 800m, had to settle for second place once again and Nick Willis of New Zealand snatched the bronze medal.
Kiprop, who has run the fastest time of the year, faded in the final lap to finish sixth.
Neymar hands Brazil elusive soccer gold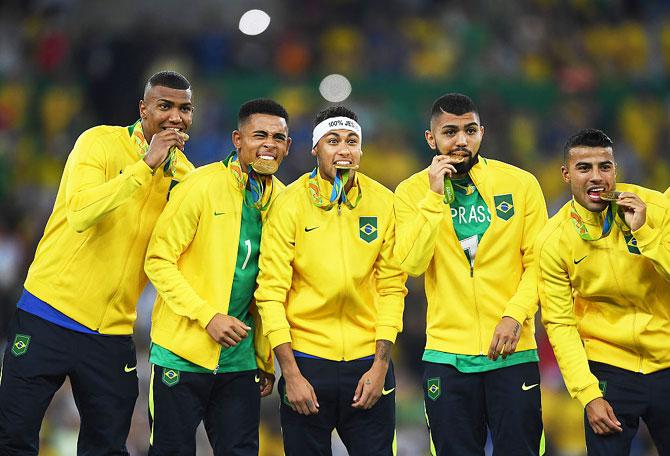 IMAGE: (Left to right) Brazil's Walace, Gabriel Jesus, Neymar, Gabriel Barbosa and Rafinha celebrate with their gold medals following the football final. Photograph: Laurence Griffiths/Getty Images.
Neymar shed tears of joy after delivering Brazil's first men's soccer gold medal with the winning penalty in a 5-4 shootout triumph over Germany after a thrilling final ended in a draw following extra-time on Saturday.
Brazil had lost the Olympic final three times -- in 1984, 1988 and 2012 -- but they finally got the gold they craved on a dramatic night at the Maracana stadium in which they outplayed the Germans but were saved three times by the woodwork.
Neymar had put the hosts ahead with a superb free kick after 27 minutes but Germany captain Maximilian Meyer equalized just before the hour to take the game into the extra period at 1-1.
There were no more goals so the match went to penalties with Nils Petersen missing Germany's fifth spot kick leaving Neymar, who appeared to injure himself late in the game, to limp up and coolly score from the spot to send the capacity crowd wild.
Farah completes distance double-double with 5000m gold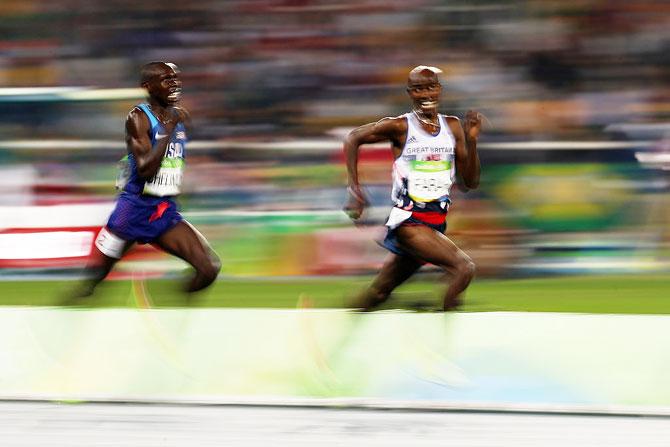 IMAGE: Mo Farah of Great Britain and Paul Kipkemoi Chelimo of the United States compete during the men's 5000m final on Saturday. Photograph: Patrick Smith/Getty Images.
Great Britain's Mo Farah became only the second man to retain both Olympic track long distance titles when he produced an utterly dominant performance to add the 5,000m gold to the 10,000 he collected a week ago.
Farah followed Finland's Lasse Viren, who won both titles in 1972 and 1976, and having also done the double twice at the World championships he has now earned his place among the all-time greats of his sport.
Farah dealt with everything the field could throw at him on Saturday, and even took up the pace midway through the race to stamp his authority on the field.
As ever, when it came to a last-lap showdown, nobody could live with his speed and he surged clear of Kenyan-born American Paul Chelimo and Ethiopian Hagos Gebrhiwet.
South Africa's Semenya strides to 800m gold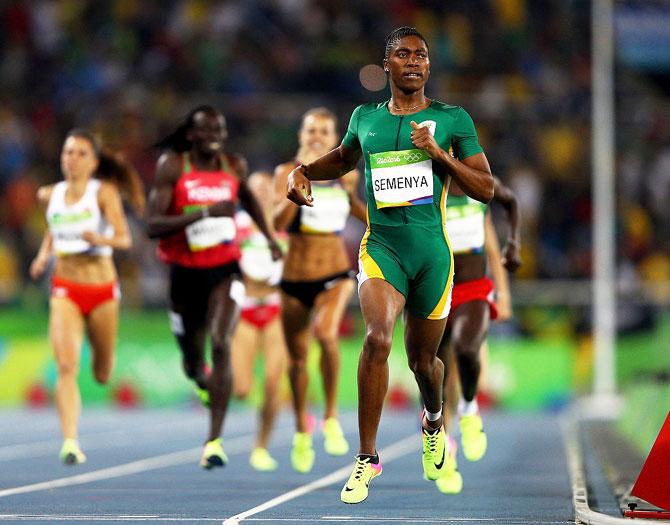 IMAGE: Caster Semenya of South Africa leads the field during the women's 800 metres final. Photograph: Ian Walton/Getty Images.
Caster Semenya of South Africa took the gold medal in the Olympic 800 meters on Saturday in a personal best time of 1:55.28 seconds.
Burundi's Francine Niyonsaba finished in 1:56.49 seconds to claim the silver, her country's second medal in any sport at the Olympics. Kenya's Margaret Wambui won bronze in 1:56.89.
Germany's Rohler takes gold in men's javelin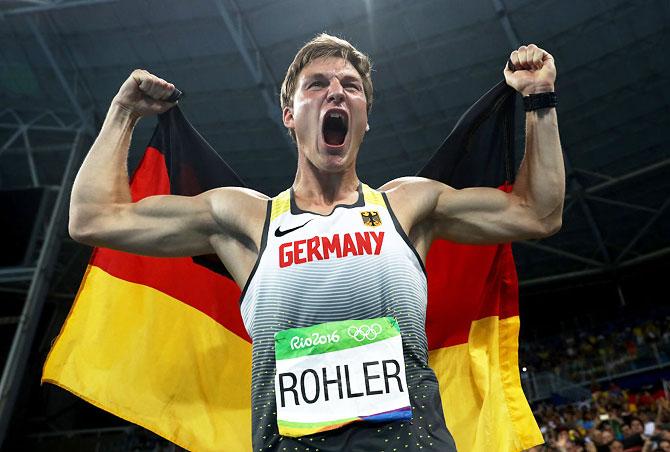 IMAGE: Thomas Rohler of Germany reacts after winning gold in the men's Javelin Throw on Saturday. Photograph: Alexander Hassenstein/Getty Images
Germany's Thomas Rohler took Olympic gold in the men's javelin on Saturday with a best throw of 90.30 meters.
Kenya's world champion Julius Yego threw 88.24 meters on his first attempt, a season best and good enough to hold the lead until the penultimate round when Rohler unleashed his massive throw.
A limping Yego then retired from the competition having faulted on two of his previous throws.
London 2012 champion Keshorn Walcott of Trinidad and Tobago threw 85.38 meters on his second attempt. He needed a personal best on his last throw to bump Rohler from the gold medal position but produced a no throw and finished with bronze.
Rohler has struggled with a back injury this season but showed promising form ahead of the Olympics, having thrown a world leading mark of 91.28 meters in June.
Beitia wins historic high jump gold for Spain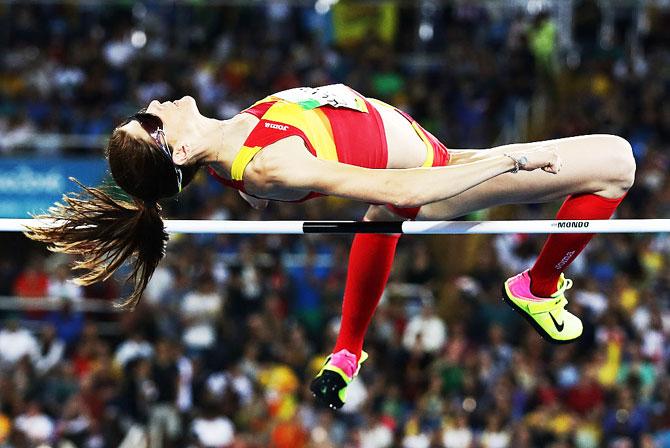 IMAGE: Ruth Beitia of Spain competes during the women's High Jump final on Saturday. Photograph: Ezra Shaw/Getty Images
Spaniard Ruth Beitia won Spain's first Olympic gold medal in women's athletics when she took the Rio high jump title to claim her first global outdoor crown at the age of 37 on Saturday.
The three-times European champion cleared 1.88m, 1.93m and 1.97m the first attempt and became the oldest Olympic champion in the jumps on countback when all four remaining athletes failed to get over two meters.
Mirela Demireva of Bulgaria took silver ahead of Croatia's Blanka Vlasic, who added bronze to the silver she won at the 2008 Beijing Olympics.
Russia's London 2012 champion Anna Chicherova was unable to take part in the Games because she was provisionally suspended after a retested sample from the 2008 Olympics tested positive.
US rolls past Spain to win sixth straight basketball gold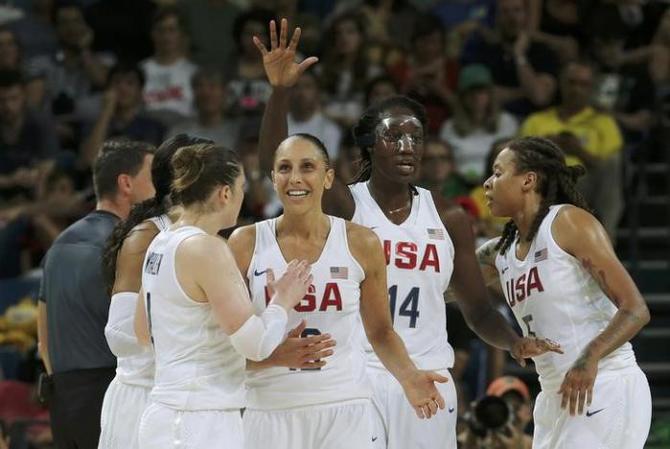 IMAGE: The USA's women's basketball players celebrate. Photograph: Jim Young/Reuters.
The United States women's basketball team thumped Spain 101-72 to claim a sixth straight gold medal on Saturday to rubber-stamp their credentials as one of the greatest Olympic sporting dynasties of all time.
After a sloppy start that saw Spain lead much of the opening quarter, the U.S. finally settled into their familiar rhythm, turning a 10-0 run into a 17-point halftime lead.
From then on there was no way back for Spain as the U.S. extended their Olympic winning streak to a staggering 49-0.
Only two other teams can claim such a run of domination in an Olympic team sport.
The U.S. men's basketball team earned seven consecutive gold medals from 1936-1968 while India claimed six-straight men's field hockey titles from 1928-1956.
US win sixth straight gold in women's 4x400 relay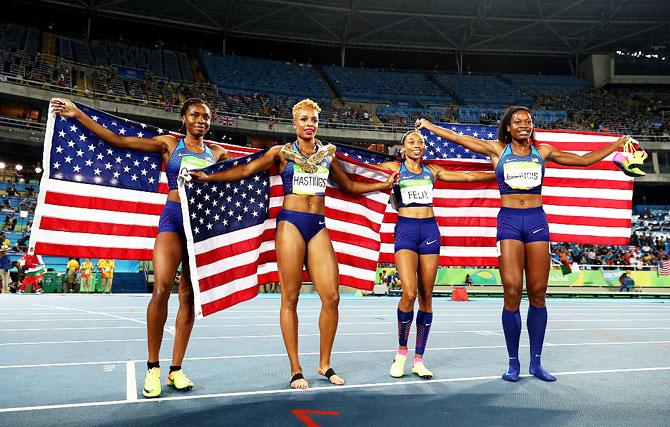 IMAGE: (Left to right) Courtney Okolo, Natasha Hastings, Allyson Felix and Phyllis Francis of the United States react after winning gold in the women's 4x400 metres relay. Photograph: Ezra Shaw/Getty Images.
The United States won the Olympic women's 4x400 meters relay gold medal in 3 minutes 19.06 seconds, their sixth straight victory in the event at the Games.
Jamaica took silver and Britain the bronze.
American Courtney Okolo grabbed the lead in the opening stage and her team never relinquished it, opening a big gap on the rest of the field with Jamaica by the halfway point.
The US gold streak in the event started at the 1996 Atlanta Games.
American Allyson Felix claimed her third medal of the Rio Olympics having won gold in the 4x100m relay and silver in the individual 400m.
China's Chen defeats Lee to win men's badminton gold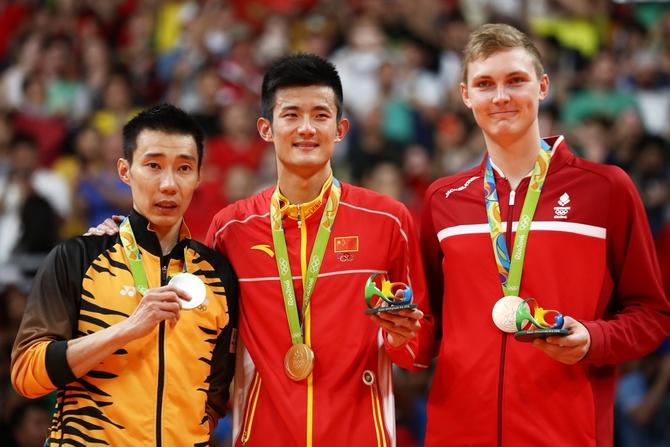 IMAGE: Silver medalist Chong Wei Lee of Malaysia, gold medalist Long Chen of China (centre) and bronze medalist Viktor Axelson of Denmark pose on the podium during the medal ceremony for the men's singles badminton. Photograph: Sean M. Haffey/Getty Images.
China's Chen Long stepped out of compatriot Lin Dan's shadow to spoil Lee Chong Wei's hopes of a golden Olympic swansong and win the men's badminton title on Saturday.
The Malaysian's conqueror at successive World Championship finals in 2014-15, the rangy Chinese was majestic in the 21-18 21-18 title-decider, soaking up fierce pressure and smashing through Lee's defences at a heaving Riocentro.
In a career dominated by near-misses, Lee lost his third successive final after being beaten by Chinese great Lin for the gold in Beijing and London.
Viktor Axelsen celebrated Denmark's second medal of the tournament by edging twice champion Lin 15-21, 21-10, 21-17 in the play-off for bronze, denying the Chinese great a medal in his Olympic swansong.
Felix gets record fifth gold as US win relay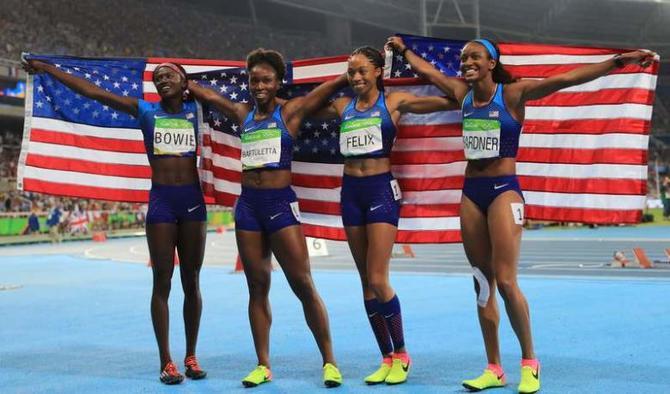 IMAGE: Tianna Bartoletta, Allyson Felix, English Gardner and Tori Bowie of USA celebrate. Photograph: Dominic Ebenbichler/ Reuters.
A day after a near-disaster with a dropped baton, defending champions the United States made no mistake when they won the women's Olympic 4x100 meters relay and Allyson Felix became the first woman to collect five athletics gold medals.
The US team of Tianna Bartoletta, Felix, English Gardner and Tori Bowie clocked 41.01 seconds, the second-fastest time ever after the U.S. world record set in London four years ago, to beat Jamaica on 41.36 and Britain on 41.77.
Hungary's Kozak paddles her way to a triple gold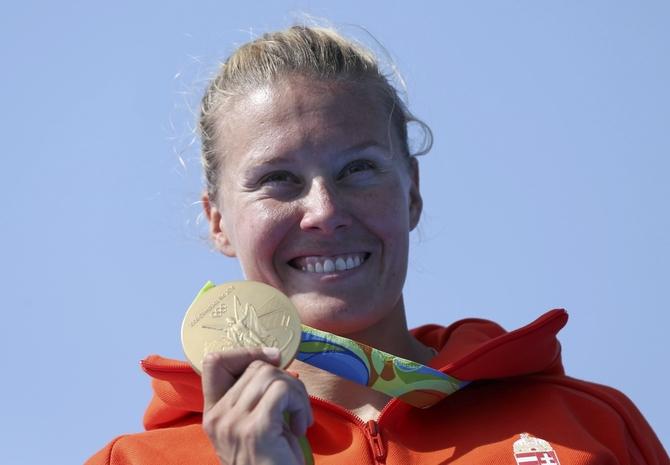 IMAGE: Danuta Kozak of Hungary poses with her medal. Photograph: Marcos Brindicci/ Reuters.
Hungarian kayaker Danuta Kozak won her third gold medal of the Games, a rare feat that has only been matched by two canoe sprint athletes before her.
Kozak and teammates Gabriella Szabo, Tamara Csipes and Krisztina Fazekas-Zur won the women's K-4 500-metre sprint in 1:31.482, ahead of silver medal-winning Germany and bronze-winning Belarus.
The victory is the latest in Hungary's history of dominance in the sport. Hungary's women won the event at the 2012 Games and took silver in the K-4 at the 2008, 2004 and 2000 Olympics.
Kozak is the first woman to win three gold medals in canoe sprint in a single Olympic Games and the third athlete in the sport overall.
Jorgensen takes women's triathlon gold with perfect race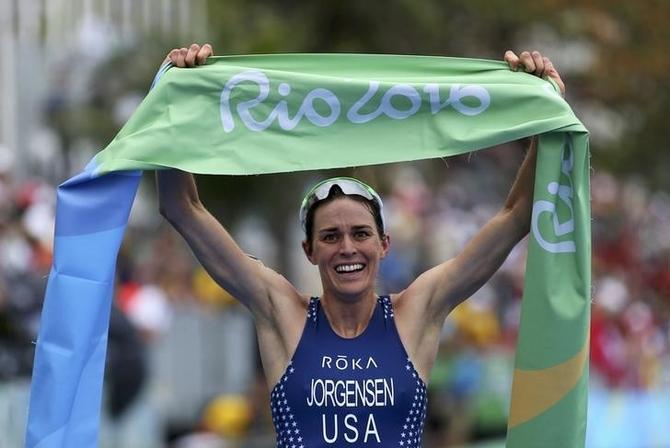 IMAGE: Gold medalist Gwen Jorgensen of USA celebrates victory. Photograph: Carlos Barria/ Reuters.
Hot favourite Gwen Jorgensen produced the perfect race to win the Olympic women's triathlon gold, the American unusually staying with her rivals on the bike before surging clear of defending champion Nicola Spirig-Hug on the run.
Jorgensen has dominated the swim-bike-sport over the last two yeas but usually wins her races by chasing down the stronger bikers during the 10km run.
On Saturday, however, she gave as good as she got on the hilly 40km bike course and broke the challenge of 34-year-old Spirig-Hug on the run to win America's first gold in the sport since it was introduced to the Games in 2000.
Cuba's Ramirez wins bantamweight gold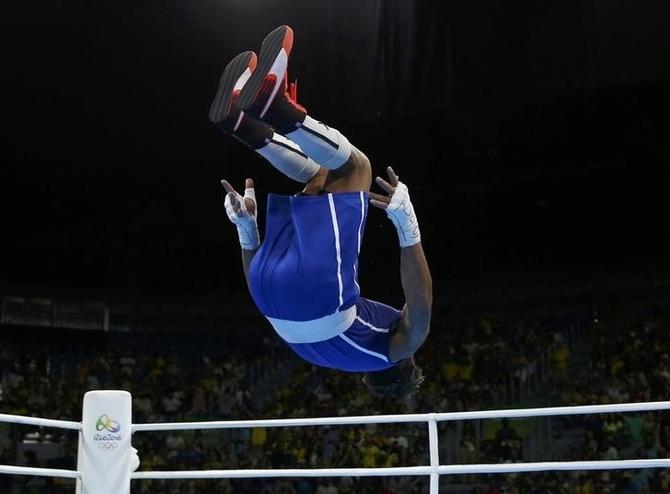 IMAGE: Robeisy Eloy Ramirez Carrazana of Cuba celebrates after winning his bout. Photograph: Peter Cziborra/ Reuters.
Cuba's Robeisy Ramirez won the men's Olympic bantamweight gold medal and ended U.S. hopes of their first men's champion since 2004.
The 2012 flyweight gold medallist beat 19-year-old Shakur Stevenson, the bright prospect on the U.S. men's team who had reached the final after a semi-final walkover, on a split decision.
The gold was Cuba's second of the boxing tournament after Julio Cesar La Cruz secured the light-heavyweight title on Thursday.
Russia's Vladimir Nikitin and Uzbekistan's Murodjon Akhmadaliev took the bronze medals.