Check out the gold medallists on Day 10 of the Rio Olympics on Monday:
Kenya's Rudisha retains 800m title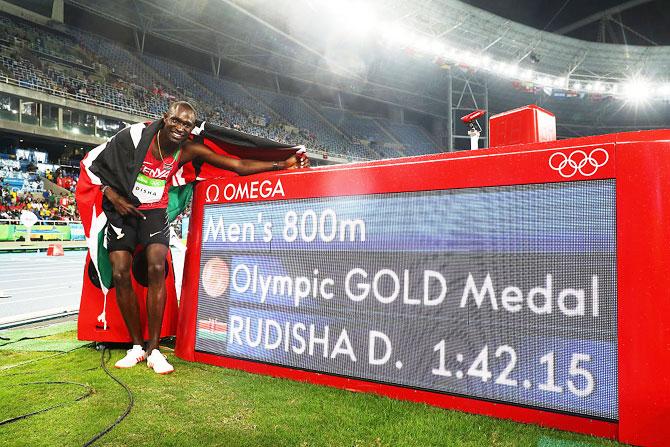 IMAGE: Kenya's David Lekuta Rudisha poses after winning the gold medal in the Men's 800m Final at the Rio 2016 Olympic Games at the Olympic Stadium on Monday. Photograph: Alexander Hassenstein/Getty Images
Kenya's David Rudisha stormed to victory in the Olympic 800 metres final on Monday, retaining his title with a devastating final-lap sprint.
Rudisha, the world champion and world record holder, hit top gear in the final 300 metres to become the first man since New Zealander Peter Snell in 1964 to successfully defend the Olympic 800m title.
The 27-year-old crossed the line several metres ahead of Algeria's Taoufik Makhloufi, the London Games gold medal winner over 1,500m.
Fast-finishing American Clayton Murphy set a personal best time to take bronze.
Bahamian Miller wins 400 meters in diving finish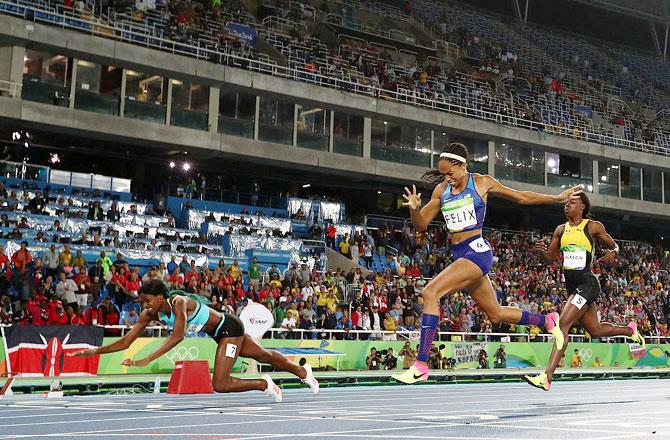 IMAGE: Shaunae Miller of the Bahamas (left) dives over the finish line ahead of silver medalist Allyson Felix of the United States (centre) and bronze medalist Shericka Jackson of Jamaica (right) to win the gold medal in the Women's 400m Final at the Rio 2016 Olympic Games at the Olympic Stadium on Monday. Photograph: Alexander Hassenstein/Getty Images
Bahamian Shaunae Miller launched herself over the finishing line with a desperate dive to pip Allyson Felix to the women's Olympic 400 metres gold medal by the narrowest of margins on Monday.
After flying across the line in a personal best time of 49.44 seconds, the 22-year-old lay prone on the track, shaken up and exhausted as she waited for the scoreboard to confirm she had clinched her first major title.
Felix, who finished in 49.51, also collapsed to the track after failing to win her fifth Olympic gold medal, let alone the 200-400 double she had originally planned in her fourth Olympics.
The 30-year-old Californian's silver medal was, though, her seventh in four Games, making her the most decorated American female track and field athlete at the Olympics by bettering Jackie Joyner-Kersee's tally of six.
Jamaica's Shericka Jackson took bronze in 49.85.
Brazilian Da Silva soars to dramatic pole vault gold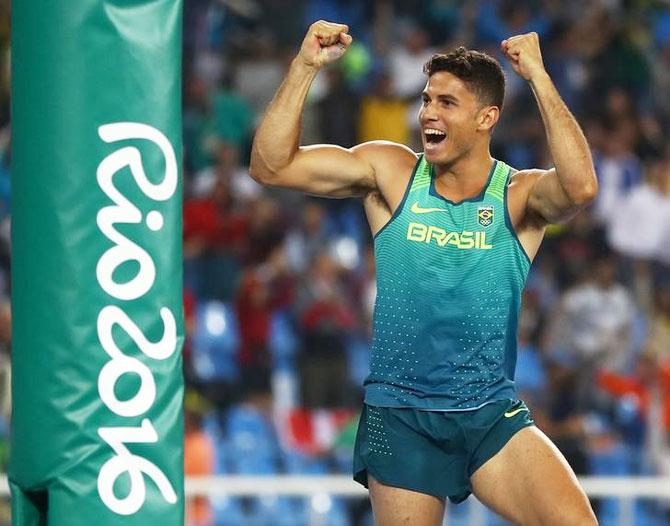 IMAGE: Thiago Braz da Silva of Brazil reacts after setting a new Olympic record on his way to winning the gold medal in the men's Pole Vault final on Monday. Photograph: Kai Pfaffenbach/Reuters
Brazilian Thiago da Silva won the Olympic pole vault gold medal in dramatic fashion on Monday to give the host country its first athletics gold medal of the Games.
World record-holder Renaud Lavillenie of France took the silver medal.
After two early failures, Da Silva passed on an attempt at 5.98 metres and pushed Lavillenie to 6.03, which the Frenchman failed twice before the Brazilian set an Olympic record by clearing that height.
The Brazilian crowd had been quiet early in the night, which began with a rain delay, but quickly got behind their 22-year-old countryman, cheering him wildly and booing Lavillenie as he prepared for his final jump.
It was Da Silva's highest jump ever by 10cm, earning the host country's second gold of South America's first Olympics.
Da Silva took up the sport at the age of 14, making him a newcomer compared with Lavillenie.
The Frenchman made his first attempts at vaulting at the age of four, using a curtainrod, imitating his father, an amateur vaulter who built a setup in the backyard for his son to practise.
Uzbek weightlifter Nurudinov eases to Rio gold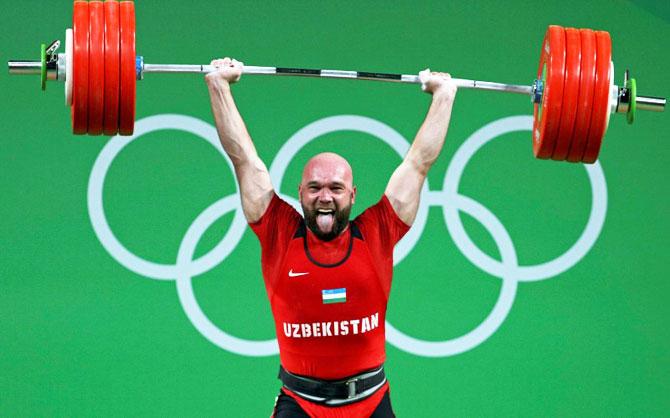 IMAGE: Ruslan Nurudinov of Uzbekistan competes in the Men's 105kg wrestling final on Monday. Photograph: Stoyan Nenov/Reuters
Weightlifter Ruslan Nurudinov lived up to his billing as the 'Pride of Uzbekistan' with a routine victory in the 105kg category on Monday, before promising himself a long sleep and a trip to the beach.
Nurudinov has undergone two bouts of knee surgery in the past two years, after winning with an overall total of 431kg.
Armenian teenager Simon Martirosyan put in a remarkable performance to take silver, the 19-year-old finishing ahead of two men who had beaten him at the European Championships in April with a career-best total of 417kg.
It was Armenia's first medal in Rio.
The bronze went to Kazakhstan's Alexandr Zaichikov, who would have combined for more than 416kg had his third clean and jerk lift not been overruled for failing to fully extend his arms.
The mistake dropped Zaichikov from first to third, although Nurudinov still had two lifts to come at that point.
Jebet wins Bahrain's first ever gold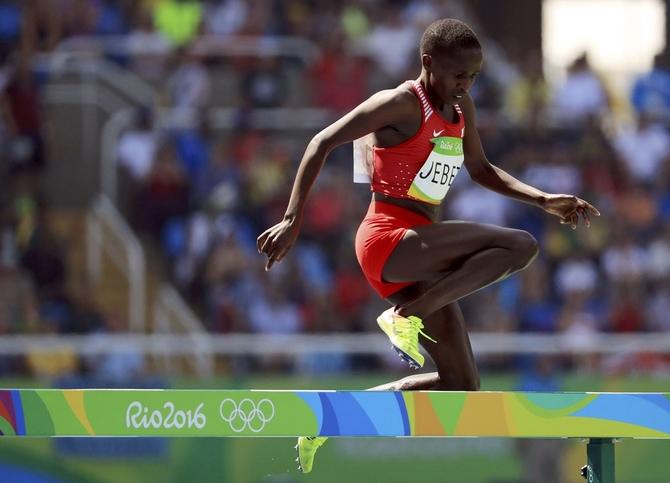 IMAGE: Ruth Jebet (BRN) of Bahrain competes. Photograph: Dominic Ebenbichler/Reuters.
Bahrain's Ruth Jebet blew away the competition to win the women's 3,000 metres steeplechase gold on Sunday, but narrowly missed out on the world record.
Jebet ran a bold race, bursting into the lead after a few laps and setting a blistering pace to win in 8 minutes, 59.75 seconds, just shy of the 8:58.81 world record set by Russia's Gulnara Galkina at the 2008 Beijing Games.
Kenya's Hyvin Kiyeng, who won the world title in Beijing last summer, was nearly 50m from the finish line when Jebet won, and had to settle for silver.
American Emma Coburn won United States' first ever medal in the steeplechase after winning bronze.
India's Lalita Babar finished a respectable 10th in the same race clocking 9:22.74 in the finals.
Poland's Wlodarczyk sets women's hammer world record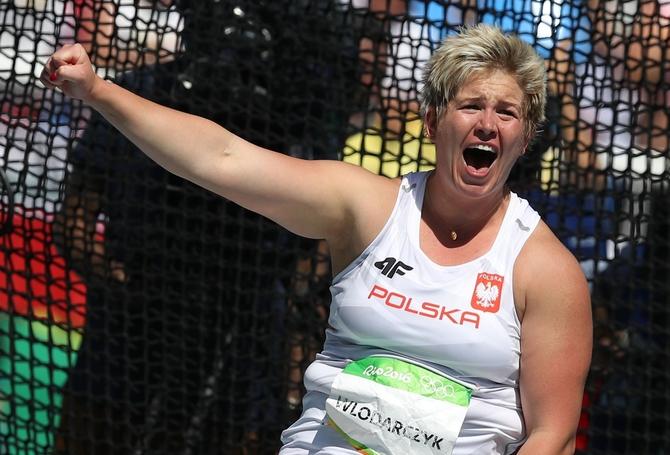 IMAGE: Anita Wlodarczyk of Poland reacts after setting a new world record. Photograph: Phil Noble/Reuters.
Pole Anita Wlodarczyk underlined her absolute dominance of the women's hammer by throwing a world record 82.29 metres to win Olympic gold by more than five and a half metres on Monday.
The only woman to have thrown the hammer further than 80 metres, the 31-year-old world champion had already broken the Olympic record with a second throw of 80.40 when she entered the ring for the third time.
Zhang Wenxiu of China threw 76.75 to add a silver medal to the bronze she won in London four years ago. Sophie Hitchon was third with a British record 74.54 as she claimed a first ever medal for her country in the event.
Britain's Dujardin wins dressage gold again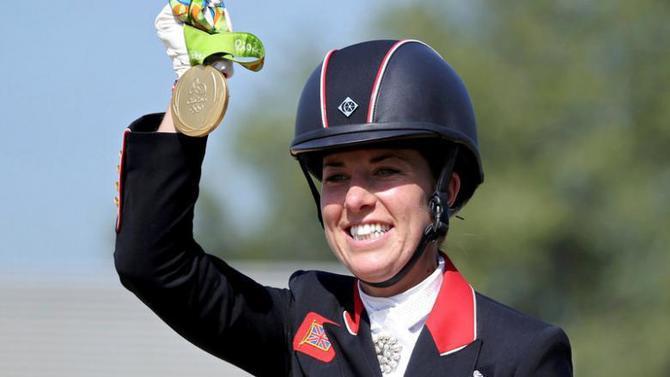 IMAGE: Great Britain's Charlotte Dujardin after winning the gold medal. Photograph: Tony Gentile/Reuters.
Great Britain's Charlotte Dujardin won her second individual dressage gold in her final Olympic performance on horse Valegro on Monday, though she came short of breaking her own world record.
Dujardin led with the top Freestyle score of 93.857 out of 100, below her 2014 record of 94.30. Isabell Werth claimed silver after helping Germany win the team dressage title on Friday. Fellow German Kristina Broring-Sprehe took bronze.
Gymnastics: Greek muscle man wins rings gold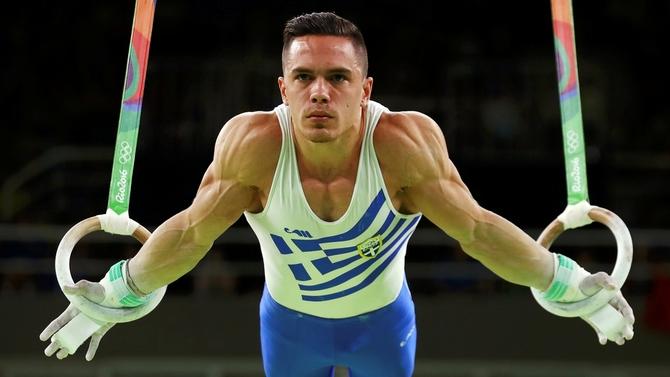 IMAGE: Eleftherios Petrounias of Greece competes. Photograph: Mike Blake/Reuters.
Greek muscle man Eleftherios Petrounias showed off his superior power in the strongman's event as he edged out local favourite and 2012 champion Arthur Zanetti to win the rings gold medal at the Olympics on Monday.
Petrounias added the Rio Games title to the world and European crowns he holds with a score of 16.000.
Zanetti lost out on the top prize by 0.234 of a point while Russia's Denis Abliazin had to settle for bronze.
Swimming: Rouwendaal wins 10km gold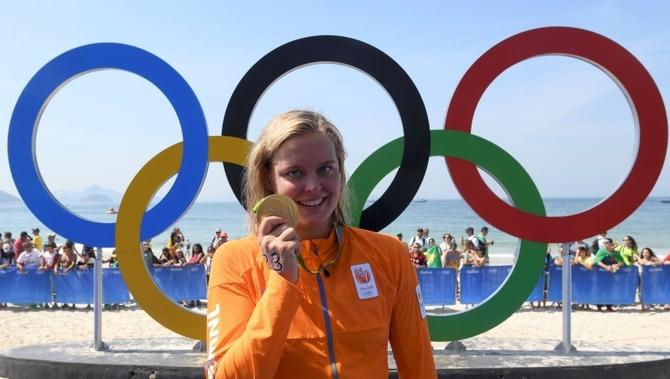 IMAGE: Sharon van Rouwendaal of the Netherlands poses with her gold medal. Photograph: Toby Melville/Reuters.
Sharon van Rouwendaal of the Netherlands took gold on a day of controversy at the open water women's 10 kilometre marathon swimming event, with French swimmer Aurelie Muller disqualified for unsportsmanlike conduct after finishing second.
Muller, the world champion in 2015, looked like she had snatched silver just ahead of Italy's Rachele Bruni, but was disqualified on review after she was adjudged to have pushed her opponent's arm to stop her touching the board at the finish.
Bruni was promoted to the silver medal position and Poliana Okimoto was awarded bronze, making her the first Brazilian to win a medal in the sport.
Gymnastics: North Korea's Ri soars to men's vault title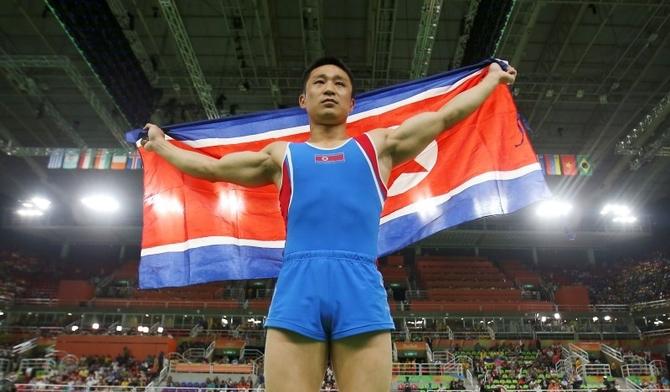 IMAGE: Ri Se Gwang of North Korea holds his national flag after winning the gold. Photograph: Mike Blake/Reuters.
A big stumble backwards after his first soaring leap could not prevent Ri Se-gwang from becoming the first North Korean man to win the vault title at the Olympics on Monday.
The double world champion also became only the second man from his country to win an Olympic title following the success of Pae Gil-Su on the pommel horse at the 1992 Barcelona Games.
Ri beat Russia's Denis Abliazin by 0.175 of a point.
Japan's Kenzo Shirai, who missed out on a medal on his signature floor exercise event on Sunday, won bronze with 15.449. He edged out 35-year-old Romanian Marian Dragulescu on the tie-break rule after both earned the same average score.
Gymnastics: Wevers upstages Biles to win beam gold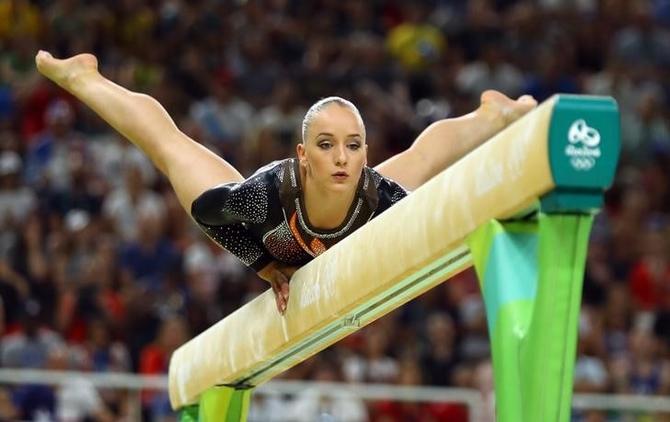 IMAGE: Sanne Wevers of Netherlands competes. Photograph: Mike Blake/Reuters.
Dutchwoman Sanne Wevers caused a huge upset when she ruined Simone Biles' chances of scooping a record five golds at a single Olympics by winning the balance beam title in Rio on Monday.
The American had been expected to add the beam title to her team, all around and vault triumphs but drew gasps as she lost her footing following a front somersault and had to grab the beam with both hands to save herself from falling off.
Her score of 14.733 was only good enough for bronze behind team mate Laurie Hernandez.
Greco-Roman wrestling: Cuba's Lopez wins third gold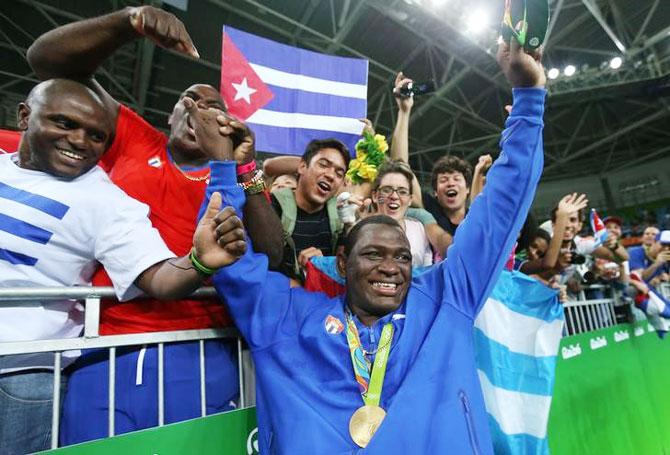 IMAGE: Mijain Lopez of Cuba celebrates with supporters after winning the gold medal in the Men's Greco-Roman 130 kg event on Monday. Photograph: Issei Kato/Reuters
Greco-Roman wrestling took on some Cuban flair on Monday, as Mijain Lopez won his third consecutive Olympic gold, equalling the record set by Russia's legendary grappler Aleksandr Karelin.
Lopez celebrated by doing a salsa-infused, hip-shimmy dance in the middle of the mat, sending the strong Cuban fan base and an arena full of Brazilians into ecstasy.
"The dance just came natural to me," Lopez said moments after his match. "Brazil is Brazil, and in Brazil you have to dance!"
Lopez took the gold in a dominating 6-0 win over reigning world champion Riza Kayaalp of Turkey to match Karelin's feat - the Russian won golds at the 1988, 1992 and 1996 Games.
Russia's Tishchenko wins heavyweight boxing gold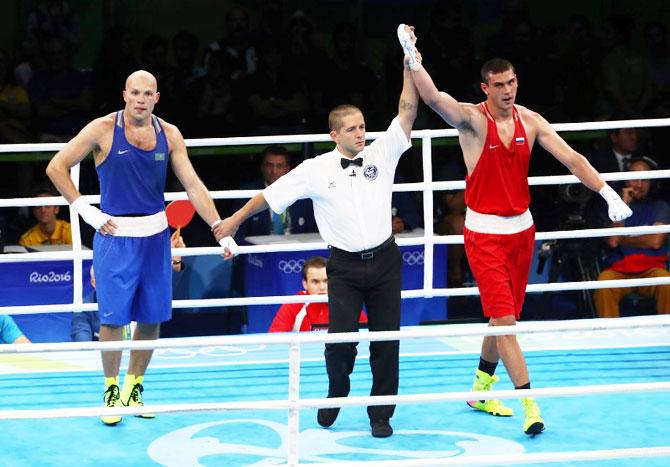 IMAGE: Evgeny Tishchenko of Russia reacts after winning his bout against Vassiliy Levit of Kazakhstan to win the Men's Heavy (91kg) gold medal on Monday. Photograph: Yves Herman/Reuters
Russia's Evgeny Tishchenko won the Olympic heavyweight boxing gold medal to a chorus of boos from the crowd on Monday after beating Kazakhstan's Vasily Levit on a unanimous points decision.
Levit, whose world champion opponent required medical attention for a cut in the third and final round, had to settle for silver despite seeming to land more punches and steer the fight.
The bronze medals went to losing semi-finalists Rustam Tulaganov of Uzbekistan and Erislandy Savon of Cuba.
The majority of the audience, in a Riocentro arena that was barely half full, reacted to the score announcement with derision while a pocket of Russian fans waved flags and celebrated.
There were more boos during the medal ceremony, although Levit gestured for silence by putting a finger to his lips.
The judges score cards had Levit narrowly ahead after the first round, with two out three giving it to him, but they were unanimous in giving the second to the Russian.
Cycling: Viviani recovers from crash to win omnium gold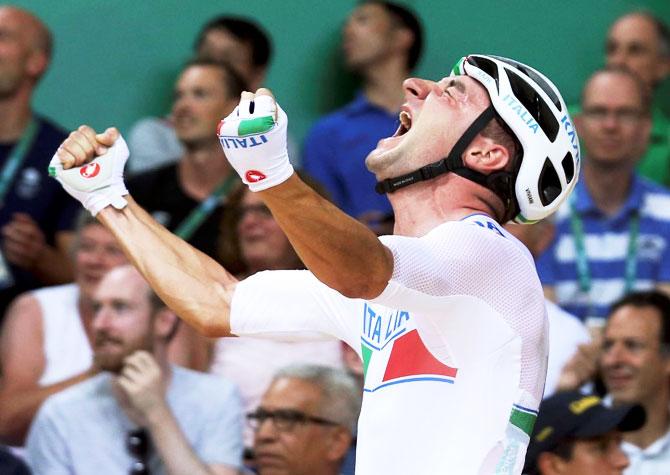 IMAGE: Elia Viviani of Italy reacts after winning gold in the Men's Omnium 40km Points Cycling Race on Monday. Photograph: Eric Gaillard/Reuters
Elia Viviani's Olympic gold medal hopes seemed to have vanished in a tangle of legs and carbon fiber after a crash during the finale of the men's omnium but the Italian recovered to claim an emotional victory on Monday.
Clambering back to his feet after the mid-race mayhem that left South Korea's Park Sanghoon in hospital, Viviani kept his wits about him during the rest of the 160-lap points race -- the sixth and final element of the two-day event.
Britain's Mark Cavendish, culpable for the crash, chipped away at Viviani's lead in the standings, as did charging 2012 champion Lasse Norman Hansen of Denmark, but Viviani showed admirable composure in the heat of an attritional battle.
After winning the penultimate sprint, Viviani knew gold was his, barring a last-gasp attack by Cavendish or Hansen. As it turned out, he rode the last 10 laps out in front, leaving Britain's Cavendish to take the silver 13 points adrift and Hansen the bronze a further two back.
He grabbed an Italian tricolor for a lap of honor and after climbing off his bike, Viviani, a road cyclist for Team Sky, burst into tears. He was the first Italian to win an Olympic track cycling gold medal since 1996.