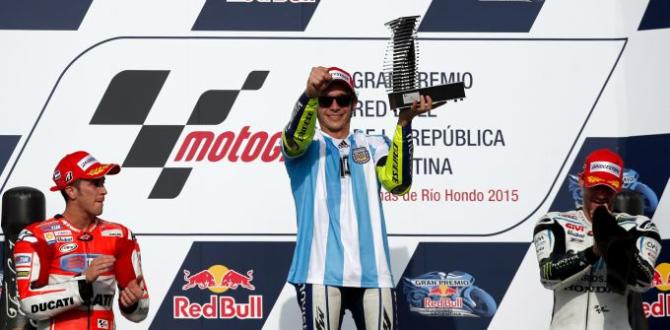 Yamaha MotoGP rider Valentino Rossi of Italy lifts up the trophy as he celebrates at the podium next to CWM LCR Honda rider Cal Crutchlow (R) of Britain and Ducati Team MotoGP rider Andrea Dovizioso of Italy. Photograph: Marcos Brindicci/Reuters
Italian Valentino Rossi emerged triumphant in the Argentine MotoGP Grand Prix despite being involved in a clash with World champion Marc Marquez in the second-last lap which saw the Spaniard crash out.
Championship leader Rossi won with more than a five-second lead over second-placed compatriot Andrea Dovizioso with Britain's Cal Crutchlow finishing third.
The stage seemed set for Marquez to win his second straight race this season after building a lead of over four seconds, but Rossi weaved his way from his eighth-placed start to the front.
The nine times World champion, who also won in Qatar, showed he is back to his best as he moved up to second place behind Marquez on the 11th lap.
There was still plenty of work to do, though, to rein in Marquez, but Rossi gradually ate into his rivals' advantage and was ready to pounce on the second-last lap.
Rossi went wide on a corner and cut across Marquez who collided with the Italian's back wheel and went over.
"I am sorry about this, he touched me on the corner and I hope he is okay. It was a great race," Rossi told reporters.
"The bike was great and now two victories already. I think we will be able to fight to the end."
Rossi (Yamaha) leads the overall standings with 66 points ahead of Dovizioso (Ducati) on 60 and fellow Italian Andrea Iannone (Ducati) with 40.
Spaniard Jorge Lorenzo (Yamaha) is fourth on 37 with Marquez (Honda) trailing on 36 ahead of Crutchlow with 34.