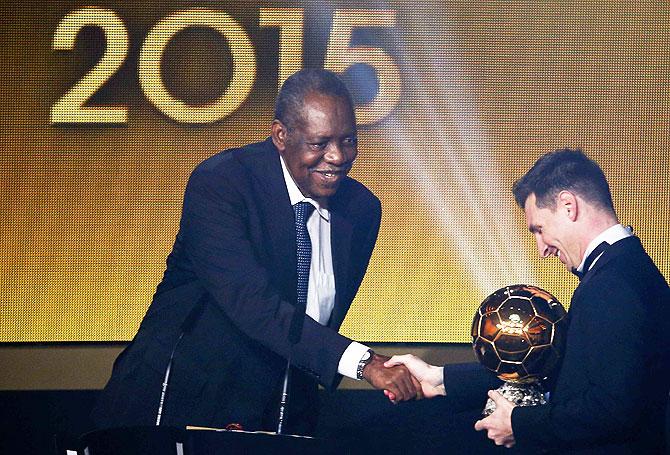 IMAGE: FIFA acting president Issa Hayatou (left) congratulates FC Barcelona's and Argentina's Lionel Messi on winning the FIFA Ballon d'Or 2015 award for the world player of the year at a ceremony in Zurich on Monday. Photograph: Ruben Sprich/Reuters
Lionel Messi reclaimed the FIFA Ballon d'Or award for the world player of the year on Monday from his great rival Cristiano Ronaldo who had walked off with the award for the previous two years.
- Messi wins Ballon d'Or for fifth time
The Barcelona and Argentina forward took 41.33 percent of the votes followed by the Portuguese and Real Madrid forward (27.76 percent), with Brazil and Barcelona forward Neymar third (7.86 per cent).
"It is a very special moment for me to be back here on this stage, winning again another Ballon d'Or after being there in the audience watching Cristiano win," said Messi as he accepted the award at the end of a drawn-out 90-minute ceremony.
"It's incredible this is my fifth."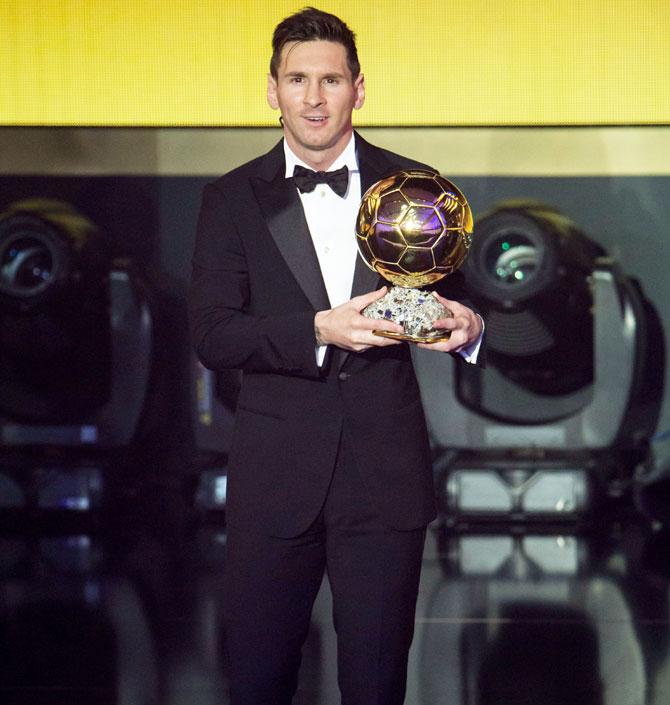 IMAGE: FIFA Ballon d'Or winner Lionel Messi poses with his trophy. Photograph: Philipp Schmidli/Getty Images
The jubilant Argentina and FC Barcelona captained took to social media to express his gratitude and share his joy with his fans world over.
"On the day of today, I would like to give thanks to the football, the sport that I fell in love with when he was little and of which I'm still in love blindly. Thank you to football in the afternoon of joy, of emotions, of goals and triumphs.
"But also thank you for those other days of suffering, frustrations, defeats, all that I also served to mature as a player and to appreciate the good times. Thanks to football and to all the people around me and that supports me all the days: my family, my friends, my classmates, fans... These individual awards would be impossible without a collective work. That's why, this award that today I return to give, I want to dedicate it to all of them, from first to last, and to this wonderful sport called football," Messi wrote on his Facebook wall.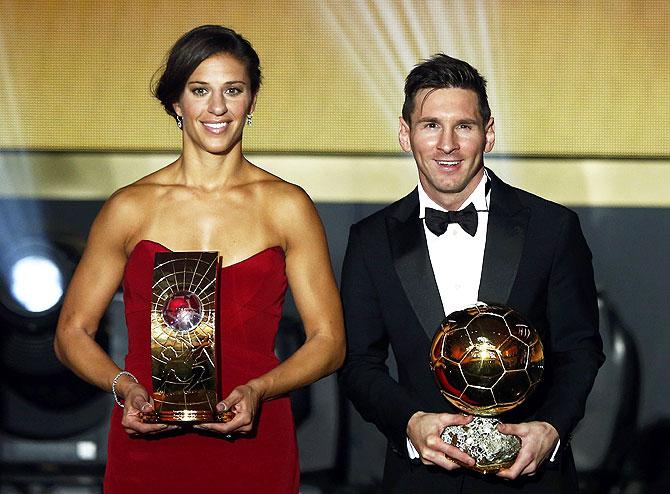 IMAGE: Lionel Messi (right) and with Houston US footballer Dash's Carli Lloyd with their World Player of the Year awards. Photograph: Arnd Wiegmann/Reuters
Barcelona's Luis Enrique was voted coach of the year while United States World Cup winner Carli Lloyd, who scored a hat-trick in the final against Japan, was named women's player of the year.
Initially started as the FIFA World Player of the Year award in 1991, it became known as the Ballon d'Or after merging with France Football's European footballer of the year award in 2010.
The award, shared exclusively between Messi and Real Madrid's Ronaldo since Brazilian Kaka won in 2007, has been heavily promoted by FIFA and was broadcast to 190 countries with 1,100 guests including players and coaches attending the ceremony.
The breakdown presented by FIFA also revealed tactical voting among the 165 national team coaches, 162 national team captains and 171 media representatives who cast votes.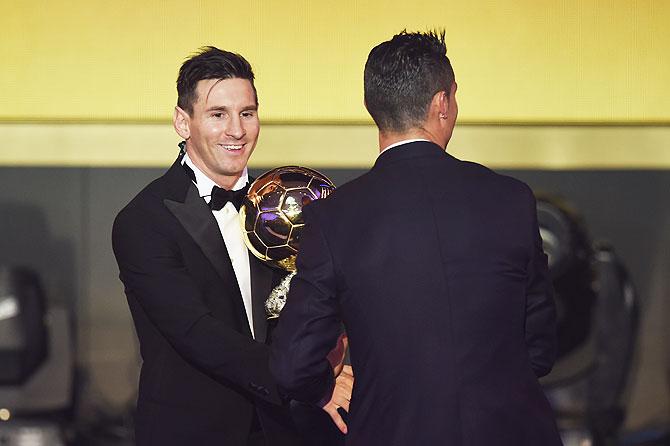 IMAGE: Lionel Messi is congratulated by Cristiano Ronaldo on winning the Ballon d'or. Photograph: Matthias Hangst/Getty Images
Despite a red carpet and plenty of glitz, the event had a low-key air of predictability about it and was held against the backdrop of FIFA going through the worst corruption crisis since it was founded in 1904.
The sport is facing criminal investigations in both Switzerland and the United States, where some leading FIFA officials are among 41 individuals and sports entities who have been indicted on corruption charges.
Outgoing FIFA president Sepp Blatter, normally a central figure in the ceremony, was not involved after being banned for eight years by the Ethics Committee in December and there was no President's Award, usually given out by Blatter for outstanding services to the game.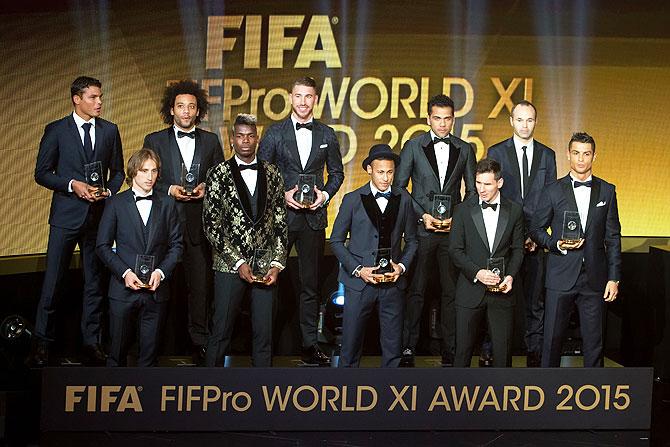 IMAGE: The FIFA/FIFPro World XI for 2015 receive their awards during the FIFA Ballon d'Or Gala. Photograph: Philipp Schmidli/Getty Images
Acting president Issa Hayatou played a low-key role, reading a brief speech before the start and appearing on stage when the awards for best player and women's player were presented.
Ronaldo said the players did not want to discuss FIFA's problems.
"We avoid answering this kind of question," he told a press conference before the ceremony.
"We are professional football players, we compete every week, every day, we train and we just focus on that. These things happen not just in football but in life, and the best thing would be no corruption anywhere."
In terms of individual achievement, Ronaldo had slightly the better in the last year, scoring 54 goals in 52 games for Real Madrid, compared to Messi's 48 in 53.