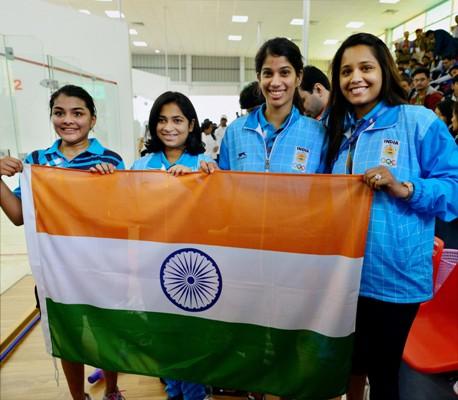 IMAGE: Indian women's squash team members Joshana Chinappa, Dipika Karthik, Sumyana Kuruvilla hold national flag after winning gold medal by defeating Pakistan in Womens squash team event at the 12th South Asian Games in Guwahati. Photograph: PTI
India's dominance went uncontested for the fifth successive day at the 12th South Asian Games, as its shooters, wushu players and track-and-field athletes annihilated competition to sweep most of the gold medals up for grabs, in Guwahati, on Wednesday.
With a whopping 186 medals, including 114 gold, 59 silver and 13 bronze, the hosts sit pretty at the top of the table.
In second place is Sri Lanka with an overall count of 126 (21 gold, 44 silver and 61 bronze) medals.
The man in focus on Wednesday was undoubtedly Saurav Ghosal, who had to do come up with the star act. The highly-rated player showed his ability in no uncertain terms as he swept aside Nasir Iqbal's challenge in three straight games.
After the fall in the individual event, Saurav was doubly careful that a repeat should not come about. Playing with great control over his drives and volleys, the Indian had the Pakistan opponent in knots before long. Ravi Dixit thus faced Danish Atlas Khan and even though he did well to take one game, he could not sustain the pressure long. The Pakistan player overwhelmed him to level the match.
With the score 1-1 and a deciding third next, Kush Kumar faced Farhan Zaman. It was not an easy equation for India but Kush rose to the occasion splendidly.
In the women's section, again in an Indian-Pakistan affair, Joshna Chinappa came on to tame Maria Toorpaki in four games. After the eventful combat that the two had in the individual final earlier, Joshna appeared ready for the occasion. Though she suffered a momentary loss of touch, the Indian never let go the grip to make it 1-0.
Sixteen-year-old Sunayna Kuruvilla's big moment came next. Against an experienced campaigner Sammer Anjum it was not easy. Nerves told as Sunayna seemed to lose way early but one thing this junior knows abundantly is to fight. She did just that, got her drives and cross court shots to make dents and the tussle went five games before Sunayna came up trumps and gave India the winning margin.
Her famed cousin, Dipika Pallikal, thus did not need to enter the court.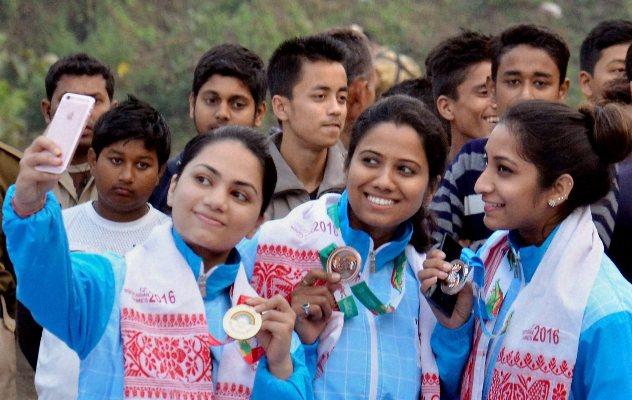 IMAGE: India's Apurvi Chandela, Pooja Ghatkar, Elizabeth Susan taking selfie during the presentation ceremony for the 10m Air Rifle event. Photograph: PTI
The shooting range in Guwahati was also dominated by Indians with Rio Olympics-bound Apurvi Chandela leading the charge.
Indian shooters grabbed six medals, including three gold, on the opening day of competitions.
Chandela easily shot down the gold in her pet event, women's 10m air rifle, with a total score of 209.00 points, while compatriots Elizabeth Susan Koshy and Pooja Ghatkar won silver and bronze as Indian markswomen swept the medals at the Kahilipara Shooting Range.
In the men's 50m pistol, however, Indians failed to win the gold, with Om Prakash -- who shot 187.3 points -- bagging a silver and Olympics-bound Prakash Nanjappa finishing outside the podium at fourth. The gold was won by Bangladesh's Sakil Ahmed, who shot 187.6 points.
India also pocketed a gold each in the men's 50m pistol team and women's 10m air rifle team events.
Athletics, the blue riband event of the Games, was expected to trigger a gold rush for India and it went pretty much that way with seven gold medals being added to the tally.
Neeraj Chopra (men's javelin throw), Arokya Rajiv (men's 400m), Arjun (discus throw), J Surendhar (men's 110m hurdles), Gayathry (women's 100m hurdles), Ankit Sharma (men's long jump) and Sahana Kumari (women's high jump) took top honours in their respective events.
Earlier, the Indians dominated the pool again to pick five gold on the final day of the swimming competition and stamp their authority.
Seasoned swimmer Veerdhawal Khade clinched his first gold of the Games, winning the men's 50m butterfly.
India's other gold winners were Shraddha Sudhir (200m women's medley), Jyotsna Pansare (women's 50m butterfly) and both the men's and women's 4x100 medley relay teams.
In total, India won five gold, three silver and a bronze on the final day of aquatics.
Khade clinched gold in 50m butterfly for men in a Games record of 24.54 seconds. The Indian men's 4x100m medley team also set a new Games record of 3:49.78s while winning gold.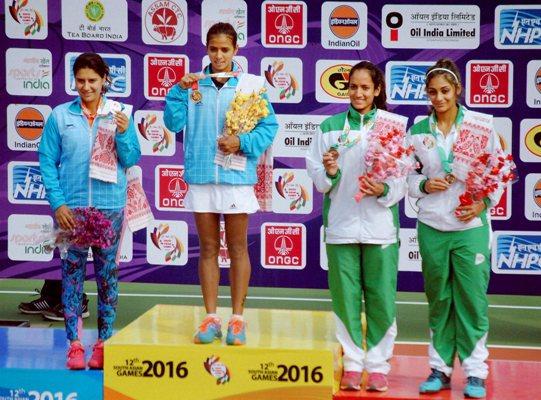 IMAGE: Gold medal winner Ankita Raina, silver medalist Prerna Bhambri from India after the women's singles tennis event. Photograph: PTI
The story was no different on the tennis courts in Guwahati with the Indians picking up all the gold medals on offer on the fourth and penultimate day of the event.
The local favourites won gold in women's singles, men's doubles and mixed doubles to completely dominate the event at the All Assam Tennis Association Grounds.
Wednesday's final matches were all-Indian affairs.
In the men's doubles, Ramkumar Ramanathan and Vijay Prasanth defeated Divij Sharan and Sanam Singh 6-3, 6-4 to give the country the first gold and silver of the day.
Ankita Rana then won the second gold for India in women's singles in another all-Indian final. She easily beat Prerna Bhambri 6-1, 6-0 in the final.
Ankita then paired with Divij Sharan to win gold in the mixed doubles. They pair beat another Indian combine of Sanam Singh and Prarthana Thombre 6-2, 7-6(3) in the final.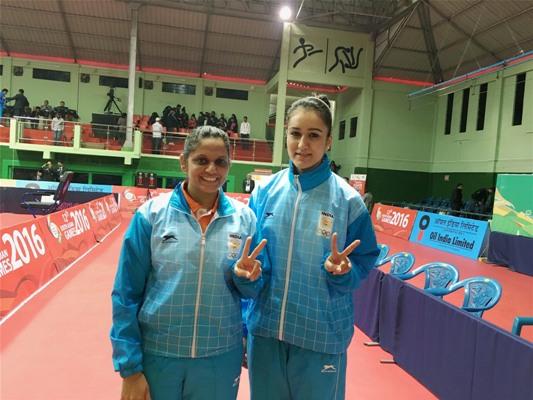 IMAGE: Pooja Sahasrabudhe and Manika Batra showing victory sign after winning gold medal in the women's doubles table tennis event. Photograph: PTI
In table tennis, being held in Shillong, reigning national champions Anthony Amalraj and Manika Batra clinched a hat-trick of gold medals each, helping India make another clean sweep by winning a maximum seven gold and five silver medals to sign off in resounding fashion.
Amalraj beat G Sathiyan, who conceded the match due to injury.
Five-time former national champion Mouma Das denied reigning national champion Manika a fourth gold after winning a marathon battle.
The tall Manika earlier in the day added the women's doubles crown with Pooja Sahasrabudhe prevailing over the more-experienced pair of Mouma and K Shamini.
In the men's doubles final G Sathiyan and Devesh Karia defeated Amalraj and Sanil Shetty for the second gold at the Jawaharlal Nehru Indoor Complex.
Sri Lanka was initially declared winners of the women's 4x100m medley relay and India took the silver. However, the Lankan team was disqualified after one of their swimmers made a false start during the change of legs, leading to elevating India's silver into gold.
India's silver winners were Sanu Debnath (200m men's medley), Anshul Kothari (50m men's butterfly) and Avantika Chavan (50m women's butterfly), while Shivani Kataria bagged a bronze in the 100m freestyle for women.
For the first time at the South Asian Games India was able to win the honours in the men's and women's sections as they finished with three gold medals overall out of the four at stake.
In Shillong, India clinched an overwhelming eight gold, one silver and two bronze medals on the final day of the wushu competition.
Having already claimed three gold, a silver and a bronze, India finished their campaign in wushu with 11 gold, two silver and three bronze at the Rising Sports Complex in Latikor on the outskirts of the city.
M Gyandash Singh, with 18.53 points, edged out his Nepalese and Bangladeshi rivals in Taijiquan and Taijijian men's section to open India's gold rush on the concluding day of wushu.
L Sanatombi Chanu topped Taijiquan and Taijijian women's section with 18.62 points ahead of Nepal and Pakistan for a second gold.
In the men's Sanshou, India annexed three gold, with Uchit Sharma (52kg), Ravi Panchal (56kg), Surya Bhanu Pratap Singh (60kg) emerging winners in their respective weight categories.
In the 70kg, Mukesh Choudhry had to settle for silver, finishing behind Pakistan's Maz Khan, while Arun Nagar (65kg) and Pradeep Kumar (75kg) had to be content with bronze medals.
However, Indian women ruled in Sanshou, bagging all the three gold medals up for grabs with Y Sanathoi Devi (52kg), Anupama Devi (60kg), Puja Kadian (70kg) emerging champions.