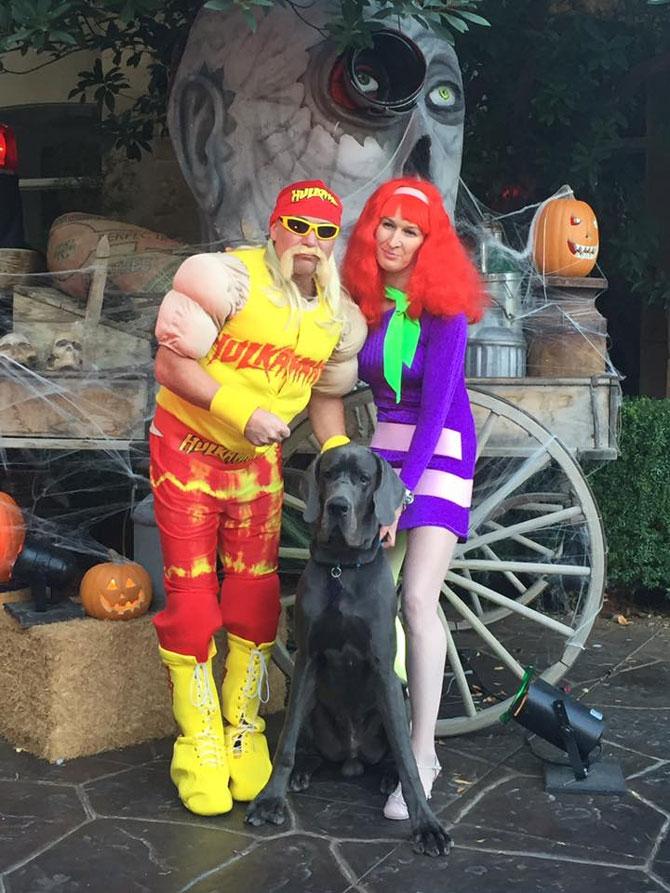 IMAGE: Andre Agassi and Steffi Graf. Photograph: Andre Agassi/Facebook
It was a 'fancy' affair and indeed a Happy Halloween for sport stars from the western world who dressed to kill on the creepiest day of the year!
As the world celebrated Halloween on Monday, our favourite tennis stars and footballers didn't want to be left behind in all the celebrations.
Tennis' favourite couple, Andre Agassi and wife Steffi Graf, maintained their consistent winning run this year too.
After dressing up as Cindy Lauper and Donald Trump last year, the Agassi family smashed another winner by dressing as former WWE star Hulk Hogan and Daphne, a character from the popular cartoon, Scooby Doo.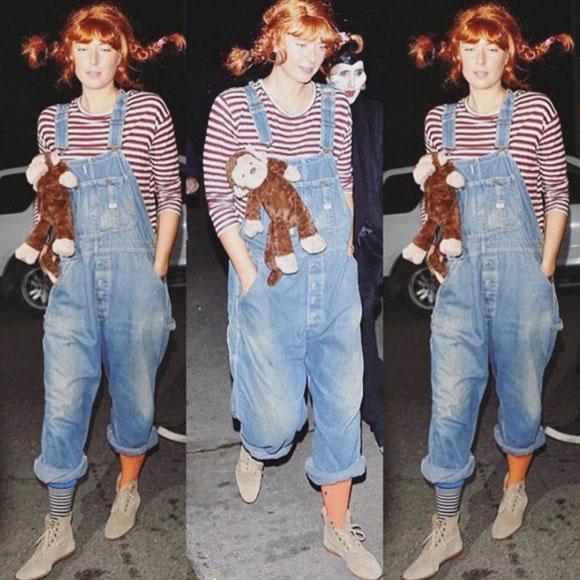 IMAGE: Maria Sharapova. Photograph: Instagram
Another tennis star who got into the mood was Maria Sharapova.
The Russian, former World No 1, who is set to return to the circuit early next year, following a reduced ban by CAS, dressed as Pippi Longstocking, the main character from a children's book authored by Swedish writer Astrid Lindgren.
In a cutesy dungarees and plaited ginger-wig, Sharapova looked adorably turned up for a high society Halloween party in Los Angeles.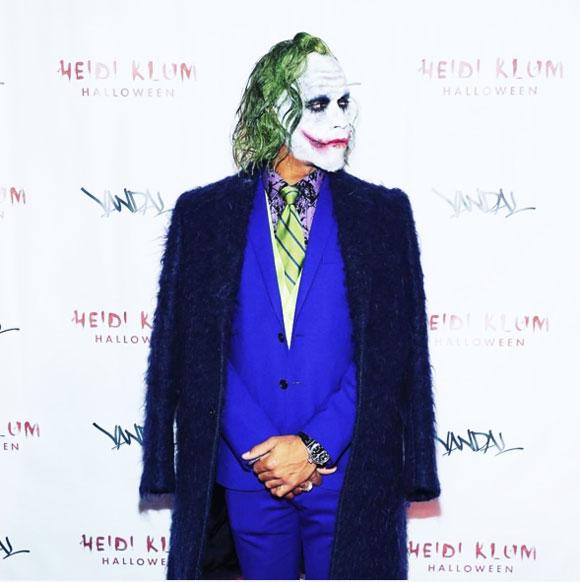 IMAGE: Lewis Hamilton. Photograph: Instagram
Formula One defending champion Lewis Hamilton took the night a little too seriously.
Attending a do, hosted by model Heidi Klum, the Brit dressed as 'Joker', the iconic character portrayed by the late Heath Ledger in the Batman movie, The Dark Knight.
Sporting a turquoise blue suit, Hamilton had his make-up right on the money.
With his face painted white, a green hairpiece and a red lipstick completed the creepy look!
Wonder what his rumoured, new love interest Serena Williams had to say about it.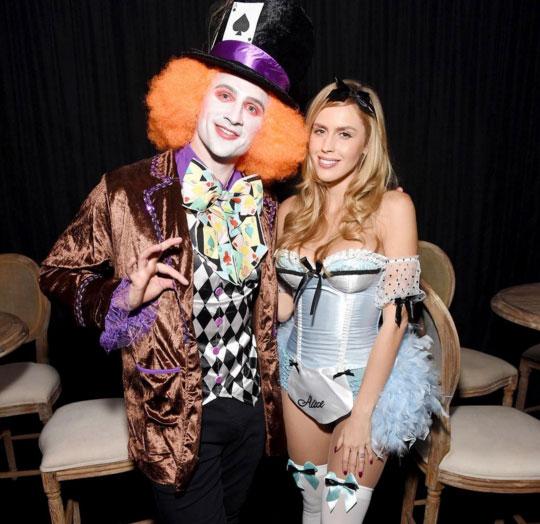 IMAGE: Ryan Lochte (left) with a friend. Photograph: Instagram
US Olympian swimmer Ryan Lochte dressed as the Mad Hatter from Alice in Wonderland.
Lochte's scary look was complete with his face painted white, his eyes red and a bright orange wig.
It was the apt Halloween costume on the night.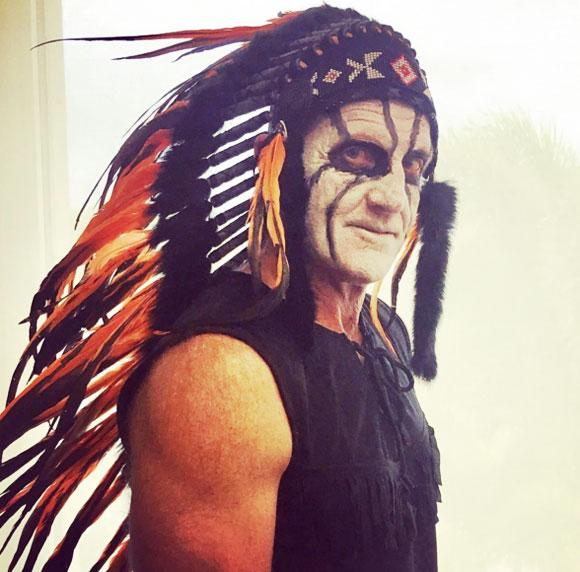 IMAGE: Greg Norman. Photograph: Instagram
Former golfing great Greg Norman also partook in the event.
The Aussie, also known as 'The Shark' dressed as a Red Indian.
Posting a picture in full costume on Instagram, the nearly unrecognizable Norman wished his followers: 'Happy Halloween everyone'.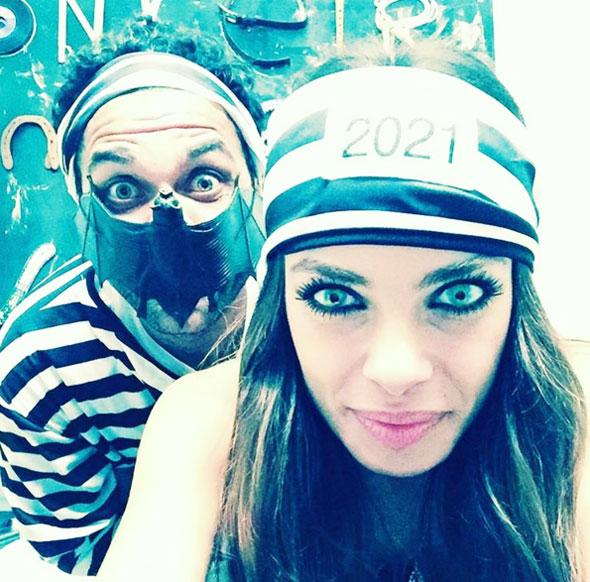 IMAGE: Dani Alves (left) and his girlfriend. Photograph: Instagram
Brazilian and Juventus defender Dani Alves also got into the Halloween spirit along with this beautiful girlfriend Joana Sanz, both of whom dressed as convicts.
The former Barca player looked more like Hannibal Lecter from the Silence of the Lambs.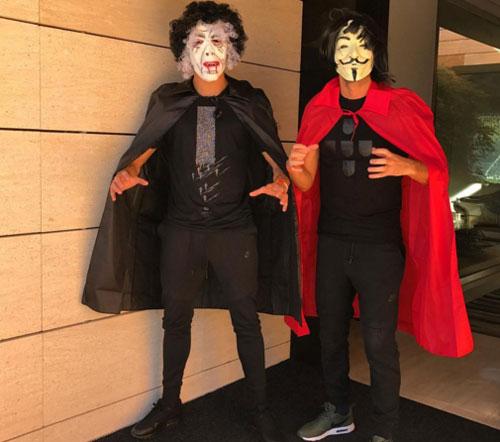 IMAGE: Cristiano Ronaldo (left) and a friend. Photograph: Instagram
Among others, was Portugal and Real Madrid captain Cristiano Ronaldo, who wore a lame make-up that was barely scream-inducing.