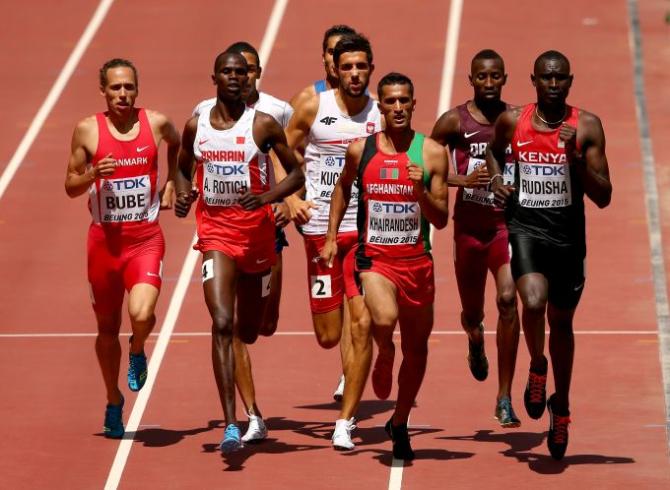 (From left) Andreas Bube of Denmark, Wais Ibrahim Khairandesh of Afghanistan and David Lekuta Rudisha of Kenya compete in the Men's 800 metres heats during day one of the 15th IAAF World Athletics Championships. Photograph: Cameron Spencer/Getty Images
World record holder David Rudisha of Kenya and Ethiopia's defending champion Mohammed Aman cruised through the heats for the 800 metres on a hot and humid opening morning at the world athletics championships in Beijing on Saturday.
Commonwealth Games champion Nijel Amos of Botswana also safely moved through to Sunday's semi-finals with victory in a time of 1 minute 47.23 seconds in the first heat at the Bird's Nest Stadium.
"It was a good run, I wanted to stay out of trouble. I take each round as it comes. It is a bit hot here but we can cope," he said.
Olympic champion Rudisha led from start to finish as he clocked a time of 1:48.31 in the sixth and final heat which was also surprisingly the slowest.
"I have qualified and now I am looking forward to the final," he said of his showdown with Amos and Aman.
"I know it is going to be hard. I know my power is back. My problem before was my finishing speed."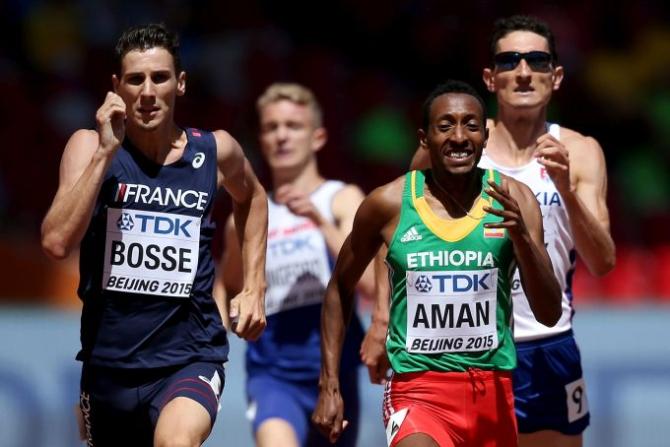 Pierre-Ambroise Bosse of France (L) and Mohammed Aman of Ethiopia compete in the Men's 800 metres heats during day one of the 15th IAAF World Athletics Championships. Photograph: Andy Lyons/Getty Images
The diminutive Aman offered 1 min 47.87 in a physical and competitive second heat featuring lots of jostling for position.
Earlier, Aman's compatriot Genzebe Dibaba had no such troubles negotiating the heats of the women's 1,500m as she clocked a best time of 4:02.59 across the three heats.
The 24-year-old world record holder took the lead at the bell and raced clear with Faith Kipyegon of Kenya to record the fastest women's 1500m time outside a final in world championships history.
"This is a special championships in a special city because my sister won two golds here at this unique stadium," she said of 2008 double Olympic champion and sibling Tirunesh.
"So my main goal is to get two gold medals too."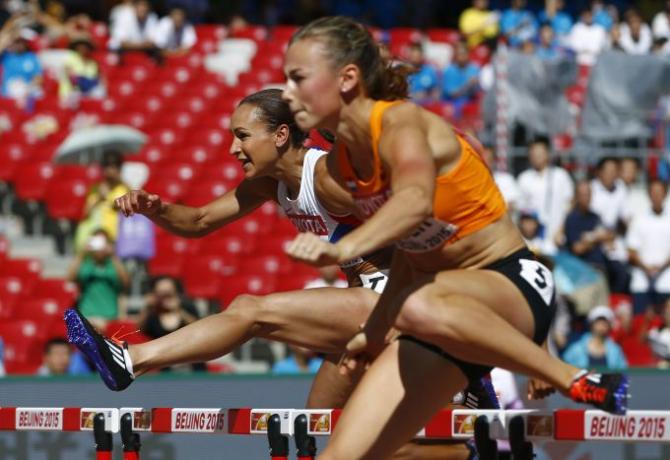 Jessiaca Ennis-Hill of Britain and Nadine Visser of the Netherlands (R) compete in the 100m hurdles event of the women's heptathlon during the 15th IAAF World Championships. Photograph: Kai Pfaffenbach/Reuters
The heptathlon begun with the 100 metres with young Dutchwoman Nadine Visser clocking a personal best in winning with a time of 12.81 seconds ahead of Briton Jessica Ennis-Hill (12.91) and Canadian Brianne Theisen Eaton.
Olympic champion Ennis-Hill, though, led after the morning session following a seasons best 1.86 metre effort in the high jump.
Compatriot Katarina Johnson-Thompson was the only woman to clear 1.89 in the high jump as she moved into second overall ahead of Visser.
Pawel Fajdek of Poland competes in the qualification for Men's Hammer during day one of the 15th IAAF World Athletics Championships. Photograph: Ian Walton/Getty Images
In the hammer, Pawel Fajdek and Briton Nick Miller were the only men to achieve the 77 metre automatic qualifying mark for Sunday's final, while the first round of the men's 100 metres gave an opportunity to some of the lesser names to enjoy the grand stage.
Bhutan's Tashi Dendup recording the slowest time across the three heats of 12.15 seconds but also a national record for the Himalayan nation.