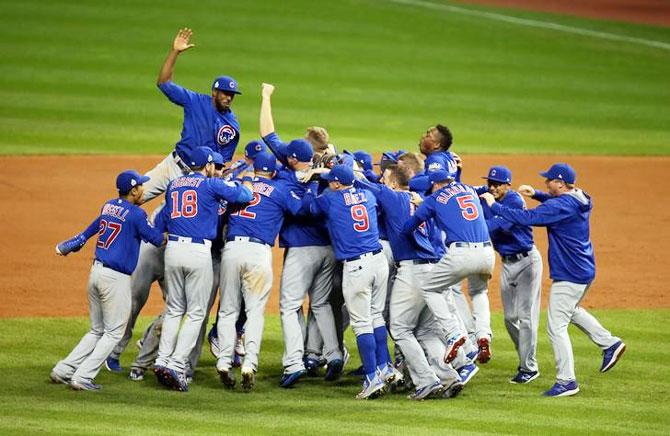 IMAGE: Chicago Cubs players celebrate after defeating the Cleveland Indians in game seven of the 2016 World Series at Progressive Field in Cleveland, Ohio on Wednesday. Photograph: Charles LeClaire-USA TODAY Sports via Reuters
The Chicago Cubs shed themselves of the "Curse of the Billy Goat" and ended a 108-year wait for a World Series title by beating the Cleveland Indians 8-7 in 10 innings on Wednesday in a thrilling Game Seven classic.
The triumph of Chicago's beloved Cubbies set off a wild celebration in the streets of the WindyCity after more than a century of pent up frustration for fans since their last Major League Baseball championship in 1908.
IMAGE: Hollywood actor Bill Murray celebrates on the field after the Chicago Cubs defeated the Cleveland Indians 8-7. Photograph: Jamie Squire/Getty Images
Cubs players held their own euphoric party on the Progressive Field diamond cheered on by boisterous contingent of their fans after earlier squandering a 6-3 lead with four outs left in the game only to bounce back for the precious victory.
"This is one of the best games anybody will ever see," said Cubs third baseman Kris Bryant, who scooped up Michael Martinez's grounder and fired to first for the final out.
"This trumps everything. I'm out here crying. I can't really put into words what this means."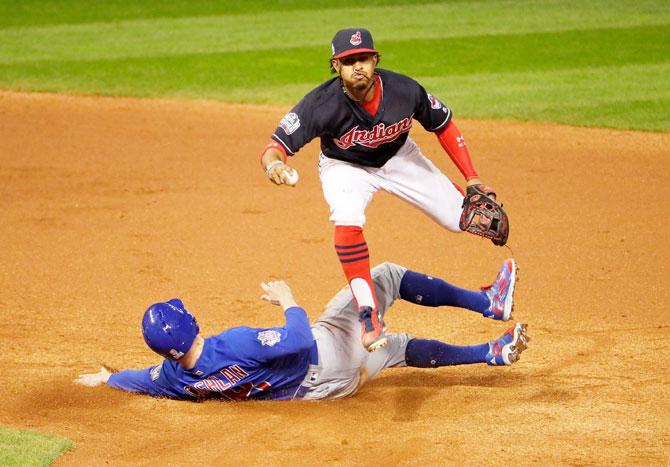 IMAGE: Francisco Lindor #12 of the Cleveland Indians jumps over Chris Coghlan #8 of the Chicago Cubs as Coghlan is out at second base. Photograph: Jamie Squire/Getty Images
Leftfielder Ben Zobrist, who put the Cubs ahead in the 10th with an RBI double and who batted .357 in the series with two doubles and a triple, was named the most valuable player of the World Series.
The win in the early hours of Thursday morning capped a Chicago comeback from a 3-1 deficit in the best-of-seven, a feat last achieved by the Kansas City Royals in 1985.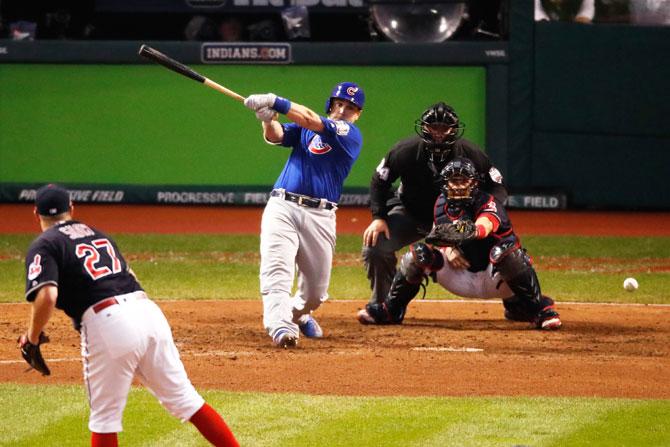 IMAGE: Chicago Cubs' Miguel Montero hits a RBI single in the 10th inning against the Cleveland Indians. Photograph: Gregory Shamus/Getty Images
It was the third World Series crown for the Cubs, while the disconsolate Indians replaced them as the team with the longest current World Series title drought, 68 years and counting.
"I don't know but it happened," said first baseman Anthony Rizzo.
"Chicago, it happened. We did it, we're world champions."