Athletes posing nude for magazines and other photo shoots show us another dimension of their fearless, bold and athletic selves.
They are a novel idea but are no more of shock value because of the sheer number of modern sports persons who agree to get photograph bare-bodied.
Here is a list of athletes, some of who just turned up the heat while some created ripples with their bold photos. Scroll down to find out who these athletes are...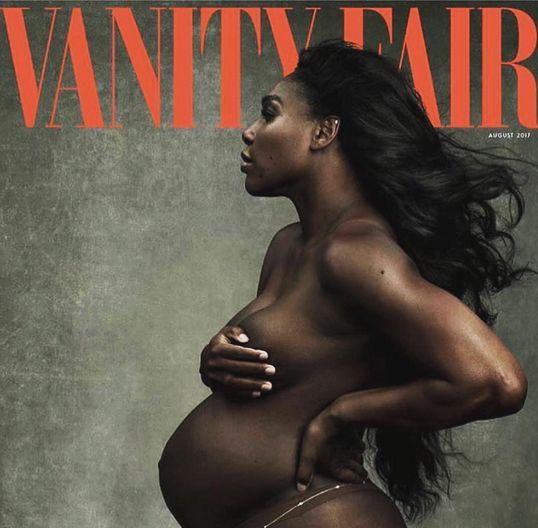 IMAGE: Serena Williams on the cover of Vanity Fair magazine. Photograph: Serena Williams/Instagram
Arguably the best tennis player in history, Serena Williams has gone nude for a fashion magazine cover.
It's a stunning photo shoot for Vanity Fair magazine, where she has been photographed in the nude in her pregnant avatar, adding just that much more drama and intrigue to the pictures.
But this is not the first time that that the 23-time Grand Slam champion has posed naked.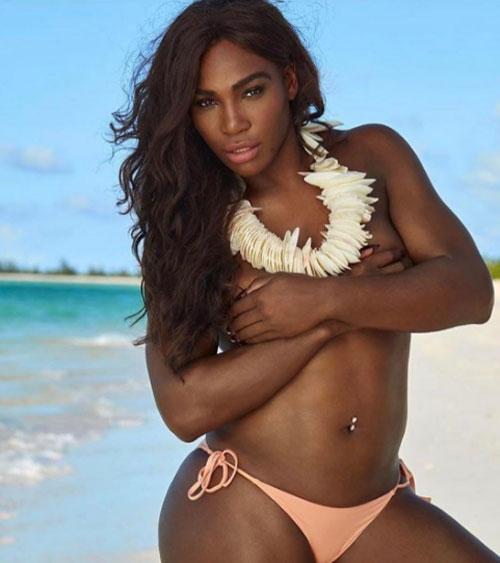 IMAGE: Serena Williams nearly bares all for the special swimsuit issue for Sports Illustrated. Photograph: Serena Williams/Twitter
Earlier, in February this year Serena was part of a sizzling photo shoot for Sports Illustrated's swimsuit issue and boy did she turn up the heat!
There are a host of other modern athletes who have done photo shoots for various mazagines and covers.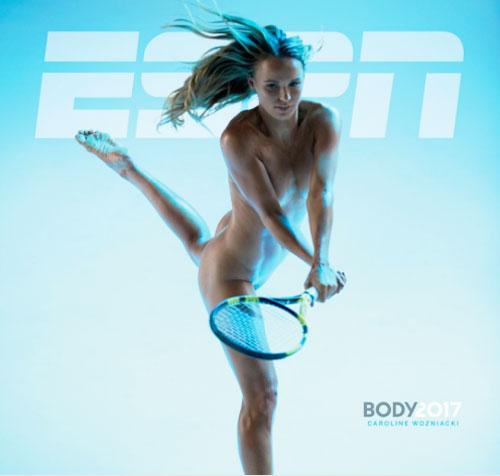 IMAGE: Caroline Wozniacki poses for the cover of ESPN Body magazine. Photograph: Caroline Wozniacki/Twitter
One of Serena's buddies on the tennis circuit, Caroline Wozniacki posed nude for the cover of ESPN magazine's 'The Body Issue'. The elegant picture, that shows her feigning a return shot, was posted by the Danish tennis pro on her Instagram page on Tuesday.
'Proud and excited for this one! Thank you #ESPNBody for the cover!!', she wrote on her Instagram account.'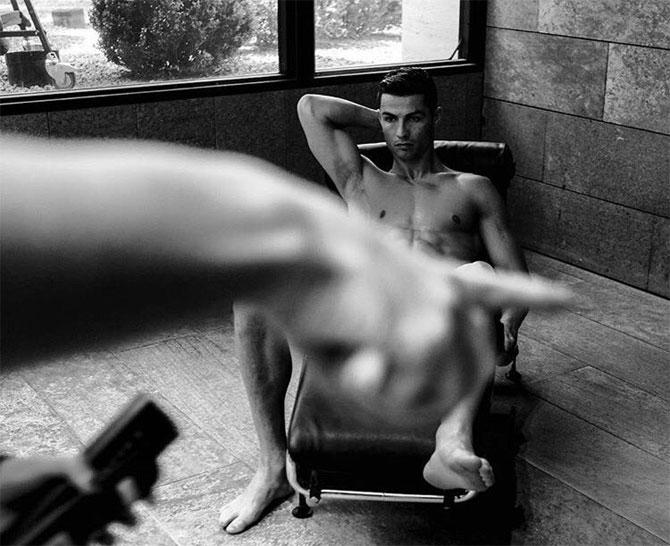 IMAGE: Cristiano Ronaldo poses. Photograph: Cristiano Ronaldo/Twitter
Like, Serena, Portuguese football icon Cristiano Ronaldo has also done two nude photo shoots, one of them along with former girlfriend Irina Shayk.
The most recent photo session that was done in April this year, was shared by the Real Madrid star on social media with a strategically positioned hand ensuring that family audiences don't get put off.
'Soon', he captioned the photograph in which he can be seen resting on a chair flashing his bare torso and legs while resting his right arm behind his head.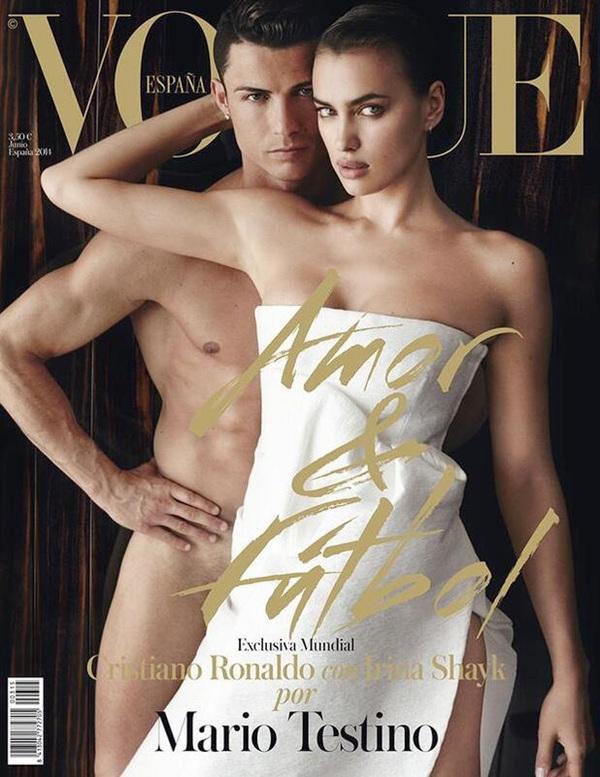 IMAGE: Cristiano Ronaldo poses with Irina Shayk. Photograph: Irina Shayk/Facebook
But the one that got everyone's attention and eyeballs was the shoot he did with his then lover Shayk.
The photos, clicked for Vogue Magazine in 2014, showed the chemistry that the couple shared. It was hot, hot, hot.
Ronaldo's physique and six-pack got all the girls swooning and wanting more.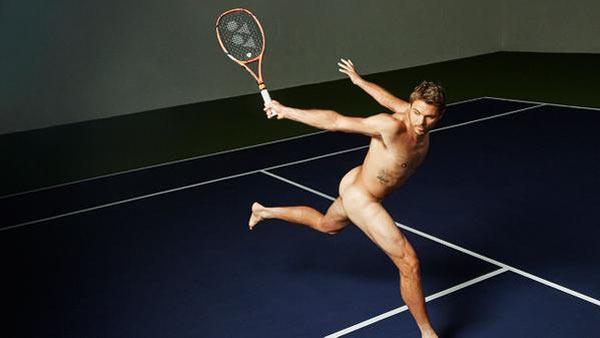 IMAGE: Swiss tennis star Stan Wawrinka in ESPN the Magazine's 'The Body issue'. Photograph: Stan Wawrinka/Twitter
Two years ago, another tennis star, Swiss Stan Wawrinka bared it all for ESPN magazine's 'The Body Issue'.
The then French Open champion was pictured playing his famously brutal one-handed backhand return, STARK NAKED!
Speaking about the photograph, Wawrinka had told ESPN, "I'm not a model at all. I don't work out to go to the beach, I work out to play well and to do well on the court."
"This was more about the challenge for myself," he said in an interview to USA Today.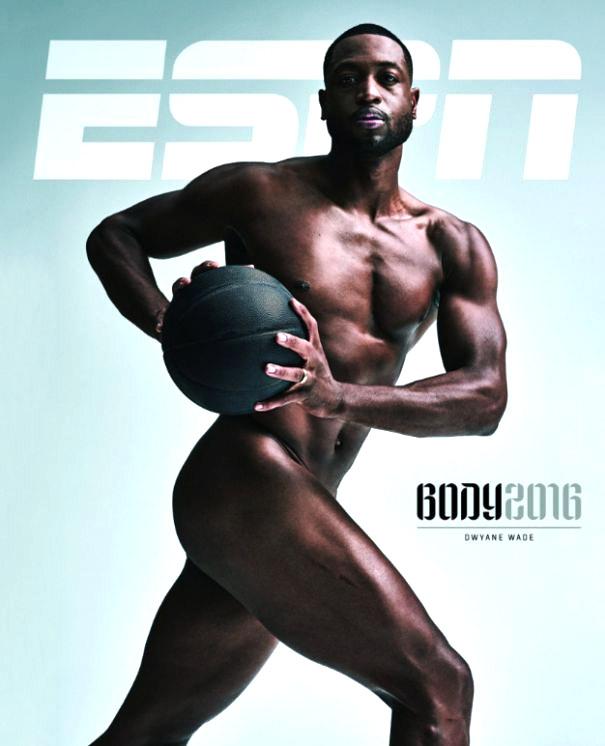 IMAGE: NBA star Dwyane Wade stripped down for the Body issue of ESPN magazine last year. Photograph: Dwayne Wade/Instagram
Three-time NBA champion Dwyane Wade sent temperatures soaring when he stripped down for the Body issue of ESPN magazine in 2016.
In a statement earlier, the magazine had revealed that the issue was a big leap outside Dwyane's 'comfort zone,' as the basketball star had always been 'insecure about his body as a child that he refused to swim without his shirt on.'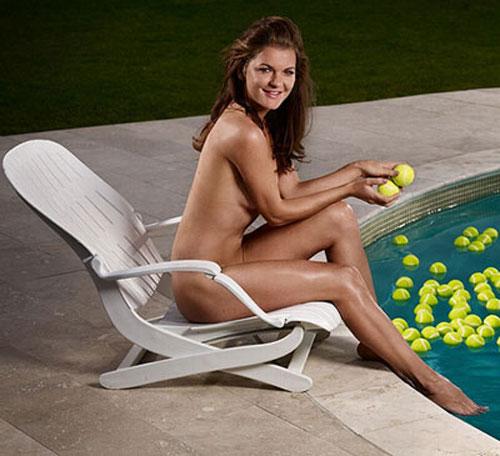 IMAGE: Agnieszka Radwanska posed nude for ESPN Magazine's Body Issue in 2013. Photograph: ESPN
In 2013, Polish tennis star Agnieszka Radwanska was photographed naked while sitting beside a swimming pool filled with tennis balls.
The photograph showed Radwanska cover her private areas with her arms and positioning.
However, the then World No 4 came under fire in her largely Catholic country with priests and a Catholic youth group calling her behaviour immoral.
But her intention was "to help encourage young people, and especially girls, to exercise, stay in shape and be healthy."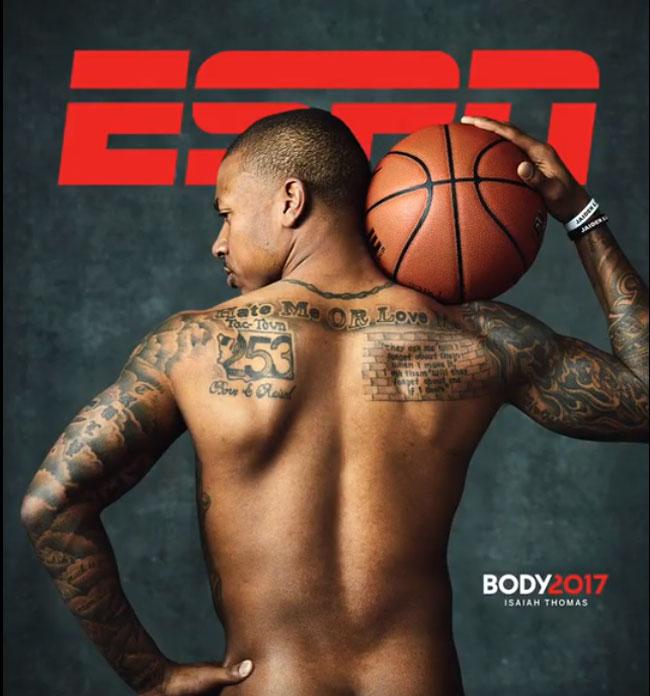 IMAGE: Boston Celtics guard Isaiah Thomas. Photograph: ESPN
Another big name from NBA is Boston Celtics' guard Isaiah Thomas, who was featured in this month's Body Issue of ESPN Magazine.
Nice tattoos we say!