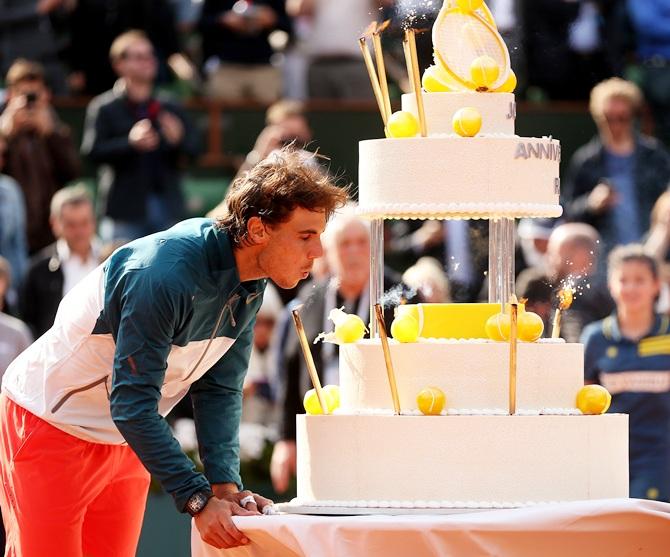 Spain's Rafael Nadal blows out the candles on a giant birthday cake in 2013. Photograph: Matthew Stockman/Getty Images
Rafael Nadal always celebrates his birthday at the French Open.
It is no coincidence that the year's second major happens to be the Spaniard's favorite tournament.
Considering he has won nine of the last 10 editions of the clay-court major, it won't be wrong to say he gives himself the best possible birthday (on June 3) gift every year.
Nadal's birthday celebrations at the clay-court Slam started in 2005, when he defeated Roger Federer in the semi-finals. His birthday cake then was brought in by his good friend and basketball star Pau Gasol during a press conference.
Nadal, 70 and counting at French Open!
Pursuing a record 10th French Open crown, the birthday boy, who turned 29 on Wednesday, faces his toughest test later in the day when he takes on world No 1 Novak Djokovic in the quarter-finals.
Ahead of what promises a battle royale, let's forget the tennis for a while and take a look at some of the nine-time champion's grand birthday cakes at Roland Garros over the years.
Indeed, it's a tradition that cannot be interrupted!
French Open officials acknowledged Nadal's dominance on clay and presented him a gigantic tennis-themed cake on his 27th birthday after he beat Japan's Kei Nishikori to reach the quarter-finals in 2013.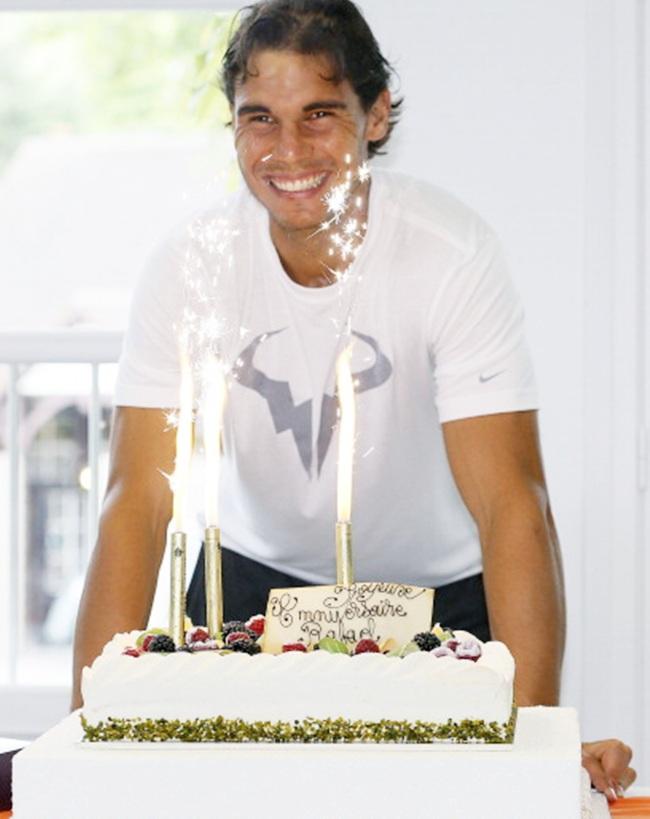 Rafael Nadal poses with the cake as he celebrates his 28th birthday. Photograph: Getty Images
Nadal celebrated his 28th birthday at Roland Garros in 2014 in the presence of a huge media contingent.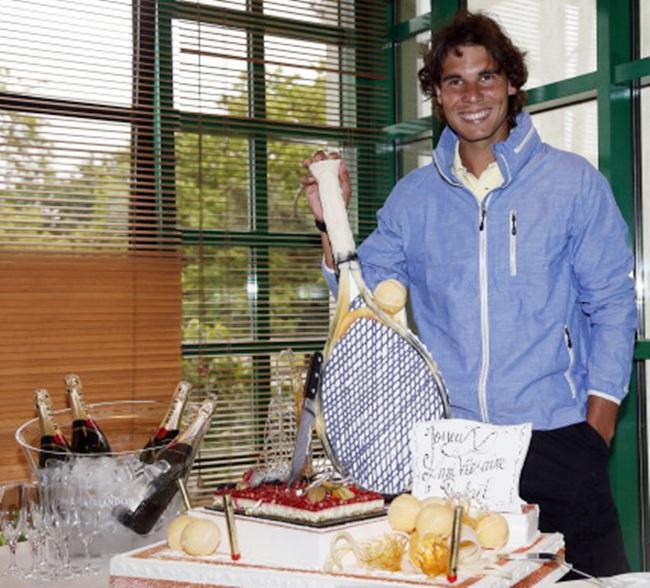 Rafael Nadal poses with a cake as he celebrates his 26th birthday at the French Open. Photograph: Getty Images
Nadal's French Open birthday cakes grew outrageous.
In 2012 the tennis racket with the cake made many wonder whether it was edible.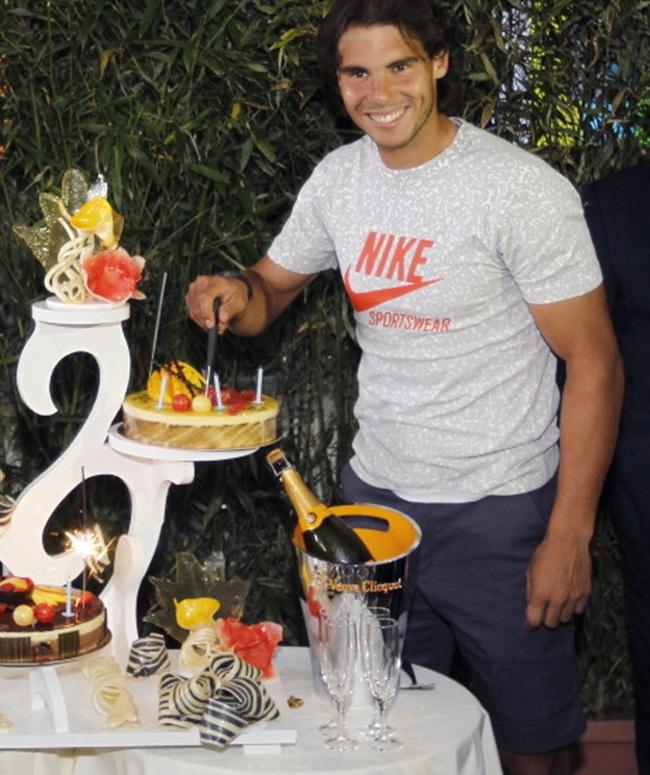 The 2011 cake was again huge... three-tiered, duly complete with champagne, sparklers and other finery.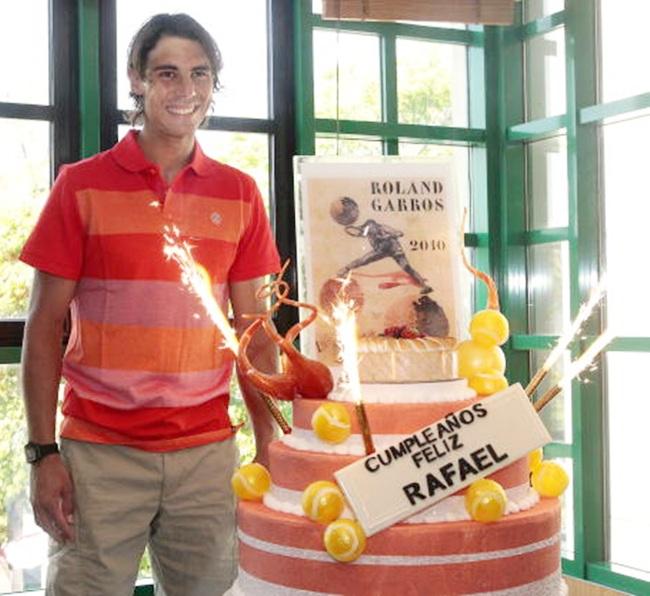 It seemed that in 2010, Nadal knew what to expect and, hence, came colour-coordinated with his humongous cake.
It was also the year of the football World Cup and the cake resembled it very well.
The Spanish national team also ensured further celebrations for Nadal by lifting the World Cup for the first time.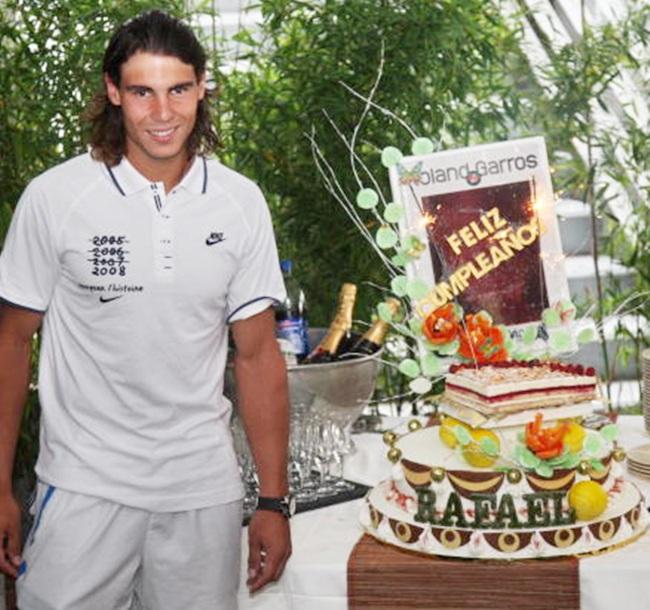 All Nadal fans will know that there was no cake in 2009.
Robin Soderling sent him packing early, in the pre-quarter finals, just a couple of days ahead of his birthday.
It remains Nadal's sole defeat at Roland Garros.
The 2008 cake looked inspired by nature.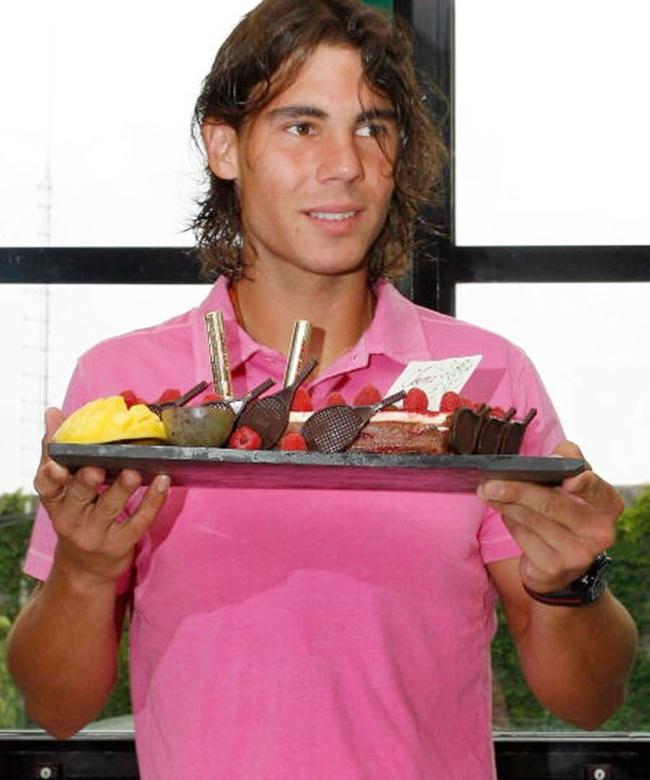 The 2007 cake looked classier.
Not to miss the chocolate tennis rackets.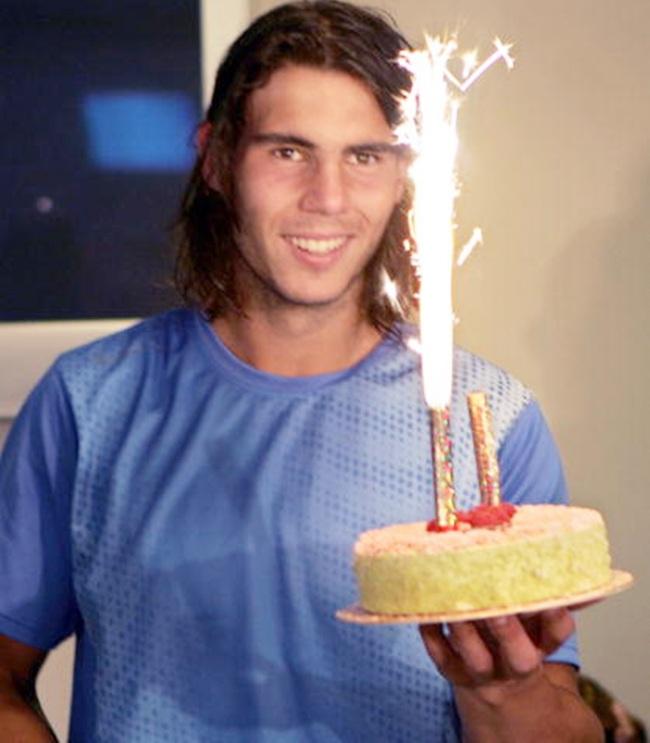 In 2006 it was a simple strawberry sponge cake. Roland Garros was just gearing up for a star, named Nadal.
Also, in 2005, on his very first appearance in Paris, Nadal took out the then world No 1, Roger Federer, on his birthday, in the process becoming only one of the four players to beat the Swiss that year.
He went on to become the first player in 23 years, and the second overall (after Sweden's Mats Wilander in 1982) to win the French Open on debut.