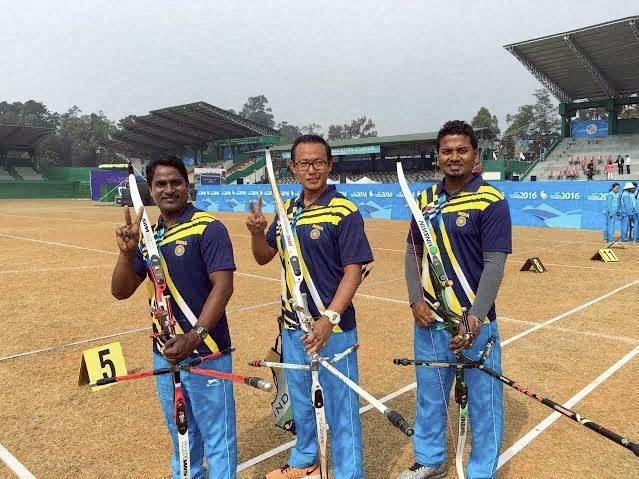 IMAGE: Indian Archery team of Guruchatan Besra, Tarundeep Rai and Jayant Talukdar after winning gold medal. Photograph: PTI
India garnered most of the gold medals on offer for the fourth successive day at the 12th South Asian Games, as their swimmers, archers and track-and-field athletes ensured the top position on the medals tally remained unchallenged, in Guwahati, on Tuesday.
Continuing their terrific showing, the hosts took their overall medal count to 119, which includes 74 gold, 35 silver and 10 bronze medals.
At a distant second is Sri Lanka with 84 medals, including 17 gold, 36 silver and 31 bronze medals.
The most stunning performance of the day was by the swimmers, who swept seven gold medals, followed by the track-and-field athletes and archers.
The archers won five gold, while the athletes won similar number of gold along with six silver and three bronze.
Over the last three days, Sri Lanka had been giving competition to the home country but on Tuesday it was the local favourites who ruled the roost at the Dr Zakir Hussain Aquatics Complex.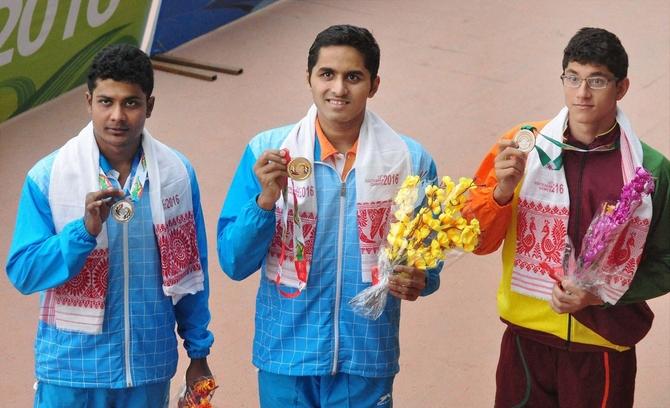 IMAGE: Indian swimmers Saurabh Sangvekar (Gold) and Sajan Prakash (Silver) with bronze medalist Kyele Abeysingh of Sri Lanka after the 400m swimming event at the 12th South Asian Games 2016 in Guwahati . Photograph: PTI
Saurabh Sangvekar started India's gold-winning streak, setting a new Games record of 3:58.84 seconds to win the 400m freestyle for men.
V Malvika secured the gold in 400m freestyle for women, setting a new meet record of 4:30.08 minutes.
Sajan Prakash then bagged India's third gold of the day and his fourth of the Games, by winning the 200m butterfly for men with a new record time of 2:03.02s.
This was followed by Damini Gowda winning the gold in the 200m butterfly in yet another Games record time of 2:21.12.
P S Madhu, in the 50m backstroke for men, also set a new record of 26.86 seconds.
The gold in the 50m backstroke for women was clinched by Kimiko Raheem of Sri Lanka, setting a new record of 29.75 seconds.
Indians also won the gold in 4x200m freestyle for both men and women.
India's silver winners on Tuesday were Sajan Prakash (400m freestyle for men), Shivani Kataria (400m freestyle for women), M Arvind (50m backstroke for men) and Maana Patel (50m backstroke for women).
Before the swimmers, the archers had set the tone in the morning session in Shillong winning all the five gold medals up for grabs to take their overall count to 10 gold and 4 silver.
The Indian women's trio of Deepika Kumari, Laxmirani Majhi and Bombayala Devi shot below par scores but it was enough for them to blank their misfiring Sri Lankan opponents 6-0 to open gold medal account in recurve at Polo Grounds in the morning.
The men's team of Tarundeep Rai, Gurucharan Besra and Jayanta Talukdar followed suit with a 5-1 win over their Lankan rivals in the summit clash.
India's mixed pair of Rai and Deepika added a second gold medal to their kitty, India's third overall in recurve, as with a 6-0 cakewalk against the Bangladeshi duo of Sojeb Shiek and Beauty Ray.
In the afternoon session, the recurve archers bagged two gold and as many silver in the all-Indian individual finals to sign off in style with grabbing all possible 10 gold medals and four silver in sum.
Making a comeback after the 2014 Asian Games, Rai retained his individual title to finish with a hat-trick of gold along with Deepika, who won the women's individual event.
The story was no different in the track-and-field arena.
Rio Olympics bound shot-putter Manpreet Kaur stole the limelight as Indians pocketed five gold medals on the opening day of the event.
India won five gold, six silver and three bronze in the nine events held at the Indira Gandhi Athletics Stadium. Sri Lanka gave a tough fight to the home athletes by winning four gold, one silver and five bronze.
Kaur bagged the first gold of the day for India by winning the women's shot put event with a throw of 17.94m. Her namesake, Manpreet Junior got the silver with a throw of 15.94m while W Fernando bagged the bronze in 14.87m in a four-woman field.
Neeraj Kumar bagged the second gold for India in men's hammer throw with an effort of 66.14m. Pakistan's Shakeel Ahmed took the silver in 63.67m while L Alansan of Sri Lanka won the bronze in 46.38m.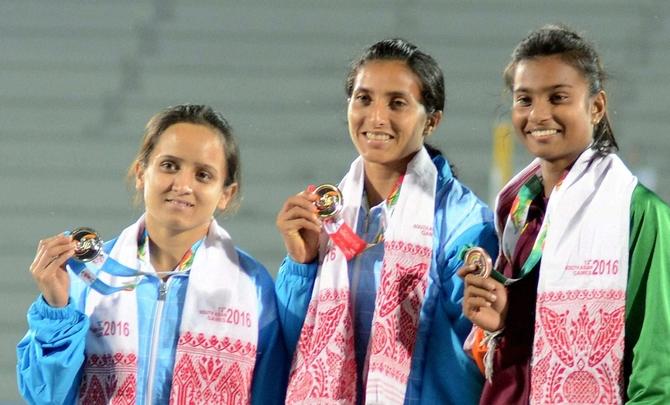 IMAGE: Indian athletes Mayookha Jhony (Gold) and Shradha Ghule Bhaskar (silver) with bronze medalist SLS Silva of Sri Lanka (R) showing their medals after long jump event at 12th South Asian Games 2016 in Guwahati on Tuesday.
Mayookha Johny took the gold in women's long jump by clearing 6.43m in his sixth and final attempt. Another Indian, G Shradha bagged the silver with an effort of 6.19m while N C D Priyadarshini of Sri Lanka, the season-leader before the event, got the bronze with 5.89m.
In the men's and women's 5000m, Indians finished one-two. Man Singh won the men's 5000m in Games record time of 14 minute and 2.04 seconds while compatriot Suresh Kumar was second in 14:02.70s. Nepal's Rimal Hari Kumar was third in 14:32.18s.
In the women's 5000m, L Surya clocked 15 minutes and 45.75 seconds to win the event in Games record time ahead of country-mate Swaty Gadhave who clocked 16:14.57s to bag the silver.
But the Indians disappointed in the 100m dash of both men and women with the Sri Lankas running away with the honours.
Elsewhere, Indian lifters bagged one gold and a silver on the concluding day of weightlifting event to end their campaign with 12 golds and one silver.
Out of the 15 events in the weightlifting competition, Indians won gold in 13 and a silver in another to complete overwhelmingly dominant performance.
The Indian men weightlifters bagged six gold and one silver out of eight events while their women counterparts won six gold out of seven on offer.
Sushila Panwar secured the lone gold medal for India in the women's +75 kg category as she lifted a total of 198kg. In men's +105 kg category, Gurdeep Singh finished in second place with a total lift of 345 kg.
The cyclists, on the other hand, notched up one gold, two silver and a bronze on the final day of competition.
They grabbed six gold out of the overall eight, besides winning five silver and two bronze medals as well in the total count.
On Tuesday, in the women's 80km individual road race, T Bidyaluxmi won the gold in 2 hours 30 minutes and 55.350 seconds.
Chirag Sharma added to India's gold medal tally in Wushu competition by emerging champion in his event. Displaying superb techniques, Sharma scored 18.450 points to win the gold ahead of Bishow Budha Magar (Nepal) and Muhammad Waleed Ajmal (Pakistan).