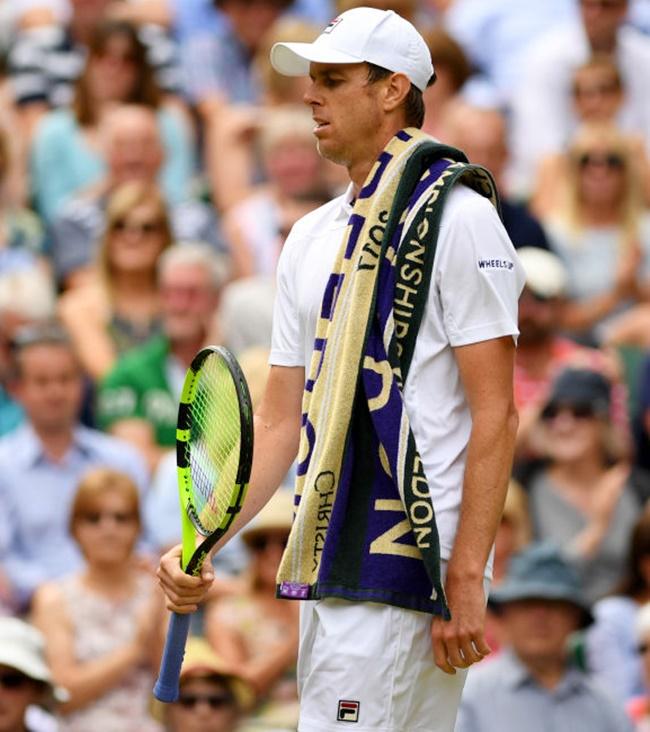 IMAGE: Sam Querrey of the United States reacts. Photograph: Shaun Botterill/Getty Images
Defeated Wimbledon semi-finalist Sam Querrey said his tournament run had convinced him he could beat the world's best players, and next year he planned to go one better and make the final.
Querrey was beaten by Croatian Marin Cilic on Friday after a Wimbledon adventure that has seen him play a string of five-set matches, vanquish world number one Andy Murray and become the first American man to reach a Grand Slam singles semi-final since 2009.
"It's been a fun run," the 29-year-old who hails from California said in typically understated fashion.
"It's given me some confidence ... I feel like I've really had some ups over the last year, and hopefully there are more of those to come," he added.
"I feel if I play well, my level is at a high enough point where I can beat those top guys."
Asked how he might fare at Wimbledon next year, he said: "Pencil me in for a final, and hopefully that will happen."
Cilic had beaten Querrey in their previous four matches, but the American said his opponent had played better than ever before in the semi-final.
"I kind of felt like he pushed me around a little bit today," he said. "He just does everything really well, he did seem to play at a really high level."
Cilic will face the winner of the match between seven-times champion Roger Federer and Czech Tomas Berdych in Sunday's final, and Querrey said the Croat would a handful for anyone.
"If he plays well and plays big, he can give anyone trouble. If he plays Roger, Roger's the favourite in that one obviously. But Marin can give him some trouble."