Pele named 15 Brazilians, including himself, in his list of the 100 greatest living players on Thursday -- more than those of any other country.
Brazil, who have won the World Cup an unprecedented five times, came out on top of Pele's list followed by 14 Italians and 14 Frenchmen -- almost all of the French either still playing or just recently retired.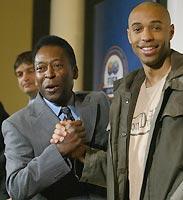 The Brazilians include Ronaldo, who scored both goals in the 2002 World Cup final victory over Germany, and Pele's playing contemporaries Carlos Alberto, Rivelino and Djalma and Nilton Santos with whom he won World Cups in 1958 and 1970.
He named 13 Dutchmen, including old master Johan Cruyff and Manchester United striker Ruud Van Nistelrooy, and 10 from both Germany and Argentina, including Diego Maradona, arguably the second greatest player to grace the game after Pele himself.
The list, featuring only those players who are still alive, includes 1950s greats Alfredo Di Stefano (Argentina) and Ferenc Puskas (Hungary) and France's two great heroes Just Fontaine, whose 13 goals in the 1958 World Cup finals remains a record in one competition, and his old forward partner Raymond Kopa.
Stars of the 1960s include Gordon Banks and Bobby Charlton, who helped England to their only World Cup triumph in 1966, while the list is naturally dominated by those from the 1970s, 1980s, 1990s and today's top players.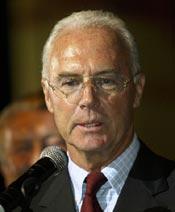 Franz Beckenbauer, the only man to captain and coach a team to success in the World Cup final, is also in the list which was whittled down from 300 nominees.
Asked to explain the difficulty of compiling the list, Pele, who came up with 125 names, told reporters: "I could have chosen 100 players from Brazil alone, it was impossible to pick 100 players."
Greats like Bobby Moore, who captained England to victory playing against Beckenbauer in the 1966 final, and one of Cameroon's finest players Marc Vivien Foe, who collapsed and died while playing a match last year, are not included.
Pressed into picking his outstanding player, apart from himself, Pele said Frenchmen Zinedine Zidane and David Trezeguet stood out, along with fellow Brazilians Roberto Carlos and Ronaldo.
The list also includes two American females -- Michelle Akers and Mia Hamm -- who have been at the forefront of the development of the women's game in recent years.
The list is issued as part of the centenary celebrations for FIFA, which is 100 years old in May.