A large hole in the roll of honour of Pele, arguably soccer's greatest player, was filled 33 years after he quit when he was officially recognised as a six time Brazilian champion at the age of 70 on Wednesday.
The championship officially started in 1971 but the Brazilian Football Confederation (CBF) announced that the Brasil Cup and Roberto Gomes Pedrosa tournaments between 1959 and 1970 were now to be recognised as valid national titles too.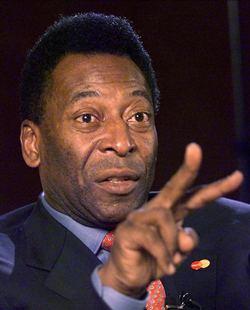 Santos, spearheaded by Pele between 1956 and 1974, won them six times but did not win the official Brazilian Championship while he played for them despite his three World Cup wins.
The club, crowned world club champions as winners of the Intercontinental Cup in 1962 and 1963, now hold a record eight national titles after the CBF's decision.
"I think this recognition was deserved. I'm happy to be here in the name of all those (players) who passed through (Santos) in that era," Pele told reporters after receiving six winners' medals from CBF president Ricardo Teixeira at a ceremony in Rio de Janeiro.
Santos, who also won the title in 2002 and 2004, are joint record holders with Palmeiras, the team from Sao Paulo who won four prior to 1971 and four more since then.
Pele was named by governing body FIFA as their joint player of the 20th century in 2000 with Argentina's Diego Maradona.