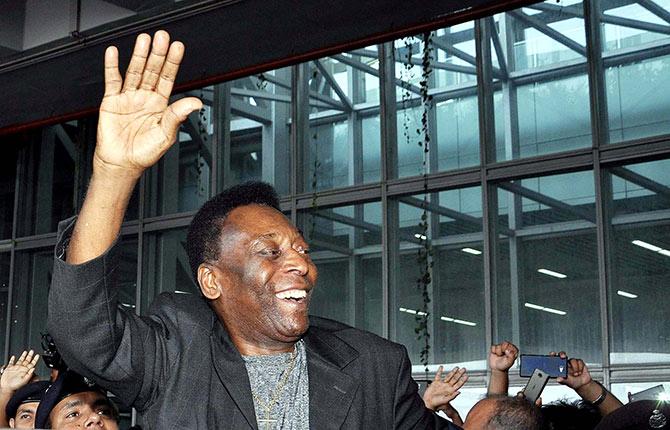 IMAGE: Pele waves to fans after his arrival at the Netaji Airport in Kolkata. Photograph: Abhiroop Dey Sarkar
Frenzied scenes were witnessed at the airport this morning when Pele landed in the Kolkata after 38 years as the 74-year-old Brazilian turned emotional and stood on the floor of his SUV to wave at the crowd, who kept chanting his name.
As a matter of fact, only a handful of fans and scores of mediapersons had turned up at the airport to witness the legend's arrival but as soon as the news trickled in about 100-odd visitors, who were there to receive their relatives, gathered soon to catch a glimpse of the Black Pearl whose Emirates EK 0570 flight via Dubai landed at 8.07am.
It took about 30 minutes more for the 'God of football' to complete the immigration formalities and come out of gate no 4B completing his long journey spanning more than 24 hours. Clad in a black suit and matching watch, the three-time World Cup winner, however, looked fresh as he was escorted out
by state minister Firhad Hakim and the organisers.
'Thank you Kolkata', Pele said with a broad grin as he kept on waving at the crowd standing on the floor of his car and the fans reciprocated by chanting 'Pele, Pele'.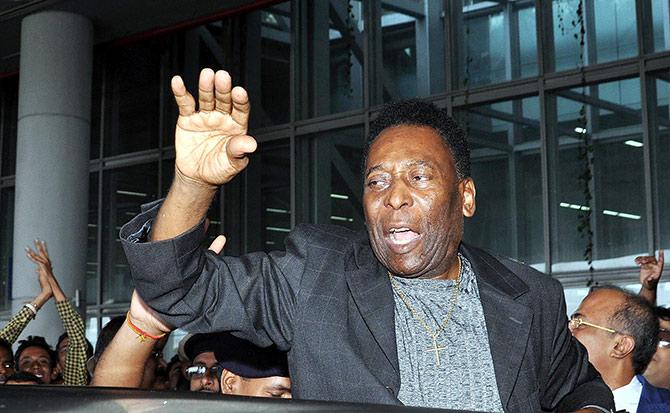 IMAGE: Pele in a pensive mood after his arrival at the Netaji Airport in Kolkata. Photograph: Abhiroop Dey Sarkar
Such was the crowd's response that Pele's high security convoy struggled to make its way through to the five-star hotel in Alipur where he will be staying for three days in his return to the city, 38 years after he had enthralled football fans with his team New York Cosmos in a 2-2 draw against local powerhouse Mohun Bagan in an exhibition match way back in 1977.
Indian football icon Chuni Goswami received Pele at the hotel with another former player Dipendu Biswas as he was given a traditional welcome by the students of NSHM Knowledge Campus, one of the organisers of his visit.
"In a lighter vein, I asked him, 'can you play football?' to which Pele humbly replied: 'Not at all, I'm not very fit'," Goswami, a former Olympian, told reporters. "I also asked him how do you rate Messi? 'He's very close to Maradona and Pele'," he added.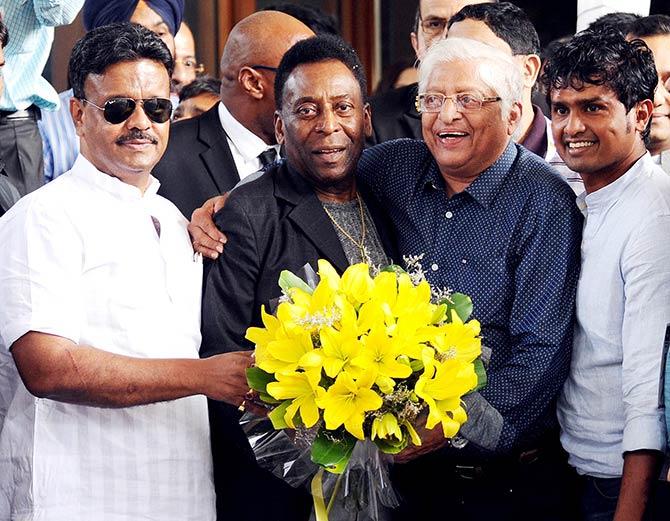 IMAGE: Brazil star Pele being welcomed in Kolkata. Photograph: Abhiroop Dey Sarkar
Pele's connect with Mohun Bagan was evident as the crowd had scores of the green and maroon fans who kept waving the team's flag, while there was also a group of kids from Dum Dum who were seen with the Brazil national flag.
"He's like 'God' to us and it's a dream come true for us to have a glimpse of him," a fan Vishal Prasad, 13, told PTI waving the Brazil flag. Among the crowd was also a former East Bengal footballer Bhuvan Mitra, 80, who had witnessed the Mohun Bagan-Cosmos match at Eden Gardens in 1977.
"I came to know about Pele so we waited to see him. It was like a double bonanza for me," Mitra, a retired banker said. There was also an Army personnel who had landed from Bagdogra and was lucky enough to get an autograph from Pele at the airport.
"I greeted him in Portuguese and he called me and obliged me with two autographs," he said showing his memorabilia book which has photographs and autographs of scores of celebrities.