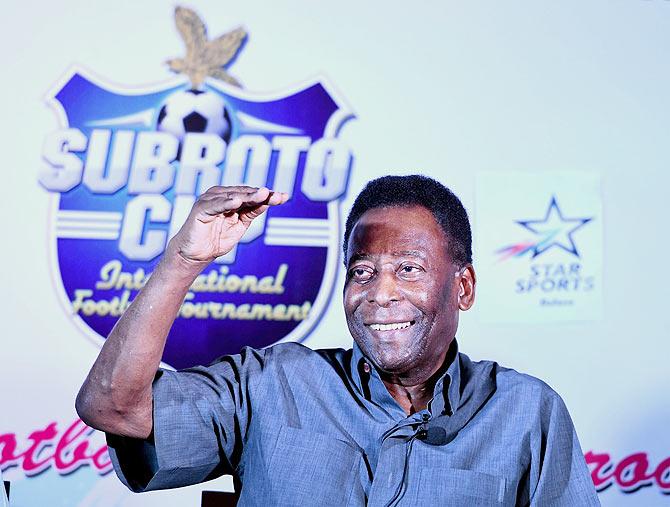 IMAGE: Brazilian soccer Legend Pele addressing a press conference in Gurgaon on Thursday. Photograph: Shahbaz Khan/PTI
Football legend Pele described the FIFA corruption scandal as a "shame", but made it clear that the reputation of the game was not tarnished.
"Whatever happening in FIFA, it is a shame. But this is not due to football but due to some people involved in the FIFA. Of course, we are sorry about what happened now in FIFA," Pele, who is in India on the invitation of Subroto Cup organisers, said on Thursday, the second day of his maiden visit to the Capital.
"But, we cannot mix this (corruption scandal) with football. This is due to some people who administer football," he said when asked about the corruption scandal, which has led to the suspension of FIFA president Sepp Blatter and European football governing body (UEFA) chief Michel Platini.
FIFA has been plunged into crisis following allegations of widespread corruption since this summer, when the US Department of Justice indicted several top executives of the world football governing body. As a result, Blatter and Platini were suspended by FIFA's ethics committee.
"It is easy to criticise things and say that these things have been happening in FIFA. But you should not forget that because of the FIFA, if you see football today, it is the most popular sport in the world.
"More and more people are playing football and the game is developing worldwide, be it in Asia, Africa, South America or anywhere. If you see in history, football has united people, and have saved people from drug abuse etc," the 74-year-old 'King of Football' said.
Asked who he thinks could be the best person to head FIFA among those who have declared their candidature, he said, "I don't know who can be the best person to become FIFA president. If you are alone, you cannot do anything. I want a person who respects football and people.
"I spoke to (Michel) Platini, who is one of the great players. He told me he wanted to do some things but unfortunately he could not do them. He is in UEFA and in law," said Pele, the only footballer to have won three World Cups in 1958, 1962 and 1970.
Asked if fellow Brazilian Zico could be good a candidate for FIFA presidency, Pele said, "He is one of the players who have done a lot for football -- in Japan and other countries. When he was playing, he was compared with me and he is known as 'White Pele'. He wants to stand for FIFA presidency. I told him you have the courage but I don't have that courage."
He thanked the Subroto Cup organisers and said that he received the same kind of love and adulation.
"I have been received with the same heart and love by the people in India just like in my first visit in Kolkata in 1977 (when his side New York Cosmos played an exhibition match against Mohun Bagan," he said.
He watched a match of the ongoing Indian Super League in Kolkata on October 13 between Atletico de Kolkata and Kerala Blasters and when asked how much Indian football has improved since he last visited Kolkata in 1977, Pele simply said, "Of course, it (football) has improved a lot. Not only in India but in many countries like Japan, football has improved. Even Venezuela can beat Argentina."
The football legend, who was voted Athlete of the Century by International Olympic Committee, said that India should focus on grassroots while also encouraging them to play outside the country.
"Every federation has a problem, be it Brazil or other countries. The important thing is to focus on grassroots. Indian players should go out and play in Europe, South America, etc. That will help them. Moreover, there should exchange programmes (with other countries)," said the legend.
Pele offered the Subroto Cup organisers that he can help them in arranging exchange programmes for young footballers of the age group of 15 or 16 with clubs in Brazil.
"I can arrange exchange programmes for young Indian players of the age of 15 or 16 in Rio de Janiero or somewhere in Brazil. I can help in doing this with Santos (his club of 25 years). I can do this," Pele said turning to Subroto Cup organisers sitting along with him at the dais.
When told that many Brazilians are playing in the ISL in various capacities -- players as well as coach, Pele said, "I think more and more Brazilians should play in India. That will benefit India."
Pele will be the chief guest at the Subroto Cup Under-17 final at Ambedkar Stadium in New Delhi on Friday, the tournament being organised by Indian Air Force.
The Subtoro Cup organisers hosted a dinner in his honour on Thursday and three Indian sportspersons who have qualified for Rio Olympics will be felicitated in a Charity Night where the mediapersons were not invited. He leaves the country in the wee hours on Saturday.
Also Read:
20 AMAZING facts you didn't know about soccer legend Pele
'I always played with a good heart; thank you very much'
In my team I would love to have both Messi and Ronaldo: Pele