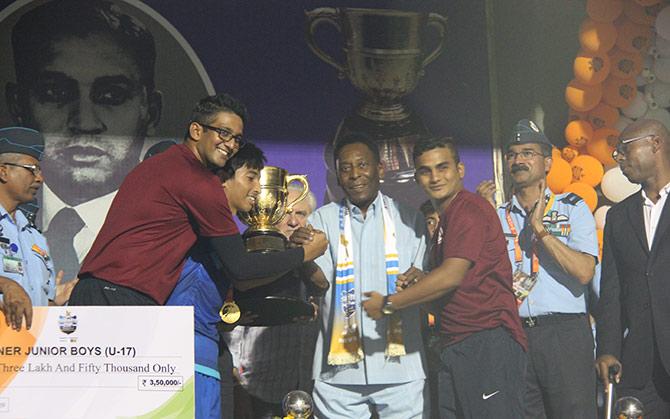 IMAGE: Pele hands over the Subroto Cup trophy to AIFF Academy colts at the Ambedkar Stadium.
Football legend Pele wound up his six-day visit to the country as a big crowd turned up at the Capital's Ambedkar Stadium to have a glimpse of the Brazilian three-time World Cup winner who battled physical difficulties to give the fans an experience of a lifetime.
The 74-year-old Pele, who graced the boys' Under-17 summit clash of Subroto Cup tournament, sent the near full house stadium of 20,000 capacity into frenzy as he made a round trip of the ground on an open top Indian Air Force jeep on the final day of his India visit, which commenced in Kolkata on October 11.
Pele, who arrived here on October 14, gave away the winners' trophy to All India Football Federation team which beat Little Angels Paradise School, Thoubal, Manipur 4-1 in the final in a ceremony which was attended by Chief of the Air Staff Arup Raha. He will leave for Brazil in the wee hours of Saturday.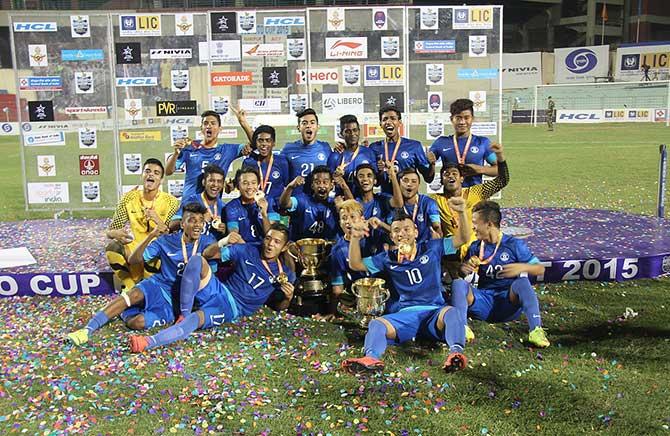 IMAGE: Jubilant AIFF Academy colts pose after winning the Subroto Cup
Surprisingly, Pele was not asked by the organisers to address the enthusiastic crowd at the stadium who shouted 'Pele Pele' for most part of the evening. Sporting a light blue shirt and trouser with black shoes, Pele stood silent on the dais even as Air Marshall Raha addressed the crowd.
But the Delhi football fans did have an evening they will cherish throughout their lives as they saw the man who is known by many names, including the Black Pearl, King Pele or King of Football, from close range in flesh and blood.
Just after arriving at the stadium and several people trying to come close and get autographs from him, Pele was asked to proceed to the ground so that the players of the two teams and match officials could introduce themselves.
Pele, who has had three surgeries this year, including the recent one in his hips, struggled to get down from the dais and onto the ground. He clutched his right hand on his walking stick while the left hand was held by a companion even as another Air Force officer lent him support.
It was a sight a football fan would not have wanted to witness as the legend grimaced and showed discomfort and his foot landed at every of the 10-odd steps from the dais to the ground.
The indomitable spirit of the Brazilian, who was part of the World Cup winning teams of 1958, 1962 and 1970, then came to the fore as he battled his way to the ground and once he entered into the playing arena, Pele suddenly wore a smile as if the feel of the grass suddenly gave him extra strength. He
then waved to the crowd who responded wildly.