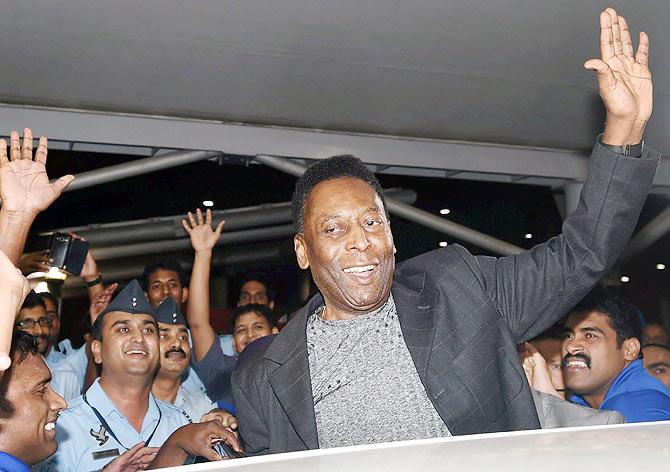 IMAGE: Brazilian soccer Legend Pele waves to his fans upon arrival at New Delhi's airport on Wednesday. Photograph: Manvender Vashist/PTI
Brazilian football legend Pele was greeted to a warm reception in New Delhi on Wednesday, with around 100-odd enthusiastic fans and officials turning up to receive him at the airport in his first visit in the Capital.
Thrice World Cup winner Pele, who is considered the greatest ever footballer, landed at the Indira Gandhi International terminal at 8.15 pm in an Air India flight from Kolkata where he had spent three days in the City of Joy.
The 74-year-old was received at the airport by officers of the Air Force, which is organising the Subroto Cup school tournament, with a few fans also turning up. Pele was greeted by Air Force Sports Control Board secretary Vijay Yadav and director Souvik Bhattacharya.
As soon as Pele stepped out of the terminal, some fans shouted his name and a girl was seen holding a placard that read 'The Black Pearl Welcome'. One Air Force personnel came with a pencil sketch of the legend.
Sporting a black blazer and a grey neckless shirt beneath it, Pele smiled as soon as he came out through the VIP gate.
The crowd mostly comprised Air Force personnel and sportspersons representing it.
Pele, who turns 75 on October 23, is here on a two-day visit on the invitation of the Subroto Cup International. He will be the chief guest of the Under-17 boys final match of the Subroto Cup at the Ambedkar Stadium on October 16.
On Thursday, after a press conference at a Gurgaon Hotel, the Air Force will also host a dinner in his honour tomorrow as part of a charity night at the same hotel. Three Indian sportspersons, who have already qualified for Rio Olympics 2016, will be felicitated in Pele's presence.
This is Pele's second visit to the country after he came to then Calcutta (now Kolkata) as part New York Cosmos club side for an exhibition match against Mohun Bagan in 1977.
"Pele is coming to Delhi for the first time and we are expecting a big response from the football enthusiasts of the city. Subroto Cup tournament is in its 35th edition and this year, we thought we will do something new. That is why we have brought Pele here," Wing Commander Vijay Yadav, organizing secretary General of Subroto Cup International Football Tournament said.
"The idea was, we wanted to bring a big football star, past or present and we found out that Pele is available. Nobody is more suitable than Pele to inspire this young school footballers and so brought Pele with the help of a sport management firm," he added.
The organisers have issued complimentary passes for the Subroto Cup final match on October 16, which will be attended by Pele and they are expecting a full house at the Ambedkar Stadium.
"Since we are a non-profit society, we cannot sell tickets. So we have distributed complimentary passes and we are giving them to whoever wants to get them. There has been lots of request from several quarters, including schools in the city, and we are expecting a full house for the October 16 final," Yadav said.
Officials of the All India Football Federation, Sports Ministry and Sports Authority of India will also attend the final match.